This is a preview piece for Anfi Challenge Mogan-Gran Canaria, which was won by France's Sam Laidlow and Germany's Anne Haug.
The professional field at the 2023 Anfi Challenge Mogan-Gran Canaria looks set to produce some fireworks, as some of the best in the world put the finishing touches on their preparations for Ibiza a fortnight later with a race in the Canary Islands.
There will be former IRONMAN World Champions on the start list in both the men and women's race, plus a host of other big names, which coupled with live streaming will make for an entertaining Saturday for triathlon fans.
Find everything you need to know, from start times to streaming information to a breakdown of who can contend for the win, all in our preview piece below.
Start time and how to watch live
Challenge Mogan-Gran Canaria will take place on Saturday, April 22. The professional race will begin at 0800 local time, which corresponds to 0800 UK time, 0900 CEST and 0000 on the West Coast.
A live stream, with English and Spanish commentary, is available via the embed below.
PRO Men
A stand-out name on the start list in Gran Canaria this weekend is Frenchman Sam Laidlow. The entertaining 24 year old, who stunned the triathlon world with a brilliant second place at the IRONMAN World Championships in October, will be racing for the first time since Kona.
Ranked #4 in the world, Laidlow has unbelievably never won a middle distance race, and will be looking for some redemption after crashing out of this race two years ago. In 2021, he led out of the water with Jan Frodeno before withdrawing following his bike crash.
If Laidlow is to win, he'll have to give himself plenty of breathing space off the bike, as next up on the start list is Patrick Lange, the two-time IRONMAN World Champion and the fastest male runner in the sport.
After clocking an incredible 2:30 marathon split to win IRONMAN Israel at the end of 2023, the German veteran will like Laidlow be looking to prove himself over the half distance following a mixed bag of results in the past.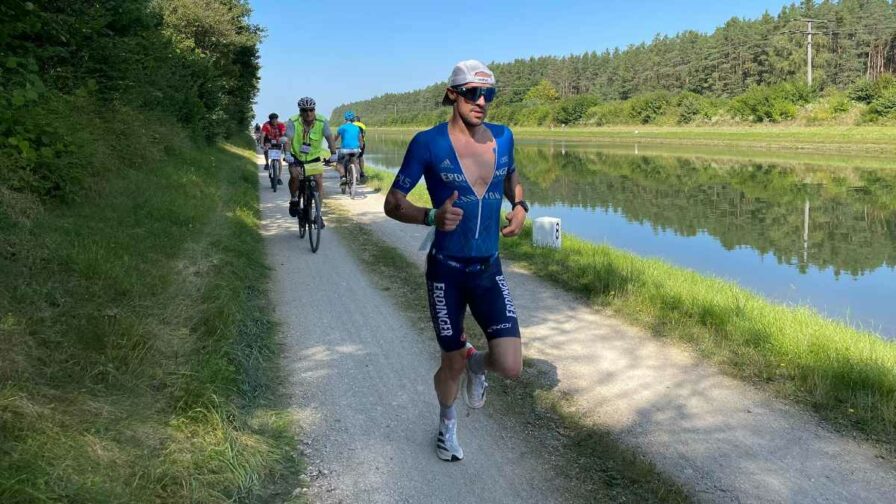 On the other end of the distance spectrum, Australian Olympian Aaron Royle will hope his speed can give him an advantage, as the 2022 Challenge Wales winner looks to break into the World top-10 after a great first year of middle-distance racing.
World #9 Florian Angert followed up his fifth place at the delayed 2021 IRONMAN World Championship in St George with silver at the World Triathlon LD Champs and fifth at the PTO US Open. Angert led off the bike in Dallas. Very strong through those first two disciplines, it wouldn't be a surprise if we see Laidlow, Royle and Angert pushing the pace hard from the gun.
Looking to join that group perhaps could be Mathis Margirier (FRA). While a relatively new name on the international scene, he has claimed three second-place finishes in IRONMAN 70.3 events, in his last three starts. The last of those came at IRONMAN 70.3 Lanzarote, suggesting that the rolling terrain here won't concern him.
Despite being a silver tier event, the indicated strength of field rating of 86.91 means there will be some decent PTO points on offer in Gran Canaria, but perhaps more so for the lower-ranked athletes looking to bolster their rankings.
PRO Women
Germany's Anne Haug is the favourite for the win in the women's race by a country mile, and with Brit India Lee rumoured to have scratched from the start list, it will be a real test for anyone to get close to the world ranked #5.
Haug, who last month won IRONMAN 70.3 Lanzarote by almost 12 minutes, is on track for the PTO European Open a fortnight later, and will likely use this weekend as a chance to test her body ahead of the big showdown in Ibiza.
Elsewhere on the start list, Britain's Ruth Astle could feature on the bike, but after a spell away from full outdoor run training, might not feature quite as highly as she would normally hope to and instead will have to settle for a good test of the swim and bike form. Her bigger target will certainly be the World Triathlon LD Champs in a couple of weeks.
Svenja Thoes of Germany is an athlete who will arrive in Gran Canaria harbouring podium ambitions, as is Elisabetta Curridori of Italy, but it will take a lot for either to threaten Haug, with Curridori finishing 20 minutes behind the German when she took third at IRONMAN 70.3 Lanzarote.
Finally, Britain's Lydia Dant, who finished sixth in Lanzarote behind Haug and Curridori, could be an outside chance for a podium, as the 31 year old looks to move her way up in to the World top-50.
Prize Money: What's on the line?
Athletes will be racing for a total prize purse of $19,000, payable six deep as follows:
1st – €3,500
2nd – €2,100
3rd – €1,400
4th – €1,150
5th – €850
6th – €500