Lucy Charles-Barclay said it was 'time to pull the trigger' at the World Triathlon Long Distance championships in Šamorín. She did exactly that as she screamed across the finishing line to be crowned world champion ahead of Great Britain team-mate, Emma Pallant-Browne.
The reigning 70.3 World Champion has endured a long spell on the sidelines due to a hip stress fracture which ruled her out of the IRONMAN World Championship in May and the Sub8 project in June so it was no surprise to see the emotion on her face as she crowned her comeback in style.
Pierre Le Corre won the men's race, the shorter distances suiting the Frenchman, who overhauled Florian Angert and Frederic Funk in the early stages of the 18km run.
Elite Women – Lucy has the answers
Charles-Barclay delighted in the choppy, non-wetstuit swim by establishing more than a one minute lead over Rebecca Clarke (NZL).
However, she didn't have it all her own way when defending champion, Sarissa De Vries (NED), passed her at the turnaround point on the bike. After berating her poor 'short course skills', she worked hard into the headwind and any questions about her ability to run after her injury were answered.
"I just can't believe it. I obviously wanted to come back and race. I had to believe in myself and go as hard as I could. I didn't know where my run would be but I'm just really delighted with that," she said afterwards.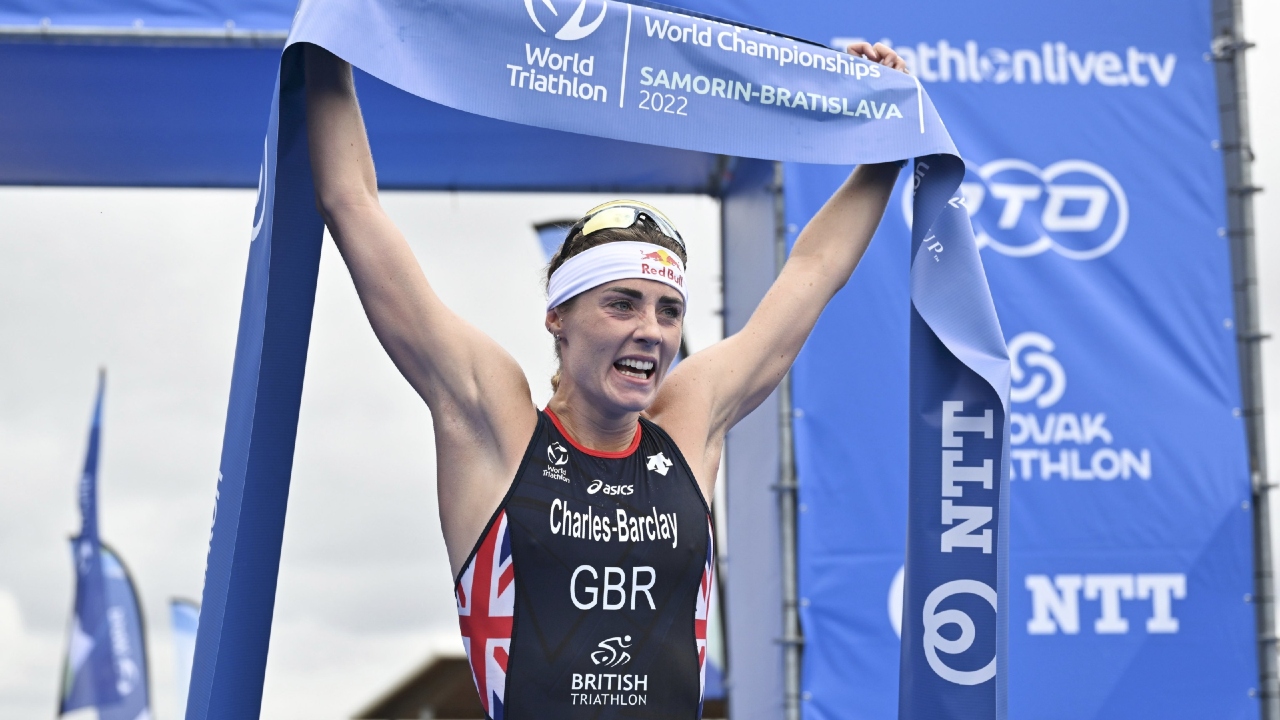 Pallant-Browne ran through several athletes to win silver. "At the start of the week we said goodbye to my grandpa, this is for him," she explained.
"I'm happy to get on the podium. It's aways an honour to race with her (Charles-Barclay)."
Elite Men – Le Corre times it perfectly
Le Corre wasn't the favourite to win today, but his running was a class apart from the rest of the field. A brilliant short course athlete, Le Corre was just one second behind Jamie Riddle (RSA) exiting the swim and in the lead at the start of the bike
German athletes Angert and Funk pushed the bike pace and lead through transition and onto the run. However, Le Corre glided past them and maintained a free-flowing running style through to the finish.
Le Corre said: "I'm really happy to win today. I wasn't feeling so great on the run with cramps. I was trying to pace myself. I was really happy to take the lead at 4km."
Angert was pleased with second, noting it was good preparation for Kona in October. Funk was also happy with his first ever world championship medal..
World Triathlon Long Distance Champs 2022 results
Sunday 21 August 2022 – 2km / 80km / 18km – Šamorín, Slovakia
Elite Women
1. Lucy Charles-Barclay (GBR), 3:34:17
2. Emma Pallant-Browne (GBR), 3:37:29
3. Sarissa De Vries (NED), 3:39:26
4. Grace Thek (AUS), 3:39:42
5. Luisa Baptista (BRA), 3:41:02
Elite Men
1. Pierre Le Corre (FRA), 3:11:15
2. Florian Angert (GER), 3:13:29
3. Frederic Funk (GER), 3:15:40
4. Gregory Barnaby (ITA), 3:16:21
5. Clement Mignon (FRA), 3:17:53