Yesterday's announcement from Challenge Roth around drafting and slipstreaming – ultimately aimed at fairer racing – was a welcome development and kudos to them for leading the way.
The German event, which again promises to be one of the biggest on the calendar, boasts arguably its strongest-ever fields in 2023.
The changes they are making are essentially twofold – far less motorbikes out on the bike course (and the few that are allowed for the TV pictures will be more closely regulated), plus more officials to "intervene consistently in the case of clear violations" but also with "tact and a sense of perspective".
All good – and importantly all discussed in conjunction with the athletes themselves – but we did ask the question, could they have gone a step or two further?
Why not use the RaceRanger draft detection technology, which was trialled successfully in one of Challenge's own events just last month in Wanaka? And how about GoPro cameras for the officials to add clarity to the decision-making process?
Ongoing process
So fair play to race director Felix Walchshöfer for chatting to us since then to answer both those queries – as well as adding real detail and explaining what the process would be to potentially implement one or both in the future.
He told me: "We have been in contact with RaceRanger and had several meetings but also we've had discussions with Laura Siddall, Patrick Lange, Sam Long and Laura Philipp.
"Laura [Philipp] also brought up the topic of GoPro. Her point was how the situation unfolded in Hawaii [in October when she received a five-minute penalty which seriously impacted her IRONMAN World Championship hopes]. That was a big mental blow for her. She didn't even know why she received the penalty and she said with a GoPro that would have been a different thing.
"In those meetings we have had the technical delegate from the German Triathlon Federation and the President of the Bavarian Triathlon Federation, who is responsible for our referees.
"And the big point for both topics was that they are not yet in the rulebooks of World Triathlon and therefore not in the rulebooks of the German Triathlon Union.
"So, if used, every decision could be legally challenged. So what we really, really need is that RaceRanger gets in the rulebooks and we are lobbying for it. We've talked already to the German Triathlon Federation CEO because I really think this idea is perfect."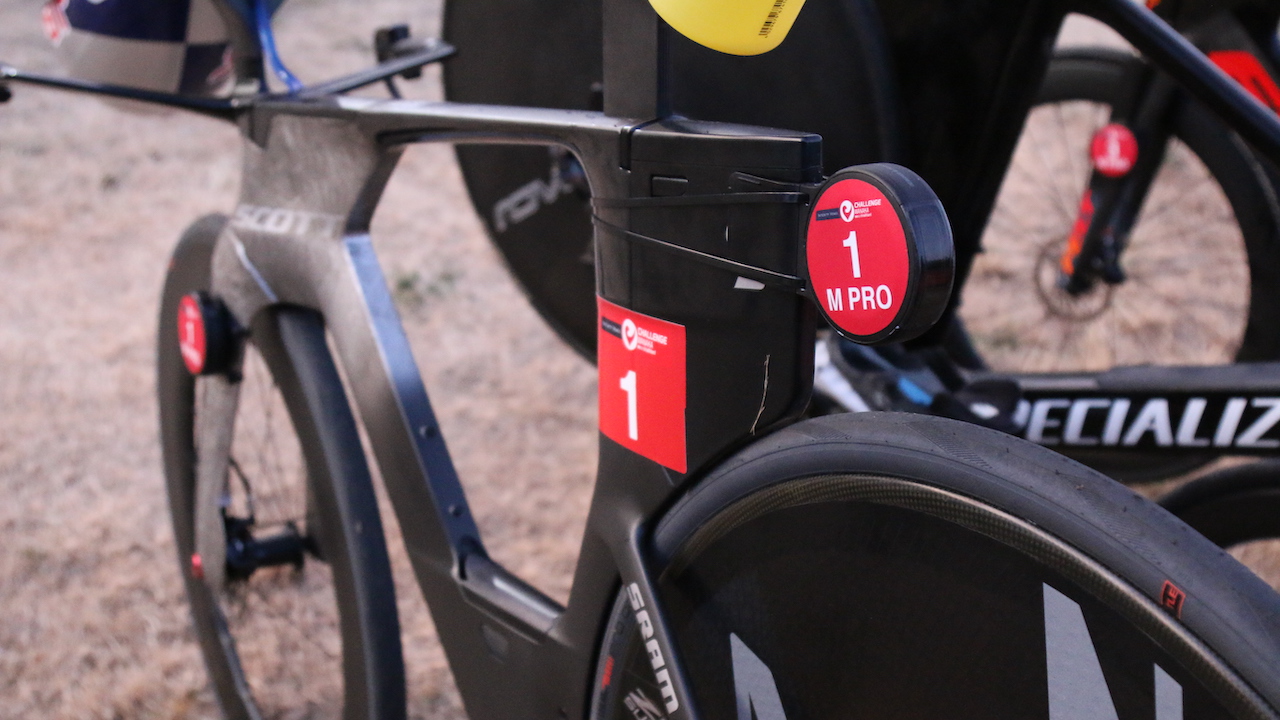 While very positive about the potential for RaceRanger, Walchshöfer also cautions that there is a little way to go before it can be fully adopted.
He added: "There have been some worries from the pro athletes that Wanaka and Taupo (for IRONMAN New Zealand) are, in comparison, very small races in terms of numbers. Does it also work in a huge field?
"There was also an issue between races with 10-metre or 12-metre draft zones which is now fixed from a technological viewpoint but there are also other aspects to work through such as how the referees use it.
"When we're 100% sure it works we'll be the first to get it and 2023 gives us a chance to see that – and, if so, then we'll definitely have it next season."
'We'd love to be there'
So while it's looking good for 2024, we've also spoken to RaceRanger co-founder James Elvery and he's hoping that the system could actually be adopted before then.
He told us: "We've had a great discussion with Felix and the team at Challenge Family. We like what he's done around the changes with reducing the motos on course. It's great he is showing real leadership in moving the sport forward in that area.
"Right now, what we have learnt from our three trial races is that RaceRanger is not quite yet in a 'ready to go state'. But it is very close.
"We are hoping to show that it is actually ready within the next two to three weeks.
"The main concern Felix had when we spoke was that there would need to be a period of education for the DTU referees, to understand how to properly use RaceRanger, before they are confident to implement it.
"The key point to get across to them [the referees] would be that the system doesn't need to be used as the law. It is still the decision of the referee who they penalise, and whether they rely on the system or not.
"What we hope is that by June, we will have gotten through a March test race that we can say, 'yep, that worked as good as we need it to be', to be confident to put it in races like Roth.
"And by the end of May, we'll have been used in three to four more races by then. And under these circumstances, and with some focussed referee education on our part, that Felix and the referees will be able to accept us at the event and we can make it to Roth. We'd love to be there."
All about a fair race
The GoPro-type addition looks to have a far bigger hurdle to overcome.
Walchshöfer explained: "As first mentioned, it's not in the rulebooks but a way bigger problem is German law because the person you are filming has be asked according to German civil law.
"So there would be a lot of communication that needs to go on – they can't just turn it on."
Interestingly the technical delegate for Challenge Roth is also responsible for the police force at Munich airport and GoPros can be used in problematic situations for the police, such as demonstrations, but a triathlon race is clearly something very different.
But speaking to Walchshöfer it's reassuring to hear just how much work is going on behind the scenes and it's crystal clear what his overriding aim is: "What we really want this year is a fair race – we have never had as many pro athletes and if after the race, people say there were eight motorcycles at the front then we've failed, absolutely we have failed.
"We're addressing many other aspects to make sure that doesn't happen – as an example we'll be putting on media shuttles for the photographers, where we will drive them to the points they want to be at – but from outside the course rather than them all being on motorbikes in amongst the race."
With the proactive stance there's every chance that come June 25th, not only will Roth boast the highest-quality pro races they've ever had, but also the fairest.