The Team Captains for the second edition of the Collins Cup have been announced by the Professional Triathletes Organisation. Given that the event is inspired by IRONMAN pioneers John and Judy Collins, it is no surprise to see that the Captain's roster features legends of the IRONMAN World Championship in Hawaii.
With 19 IRONMAN World Championship wins (and a further 11 podiums) between them, the 2022 Collins Cup Captains won't be lacking when it comes to experience and insight.
The Collins Cup is scheduled to take place on 20th August 2022 at the x-bionic® sphere in Šamorín, Slovakia.
Team Europe
After delivering on their pre-race favourite status in 2021, Team Europe will once again be lead by Natascha Badmann (SUI) and Normann Stadler (GER).
Badmann (six wins, twice second) and Stadler (two wins, once third) will bring double figure Kona podium history to their team. They are likely to one again start as strong favourites, despite the apparent resurgence in success of US athletes over the past 12 months.
Team Europe Captain, Natascha Badmann stated: "It was so thrilling to be part of winning Team Europe last year, and what an honour to join forces again with Normann and lead this year's squad. After last year's scare, we will take nothing for granted and our team will be ready for a fierce competition. We expect to leave no doubt that Europe dominates this sport and has no rivals."
Never one to shy away from an optimistic target, Stadler doesn't want to win – his target is total domination:
"I am very excited, together with Natasha, to lead Team Europe once again and defend our title at this year's Collins Cup. With new potential team members such as Marten Van Riel, Kristian Blummenfelt, Alistair Brownlee and Laura Philipp, we will not only win the Collins Cup again but truly can win every single match, and that will be our goal."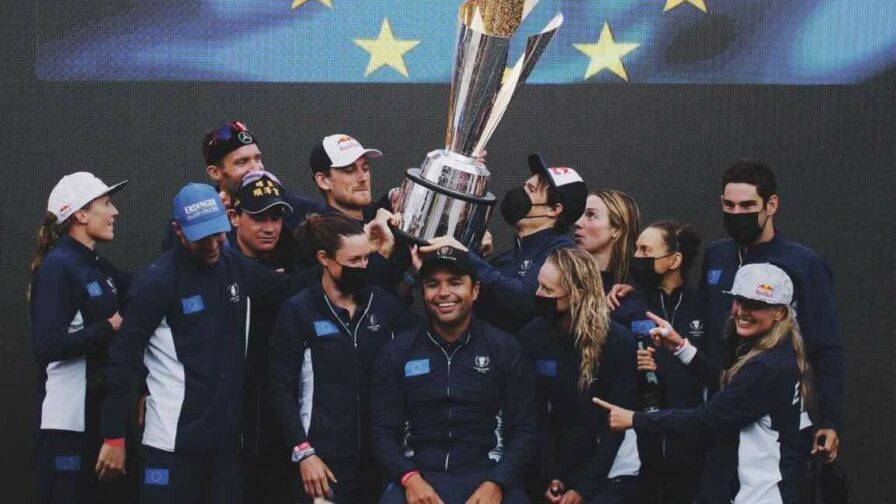 Team USA
Team USA will have two new leaders for 2022, with Dave Scott and Julie Moss stepping into the shoes of Mark Allen and Karen Smyers.
Scott of course is a Kona legend, with six wins and three second place finishes on the big island to his name. Even now, the 1989 'Iron War' with Mark Allen is one of the most iconic races in the history of the sport.
Julie Moss meanwhile quite literally changed the fortunes of Ironman history. Leading the race in 1982, she collapsed on the finished of Ali'i Drive, ultimately to be overtaken by Kathleen McCartney just yards from the line. Crawling across for to take second place 29 seconds later, the Moss drama was captured by ABC's Wide World of Sports – leading to a boom in attention and participation in Ironman events.
Moss reflected on that moment, when looking forward to the Collins Cup: "I am thrilled to join Dave Scott as Team US Captain. Our goal is to instil a fearless spirit in our young team and inspire them to rise to the challenge. The Collins Cup is truly one of the premier events in sport, where athletes will collapse and crawl for their teammates. Like last year's Team US, they will leave nothing on the course except blood, sweat and tears."
Team US Captain, Dave Scott commented: "It is an honour to be selected as Team US Collins Cup Captain. Last year's event was thrilling. While Team Europe were the clear favourites last year and ultimately proved victorious, US Captains Mark Allen and Karen Smyers led a scrappy American team to some early victories that shocked the sport. Julie and I hope to build on that success and ensure Team US is prepared for what will be a titanic struggle."
Team Internationals
Originally scheduled to be Captains in 2021, the lifting of travel restrictions should see legends Erin Baker (NZL) and Craig Alexander (AUS) take up the role of guiding the underdogs. They will certainly not be short in terms of leadership.
Erin Baker is without question one of the greatest triathletes of all time. Winner of the first official ITU Triathlon World Championships in 1989, she was also a Duathlon World Champion, along with two Kona victories and three second place finishes in Hawaii. Baker's legacy in the sport will go far beyond her results. Outspoken, she is rightly credited as one of the pioneers in ensuring equal prize money in the sport.
Craig Alexander is one of the most astute athletes of his generation. With three wins and a second place in Kona, he's also a two-time IRONMAN 70.3 World Champion. Notably, in 2011 he earned both titles in the same year. A regular contributor to our expert panels ahead of the major events, he has an encyclopedic knowledge of the sport, and will doubtless use that to gain every possible tactical advantage in match selections.
Erin Baker, commented: "It will be such a pleasure to be able to travel to Šamorín from New Zealand this year and join Craig Alexander and Team Internationals at the Collins Cup. I am so proud of what PTO Professionals have been able to accomplish by establishing the PTO and creating the Collins Cup. It has taken nearly forty years for professional triathletes to finally have an organisation of their own, and I am glad to see it come to fruition and look forward to sharing my experiences and knowledge as a Team Internationals Captain. While the competition will be furious, comradery will abound as the greatest athletes in the world can celebrate this tremendous achievement together."
Craig Alexander added: "After being unable to attend last year's Collins Cup, Erin Baker and I are excited to be part of Team Internationals this year. We have been in touch with previous captains Lisa Bentley and Simon Whitfield, who did an outstanding job. With the likes of Ashleigh Gentle, Henri Schoeman and Flora Duffy potentially joining the established Team Internationals members, our team will be prepared to have a good old rumble with their European and American counterparts."