Pro View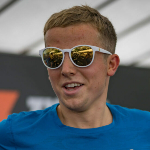 Dan Dixon
Dan Dixon is one of the next generation of British Elite triathletes seeking to emulate the success that the likes of the Brownlee brothers, Alex Yee and co. have delivered over the past decade and more. Still only 20, he's already had plenty of highlights –
click here to read his previous columns
.
We've been following the progress this year of young Brit, Dan Dixon, who is in his first season of senior Elite short-course racing.
It's been going rather well for the North East youngster, who has already won in the USA, secured a first senior European Cup podium and then excelled with a fourth place finish at the Arena Games Triathlon Finals in Singapore.
This past weekend Dan was in Olsztyn, Poland for the Europe Triathlon Championships, where he finished sixth overall and took the silver medal in the U23 category – adding to his Junior silver last year.
Dan checked in on another good day:
Strong bike sets up the race
"That was pretty soild. I think generally I had a pretty tough week coming in, but I'm really, really happy with the two races.
"I had a decent swim; I got a bit caught up and then managed to get towards the front, which was good. And then on the bike I just felt really, really strong. I was pretty assertive and really pushed it and actually strung the group out with the other GB lads, Barclay and Hamish.
"We did a really good job. I probably did a bit more work than normal, but it created that separation and I just felt really confident. It was super slippy, technical and there were a lot of crashes. I just felt really good on the bike.
Silver lining
"I got into a pretty good position at transition and came in near to the front and then just pretty much gave it what I could on the run. It just played out slowly on the run towards the end. I managed to kind of get into fourth or fifth or something, and then in the closing stages the front four pulled away and then it was me and the other Under-23 athlete [Ed. Simon Henseleit (GER)], and then it was a battle between me and him, and he just got me at the end!
"Obviously he's a little bit older as well, so really positive being one of the youngest in the field. Sixth overall and second in the U23 Champs, I'm super pleased with that and made a massive move up the World Rankings so I'm really pleased with the processes and couldn't have done any more on the day.
"Another step in the right direction."