On what was a quiet weekend in terms of Pro racing, we turned our attentions last Saturday to the Europe Triathlon Cup Quarteira in Portugal. Two excellent races followed, won by Great Britain's Beth Potter and Japanese athlete, Takumi Hojo.
There was a significant British entry in the field (nine men, six women), and while we confidently predicted that Potter would win, the men's race was seemingly wide open.
Dixon steps up
We had a particular interest in seeing how 19 year-old Brit, Dan Dixon, would fare in his first outing over the distance. A new columnist on TRI247, Dixon has been training out in the USA during the early part of the year with Coach Ryan Bolton, and already had two strong race outings there earlier in the month, winner in Clermont and third in Sarasota behind Olympians Richard Murray and Kevin McDowell.
Encouraging results in his first senior year, but both in super sprint format, consistent with much of his racing in recent years through the Youth and Junior ranks.
Quarteira would represent another step up, not just in terms of distance but also quality of field. All-in-all, whatever the result, a great barometer of where he is so early in his career.
Podium goals achieved
Ahead of the race he said, "I'm absolutely buzzing to take on some of the best competition from around the world. Fighting up there at the top end is something that I certainly want to be doing – I think a podium would be absolutely awesome."
That might have been considered an optimistic goal by some – but it was one he achieved in some style, finishing third.
The Dixon Despatch
Checking in with us after the race, Dan was not surprisingly thrilled with his day.
He told us, "Couldn't have gone much better yesterday in Quarteira. A strong swim set me up in the lead pack of the race going onto the bike, there I settled in and was feeling good. However the downhill where I crashed last year proved to be a tricky mental task to overcome, so I was pleased to keep it upright and feel strong throughout.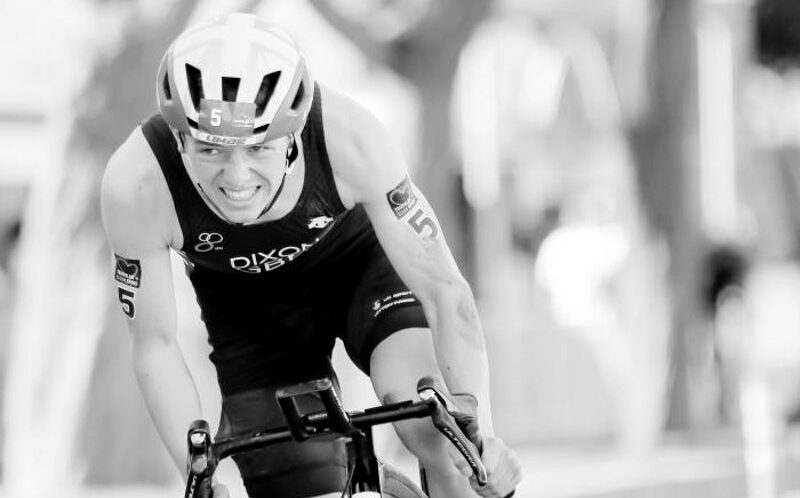 "Going into T2 we had a solid gap which left it all to a 10km foot race. I feel my run was mature and timed perfectly. Starting off I stayed with a small group while a trio broke away and around the halfway mark on the run I began to make my move, heading up from 6th to 4th and now chasing 3rd. The fourth and final 2.5km lap was where I made my move into 3rd and from there I went on to move to 2nd however the pace was a little hot in the sprint and I crossed the line in 3rd!
"This was pretty huge for me, some of the very best in Britain were racing along with some top level guys from around the world. To be on the podium and first Brit meant the world along with the support from an electric crowd!
"I just want to say a huge thank you to everyone that supports me, I couldn't do what I do without you. Onto the next one now and back to the US next week."
Rising the rankings
Dan's performance – along with his third places at the Americas Triathlon Cup event two weeks ago – has had a significant impact on his position in the World Triathlon Rankings. Separate from the WTCS Rankings which determine the World Champion, this can be key to gaining qualification and access to international events, which are often oversubscribed in terms of athletes wanting to take part. With events often having restrictions on number of athletes from one nation, even standings relative to athletes from your own nation can be key to even getting a start.
If you note below, Dan moved up more than 100 places from his race in Portugal alone. In a season in which one of his original goals was to make his debut on the World Triathlon Cup circuit (effectively the second tier of draft-legal racing, between WTCS and Continental Cup), that should be a big help down the line, and puts him perhaps even ahead of where he may even have hoped to be at this stage.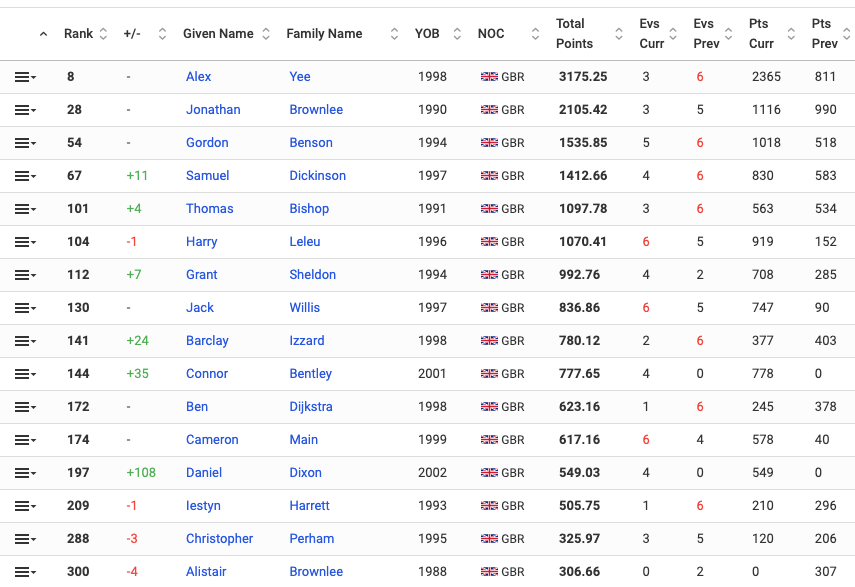 Birmingham calling?
The Commonwealth Games takes place in late July in Birmingham, and the Team England squads have one place each remaining, having already selected Alex Yee, Jonathan Brownlee, Georgia Taylor-Brown and Sophie Coldwell.
For the English men, Yee and Brownlee are clearly on a different level in terms of recent results and performances – which suggests to me that the final spot really is up for grabs, with no obvious favourite right now.
An athlete can earn that final slot with a podium finish at either WTCS Yokohama (14/15 May) or World Triathlon Cup Arzachena (28/29 May) AND a podium at WTCS Leeds (11/12 June). That is a very high bar – one which I would be truly amazed if any of the potential contenders for that final slot achieved for the men.
That leaves discretionary selection available, which takes into account athletes not already picked but considered medal contenders, relay specific athletes, future Commonwealth Games contenders and, potentially, athletes who could perform a Pilot role for another athlete.
At the very least, Dixon must have at least added his name into consideration alongside all of those other British athletes he raced in Portugal.
Gordon Benson – who didn't race in Quarteira – will get the first chance to put his case forward this weekend in Melilla, Spain, at another European Triathlon Cup event.
While we've talked at length about the Road to St George, the Road to Birmingham is another one to keep an eye on during the next couple of months too.