Richard Murray held off Kevin McDowell in a thrilling finish to the Americas Cup Triathlon Sarasota-Bradenton on Sunday.
The event had been put back a day due to high winds and rain in Florida and the format was shortened to super sprint, with a 375m swim, a 12.2km bike ride and a 2.5km run.
South African-born Murray, soon to be racing for the Netherlands and back in action after a year out following heart surgery, was locked together with Olympic silver medallist McDowell from the start of the run but just proved stronger in the finishing chute.
"Took the win today… my first race back with an international American Cup field. So happy the body is working," said Murray afterwards on his social media channels.
Dixon on podium
In third place, a further eight seconds back, was last week's Clermont Draft Legal Challenge winner Dan Dixon.
The 19-year-old Briton – and TRI247 columnist – produced a quickest swim split of 4:36 and stayed in touch with the front two until around 600m out in the run, with his podium position continuing a fine start to the season.
The Dixon report
Dan checked in with an update on what was another successful day in Florida:
"Another weekend, another race! This time it was Sarasota-Bradenton Americas Cup, my first invidual start at a Senior International race. It literally couldn't have been more eventful!
"Tornado warnings on the Saturday morning cancelled the planned sprint distance race and we then had no idea if we would race at all or just have to fly home. Much to their credit the race organisers (LOC and World Triathlon), decided quickly to reschedule the race to Sunday morning, however it would be a 'super sprint' instead. Most athletes, including myself, were flying home on Sunday so this made things pretty tricky, however everyone was able to start.
"Arriving on Sunday morning it dropped from 30 degrees plus to 5 degrees! The Elite Junior races were made into a Duathlon just 10 minutes before their planned start and we assumed the same may happen for us too, as we were an hour later. Warming up no one had any idea what type of race we would be doing, or when as the timings had all been changed.
"The call was made 20 minutes before the start that it would be a triathlon and wetsuit mandatory with no swim warm up – we also hadn't even racked our bikes at this point! Going in I had a low ranking so started in a tricky position on the pontoon, however I got a great start, attacking the swim and leading out with a six seconds gap over 375m.
"During the initial stages of the bike I rode solo before the lead pack caught me. From there we worked really well together and I enjoyed racing with names I have only seen on the TV too. Coming into T2 I was in a great position and exited second with Richard Murray and Kevin McDowell.
"We went shoulder to shoulder for around 2km before the big attacks came, a little too much for me on the day but a third place to some top guys in my first race at this level, I'll take it!
"This concluded my time in the States in a brilliant way and I can't thank my coach Ryan Bolton enough for the opportunity to spend so much time out here, as well as getting to learn from some of the best!"
Kasper sprints to victory
The women's event also produced a close finish, with just three seconds separating winner Kirsten Kasper of the USA and Canadian Emy Legault.
It had been tight throughout but a fastest run split of the entire field (8:21) from Kasper proved decisive and saw Legault have to settle for her third silver of the season so far.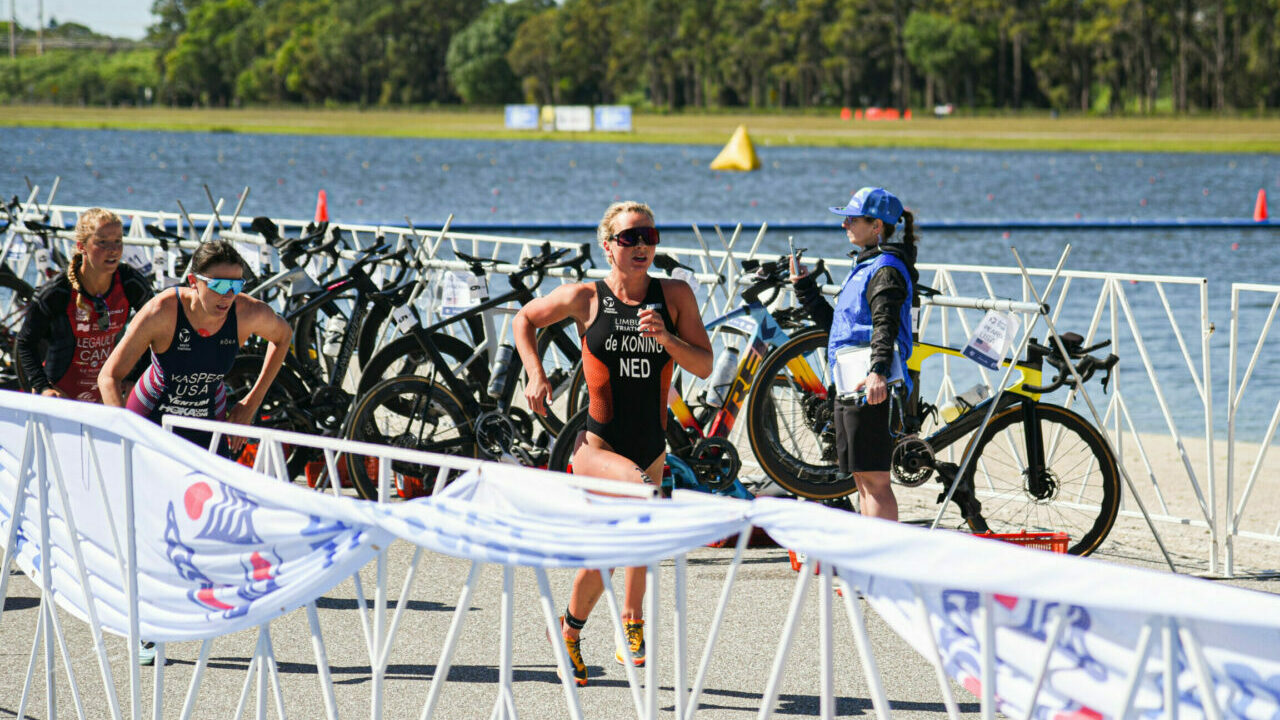 Rachel Klamer of the Netherlands rounded off the podium in third.
Kasper had just missed out on a $100,000 windfall the week before at the Couples Championship, when second along with Matt Sharpe (while Klamer and Murray were eighth).
Americas Triathlon Cup Sarasota-Bradenton 2022 results
Sunday 13th March 2022
ELITE SUPER SPRINT (375m / 12.2km / 2.5km)
MEN
1. Richard Murray (TRI) – 29:14
2. Kevin McDowell (USA) – 29:15
3. Daniel Dixon (GBR) – 29:23
4. Charles Paquet (CAN) – 29:39
5. Austin Hindman (USA) – 29:42
WOMEN
1. Kirsten Kasper (USA) – 32:47
2. Emy Legault (CAN) – 32:50
3. Rachel Klamer (NED) – 32:55
4. Barbara De Koning (NED) – 33:04
5. Vittoria Lopes (BRA) – 33:42