Jan Frodeno has never hidden the fact that returning to Kona in October to bid for another IRONMAN World Championship on Hawaii was his biggest goal for 2022.
That doesn't mean though that the German superstar didn't want to take on the world's best – including those Norwegian prodigies – at St George on May 7.
There was much disappointment then in the Frodo camp earlier this month when the 40-year-old reigning champion was forced to withdraw from his defence of the title won on 'The Big Island' in 2019.
An Achilles injury meant the risk of competing in Utah was too great with a long season – and Kona – lying ahead.
We sat down this week with Frodeno's coach Dan Lorang to talk about the decision to pull out of St George, how Jan is now, and what comes next for the modern-day GOAT.
Dan Lorang on Frodeno St George KO
Dan first explained why Frodeno made the decision that he would not defend his title on May 7.
He said: "Jan always had some issues with the Achilles tendon. So even in 2012 he nearly missed the Olympic Games because he had to deal with an Achilles problem. But we were able to manage it over the last 10 years and keep it at a good level."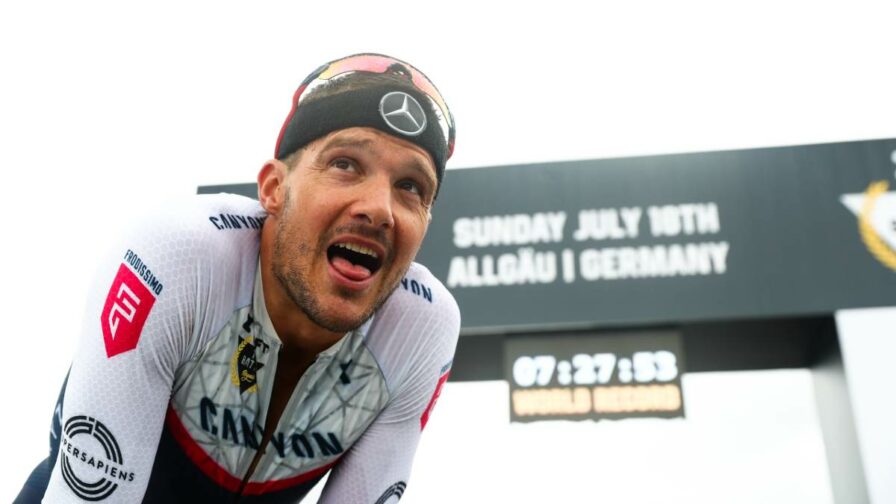 That long-standing problem though suddenly became a much bigger issue as the countdown to St George hotted up, and it left Frodeno and his team with a difficult decision.
Jan could race in St George, but he would do so at great risk. A ruptured Achilles would put paid to 2022 and Kona, and potentially to his glittering career. Or he could shut it down for now, recover and build back towards Kona. Frodeno was also painfully aware of the challenge awaiting him in Utah, and as we know, he does not race unless he is at 100 percent.
"We had to make a decision because while it was always clear Kona is the last big goal for Jan, perhaps he could go to St. George, perhaps he could run," said Lorang.
"But there is a risk that the tendon then would completely break. And that's why we said okay, we make the 100% recovery process and then make the build-up for Kona and that's basically what happened."
How is Frodeno now? And what comes next?
So a couple of weeks after the news broke that Frodeno would not race in St George, how is he? Lorang provided a positive update which bodes well right now for the remainder of 2022.
"I have to say he's in really good shape. He even has his best numbers on the bike last week, but now he has the time to 100% recover and then to be ready. If he had told us, 'okay, my heart is to do this last World Championship in St George, no matter what happens, then I finish my career', then we would do it. But that's not what he wants.
"His heart is hanging on Kona, mine too. So I'm honest with that. And he said that is where we want to go once again for a big showdown. And so we have to pull out here, even if it's a shame, because there will be such a stacked field in St George. But the risk is just too high."
Now of course attention will turn to when we will see Frodeno racing again, and where.
"I would say generally always in our preparation, there's some kind of 70.3," Lorang revealed.
"So if the healing process continues now, like it's doing, I guess there will also be one or two 70.3 races before Kona."
Dan Lorang pre-St George TRI247 interview:
Part 3: All roads lead to Kona for Jan Frodeno