When Anne Haug goes out to defend her IRONMAN World Championship title on May 7 in St George, she will do so feeling she has a point to prove.
The 39-year-old German star has held the title she won so brilliantly in Kona for well over two years now, and is acutely aware that much has changed in triathlon (and the world) since then.
As she finalises preparations for the big dance in Utah, her coach Dan Lorang provided fascinating insight into her mindset and preparations.
He and Anne both know there is a stacked field, even without the injured Lucy Charles-Barclay and latest world #1 Laura Philipp, and that there will be many threats. The focus first and foremost though will be making sure Haug herself will be in peak shape.
Haug facing strong opposition
Lorang told TRI247: "I think we have to say when we saw the performance of this year, Kat Matthews for sure is really strong. I think Laura Philipp has made a really strong impression [Ed. has now been ruled out], she has a really good program with her coach. I think then I would also never underestimate Daniela Ryf. And then I think we have a lot of ladies a little bit together.
"In general, we never look at who is the favourite. We just go there and try to get the best out of Anne. So if you would tell her 'you are the defending world champion', she will say, 'oh, am I?' She thinks, 'okay, I'm on trial somehow and I go to the World Championship not acting like I am the World Champion'.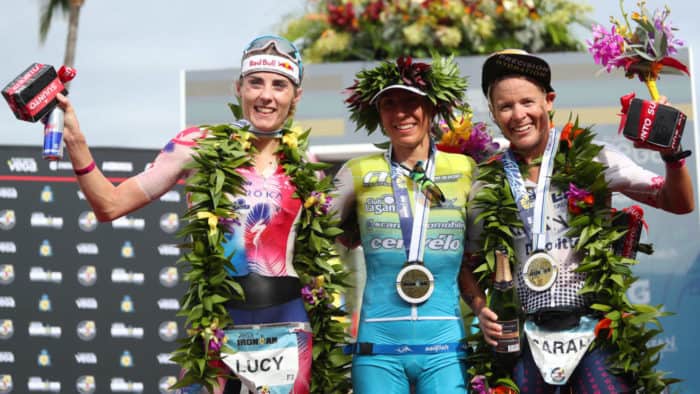 "And I know that because she will always try to do her best and she sees that there are a lot of strong girls and is always concerned that it would perhaps not be enough."
Lorang on Salou withdrawal
After finishing second behind the impressive Matthews at IRONMAN 70.3 Lanzarote, Haug was forced to pull out of Challenge Salou at the last minute. Lorang is at pains to point out it was a minor issue, and it was not COVID-19.
"She had a small sickness, just a small infection, nothing big. Even two days later, she trained again. So it was really just a case of being careful and not wanting to risk anything, because you never know whether it is COVID or not. It was not, luckily, just a flu."
Anne explained recently when speaking to our Mark Allen on his 'Road To St George' series that she was experimenting with altitude ahead of her prep races.
Lorang said: "She was in Sierra Nevada for some time, a little bit more than two weeks, and then after she was in a camp in Lanzarote, and then she headed home for a little bit."
Now Haug is finalising her preparation for Utah at home in Germany, with Lorang explaining: "She wants to do the last preparation basically at home. And that's why we are using an altitude tent to simulate a little bit the conditions in St George."
Approaching the challenge
So how is Haug approaching the race, and how does Lorang view what will face her?
"She has a big respect for the competition. We have the strong swimmers and bikers at the moment. There are some ladies who are really strong when you look at the physiology – more muscular, more powerful, and Anne knows one of her strengths for sure is the run. She is also quite aerodynamic on the bike. She's good on the bike, but she's not an uber biker.
"So that's why we will see where can she come out of the swim and what will really happen in that group behind the fast swimmers – that will be quite interesting to see. She's ready to fight and she knows that there's a lot of good, high-quality athletes there. For sure, she wants to go there and have the best possible result."
Will St George suit Haug?
There has been much discussion about which athletes will be suited by the course in St George, with its unique undulations. Lorang says the answer when it comes to Anne is not a simple one.
"There are two ways of looking at it. One side is to say, okay, it's hilly, she's a light athlete, so that's good. But the other side, she's so small and she's really aerodynamic and in the climbs they are not going fast so that's why she's also losing some kind of advantage and why it will be interesting.
"What would be not the best scenario on the bike is having somebody in the front, somebody more in the back, and she's somewhere between," said Lorang.
"She likes more to be focused, to have a point, a reference point – that would be an ideal situation. And then coming to the run, being in a good state and then over the marathon, everything can happen.
"We don't have the heat in St George, but what we have is the profile of the course (with those undulations and climbs). And it would not be a big surprise if athletes collapse from muscle cramps or something like it because of the downhills."
Survival of the fittest
With the brutal challenge St George will pose in the forefront of their minds, Haug and Lorang will emphasise the importance of managing things to ensure Anne is in the mix on the marathon.
"It will be essential to go until the finish line, to really take care of your energy resources and also your muscle resources because I think this could be the key point of the race."
Dan Lorang pre-St George TRI247 interview:
Part 4: Case for the defence – Anne Haug's St George bid