Norway. Blummenfelt. Iden.
In men's triathlon at least, it's been pretty difficult to escape the impact that the town of Bergen, and the #HypeTrain have had on the sport over the past two years. Even on these very pages, there have been times when I've looked at the homepage of TRI247, and thought, 'Jeez, there's a bit of a Norwegian overload going on here!'
The truth is, every time I've thought that… objectively, every one of those headlines and features has been warranted. If performance should be the factor that drives the narrative, then it's hard impossible to argue that they haven't earned their extended time in the spotlights. If you are reading this, you'll not need me to insert the (long) list of success hyperlinks to those championship honours here. Broadly speaking, they've won almost everything.
Which makes it even more fascinating that when Gustav Iden finished 52nd at the WTCS Abu Dhabi 2023 (which at least wasn't dead last, as he was at WTCS Leeds 2022…!), they still get headlines.
Seemingly able to transition between distances and formats, what was the full script for their new play, The curious case of the shoe in the tri time?
As a regular theatre-goer myself, let's speculate and see if we can make some sense of this mystery…
Setting the scene
Yas Marina. Abu Dhabi. Alex Yee running like a gazelle and dominating the first World Triathlon Championship Series event of the year.
Kristian Blummenfelt didn't even make the grid of the F1 circuit to even start due to illness, while Gustav Iden's engine misfired, leaving the esteemed pit crew to revisit their big data for answers. It was almost a pointless performance… no really! Gustav was the final athlete to scrape inside the 'within 8% of the winners time' cutoff. Iden then now leads the WTCS Series, if you turn it upside down. There's always a bright side, if you look hard enough.
Even the best can have a bad day though, and when you are the Athlete of the Year from 2022, you can have confidence to put it behind you, and move on to bigger and better things and disappear quietly into the sand dunes. Until…
Result of athlete #41 Iden/NOR is provisional: a shoe protest is pending
Is this a 'Gotcha!' moment? Is the Hype Train on the buffers? 52nd place… and even that might not stick. #Drama.
The backstory
The Rolling Stones sang, You Can't Always Get What You Want, and from the 1st January 2023, you can't always wear what you want either. At least, not on your feet.
Gustav Iden signed with ON Running just prior to the IRONMAN World Championship in Hawaii. Detractors laughed, 'he's taken the money!". Why would he do that?
Well, turns out the Gustav is smarter than the average bear, and there was calculated method in what some saw as madness. 2:36:15 of course-record marathon running through the lava fields showed that not only was he running on clouds, but his clouds were an asset, not a liability. And assets tend to grow, when you win the IRONMAN World Championship. For both Gustav and ON.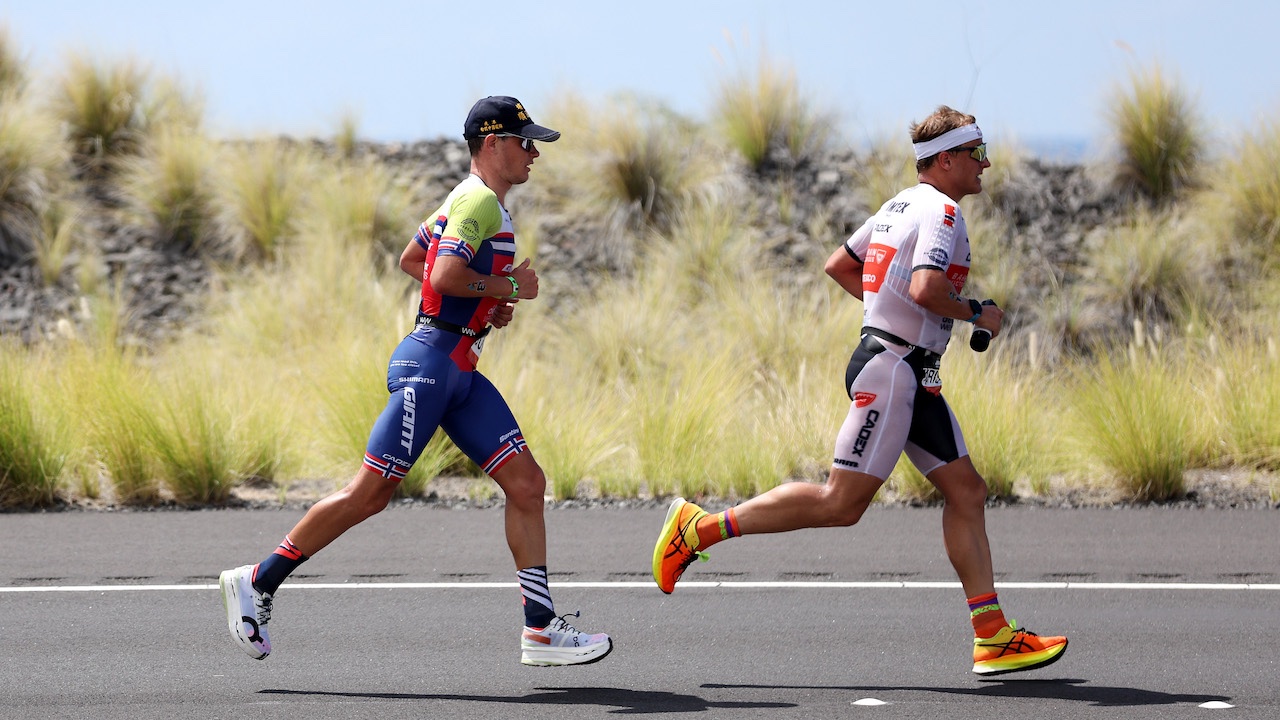 The party was soon over for those particular shoes though, when World Triathlon implemented the regulations of World Athletics for the new year. As one door closes, another opens, and Kristian wanted to be running through it with his training partner… and he signed with ON, too. If you can't beat them (in Kona), join them?
Still whatever clouds they would be running on moving forward, would have a maximum stack height of 40mm.
Plot twist!
Still, had the attention-to-detail Norwegians, like Icarus, been caught out flying too close to the sun? Had their drive to push the boundaries of science, training and technology been rumbled with a "look mate, rules are there for a reason – and you've clearly broken them with those new kicks of yours… even if you did run like a donkey today."
Time to bring those boys down a peg or two. Not so smart now, are you. A lactate strip is not going save you this time!
And then, in the spirit of Agatha Christie, World Triathlon passed judgement, with the shocking news that started with:
World Triathlon received a protest from a representative from the Norwegian Federation regarding the shoes used by athlete #41, Gustav Iden (NOR)
OMG. It's an inside job!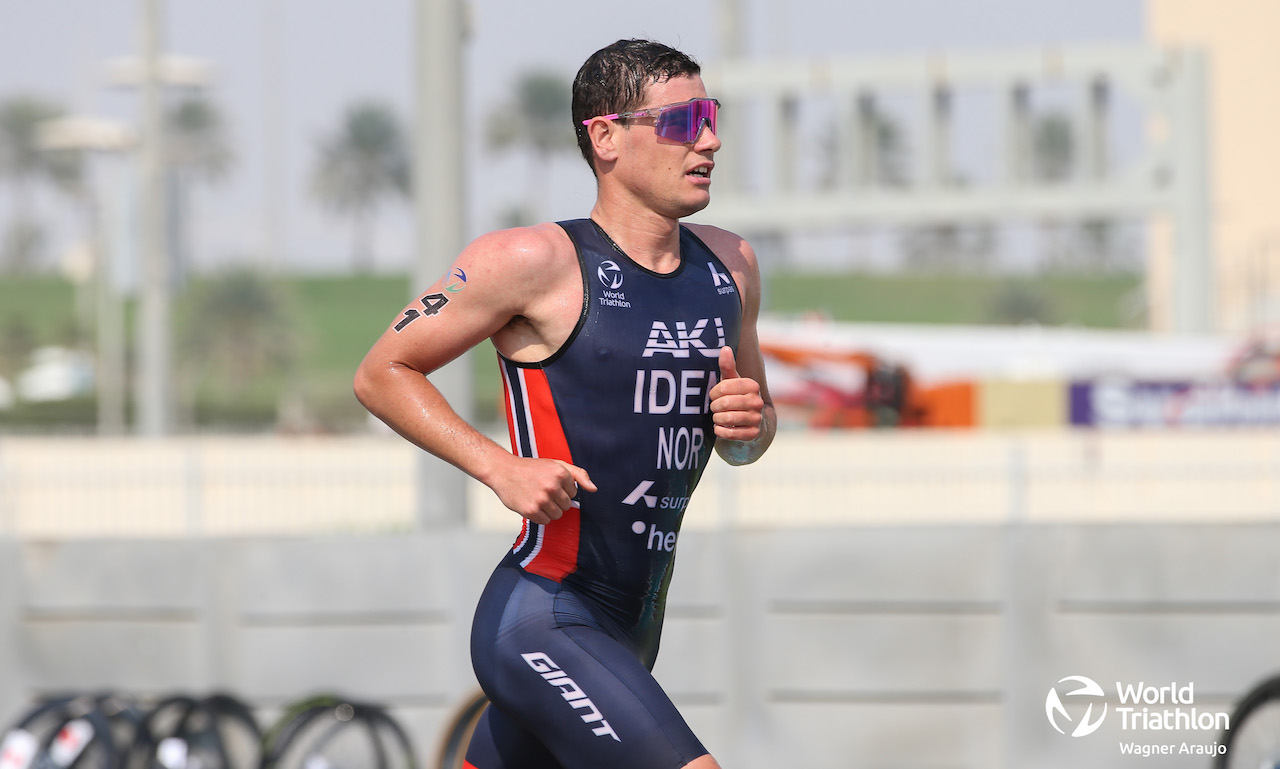 Mutiny, civil war!
Who saw that one coming?! Fallout, scandal and the sport rocked to its core. Except, the findings reported:
…those shoes were listed in their approved shoes list before March 3 under the name ON SHOES CloudTRI 1 per their specifications.
Case dismissed, the defendant is free to run! Hopefully faster than they did in Abu Dhabi.
What's going on?
So, in the cold light of day, a 'representative from the Norwegian Federation' tried to call out one of their own athletes. Did that represent evidence of a breakdown in communications between the governing body and its athletes – or between athletes on the team?
I'm not buying that one! If nothing else, the shoe was already on the approved list. Far more likely is that other athletes in the race saw the shoes, the gossiping jungle drums started beating and whisperings of 'testing the limits – and beyond' circulate. Why bother defending yourself – when you are certain you are on the right side of the law – when you can get the governing body to do it for you? If might not be common in triathlon, but it's an approach many a politician has used when electing to put themselves before a Commons Privileges Committee.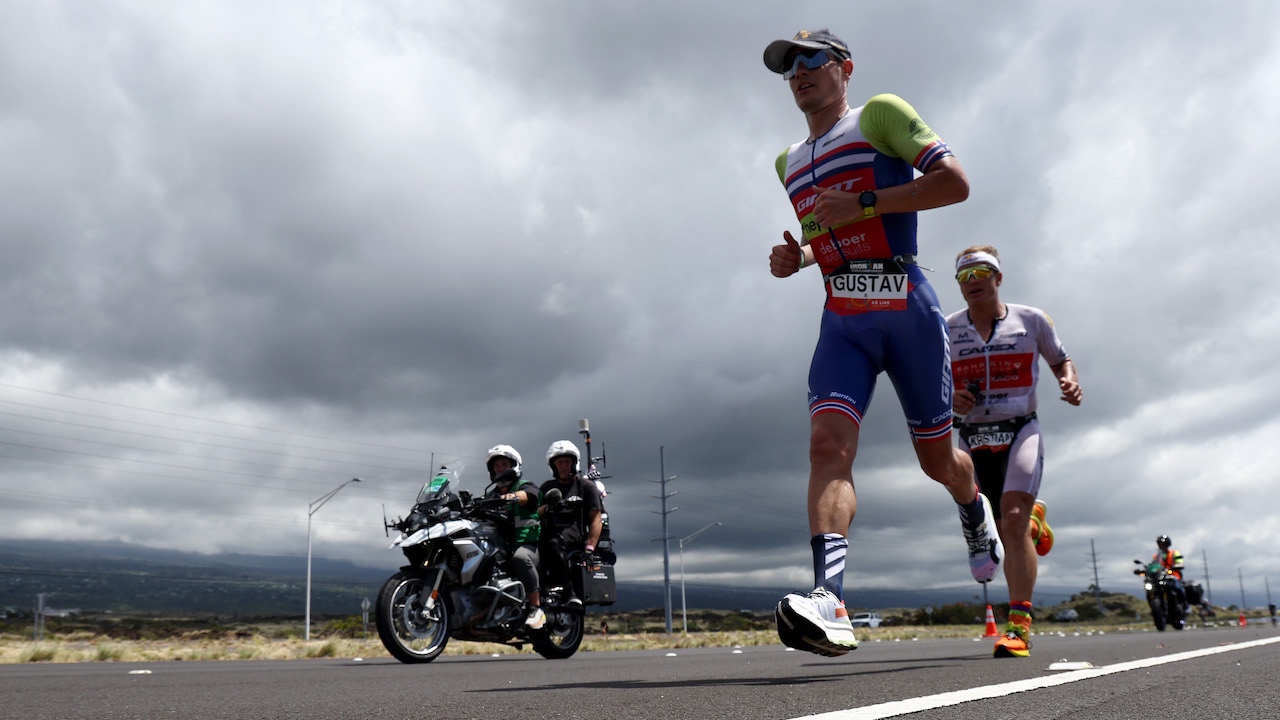 There is another – possible – explanation. Are Team Norway / ON Running / Gustav & Co. pushing and seeking to optimise everything ahead of Paris 2024? Of course, we'd be shocked if they weren't. We would also be equally bemused if their competition weren't trying to match them.
Perhaps, perhaps – because the Norwegians, while confident, are not arrogant enough to believe they know everything – had their eyes on the competition, and spotted some potential infractions elsewhere? Do you call that in now – and potentially have it blow up in your face if you got it wrong – or instead call in yourself, which sends a very subtle message that the shoe review process is live… so make sure you don't try and push it when the big races come around. All with the added benefit, of getting cast iron confirmation that you are fully legit.
Masters of marketing?
Whether planned or not, it's also remarkably good marketing for ON Running. Which is a particularly noteworthy achievement, from a day when your athlete, by his standards, was well and truly beaten.
Try searching online for pictures of the 'ON SHOES CloudTRI 1', and it's like trying to track down the Holy Grail. And yet… you know that potential buyers, based on their belief in the approach of Iden and Blummenfelt, will readily look beyond the Yas Marina performance to get their hands on some. That's not insignificant for a brand that, in pure elite performance running terms, is not yet as established as Nike, Asics, New Balance and others.
When's the sequel?!
Intrigue, drama, plot twists and unanswered questions. Who knew that a shoe review committee could provide such gripping entertainment?
Somehow I suspect that the sequel will be released soon.