Founded by multiple IRONMAN winner and twice ITU Long Distance Duathlon World Champion, Olivier Bernhard, On Running has further strengthened its triathlon connections with news of three of the highest profile athletes in triathlon.
Already the footwear brand of IRONMAN World Champion, Gustav Iden, the Swiss brand have now added Kristian Blummenfelt, Chelsea Sodaro and Paula Findlay to their roster.
They will join the likes of Matt Hanson, Frederic Funk and Tom Bishop in the 'run on clouds' footwear.
Norway united
Friends and training partners, Iden and Blummenfelt will now also match in brand terms when it comes to their running footwear.
Iden of course joined On Running ahead of the IRONMAN World Championship in Kona, winning the race there – on the run – while wearing a prototype/custom version of On's Cloudboom Echo 3.0 shoe. Those shoes seemingly included an increased sole thickness.
Fully legal at the time – Team Norway were smart enough to check the details with IRONMAN well in advance of the race to be sure – under new World Triathlon rules at least, they will now follow the guidelines set by World Athletics on shoe design / thickness / carbon plates / commercial availability etc. So, while those shoes will likely be consigned to a museum as a piece of history, willingness to adapt is clearly there.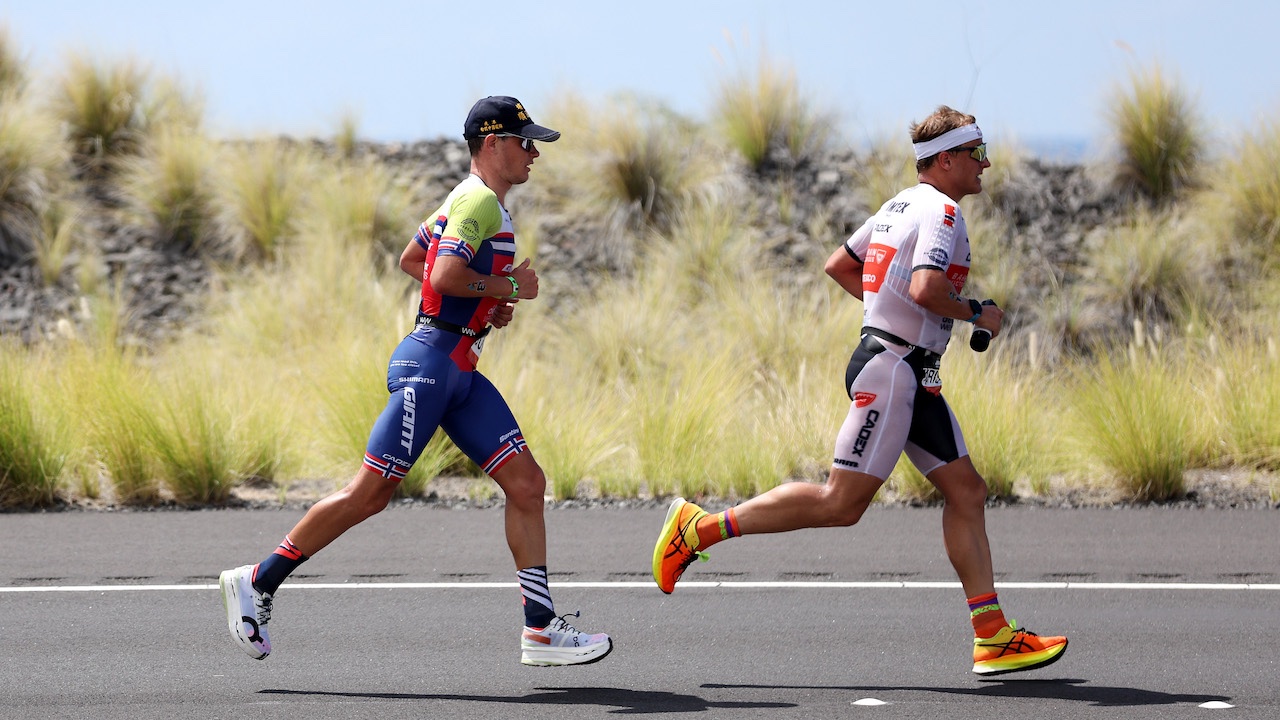 This news also sees Kristian switch from ASICS to On. That – commercial aspects aside – is a little surprising to me at first glance, looking back on this article that I wrote in December 2021. There, I made comment on how the Blummenfelt x ASICS link-up was one that "that makes sense at all levels." As the PTO's World #1 and off the back of another remarkable 2022 season, his previous footwear was showing no signs of not performing, from the outside looking in at least.
Of course, we are not party to the nature of that contract and related commercial aspects. One thing we can be sure of, given that both of the Bergen boys are fully focused on Paris 2024 success, is that they and their technically astute teams must be extremely confident that the brand can produce a shoe that will match or better anything else on the market when they are under the shadow of the Eiffel Tower next year.
Blummenfelt said, "From what I've seen when visiting the On Labs, it is such a dynamic, dedicated team which I believe can put me in a better position in Paris."
That also reflects well for On Running in performance terms. It is not that long ago that Chris Thompson, a sponsored athlete – with the permission of On – won the British Olympic Marathon Trials wearing a pair of blacked-out Nike Vaporfly Next% shoes, as their own next-generation shoes were not yet ready.
While it's tempting to think that, "the shoes don't matter, take the biggest cheque!" is the approach, that is only going to be a part of the story. Even a casual glance at running performances over the past five years will tell you that shoe technology – lead, primarily, by the Nike Vaporfly/Alphafly ranges – truly matters.
In both absolute speed terms and reducing impact on muscles with the developments in midsole/foam technology, nobody is winning at the highest level without them. They are even taking over at your local parkrun!
Sodaro strikes out
Chelsea Sodaro of course is the reigning IRONMAN World Champion, a title she won in such impressive style in Kona last year. A member of the BMC Pro Triathlon Team for several years, including that Kona win, for 2023 Sodaro steps out on her own and will be building her own brand partnerships. That makes a lot of sense in many ways, with her potential commercial value to individual brands, on the back of that success, almost certainly greater than would be available under a package of products deal, which is the modus operandi of that BMC Pro Triathlon Team structure.
While that team structure didn't actually include a footwear partner (Sodaro wore ASICS during 2022), we can expect the recent winner of the 'Rookie of the Year' Award at the GTAs to be revealing many new partnerships during the early part of 2023. A worthy reward for her efforts.
Findlay finds confidence
In Paula Findlay, On also adds the IRONMAN 70.3 World Championship silver medallist. Second also at the PTO Canadian Open and ending her season with victory at IRONMAN 70.3 Indian Wells, Findlay has shown impressive consistency in the non-drafting format, and also brings added visibility via the popular That Triathlon Life YouTube channel and social media platform that she and her partner, Eric Lagerstrom, run.
Findlay has been experimenting and trialling different shoes in recent years with an ongoing ankle injury – and during the process, training and racing, has found On to work for her. That Indian Wells win was actually achieved while racing in the Cloudboom Echo 3.0.
"I'm a fairly injury-prone runner, and the Cloudmonster is one of the most comfortable shoes I've ever worn. It gives me the confidence to run the volumes I need without risking injury."