Gustav Iden and Kristian Blummenfelt have done exactly what they set out to do when they began to train their sights on full-distance triathlon glory late last year.
Two IRONMAN World Championships and a string of astonishing performances later, the Norwegian superstars are set now to exit stage left and head back to short-course racing with Paris 2024 the next major goal.
As they do so, it is time to assess what they leave behind, and how they have changed the landscape of the sport. Perhaps for ever.
Much has been made of the 'Norwegian hype train', but it's delivered at every single stage. Removing the word 'hype' is now long overdue.
That is simply staggering – and all in not much more than 12 months.
More to come?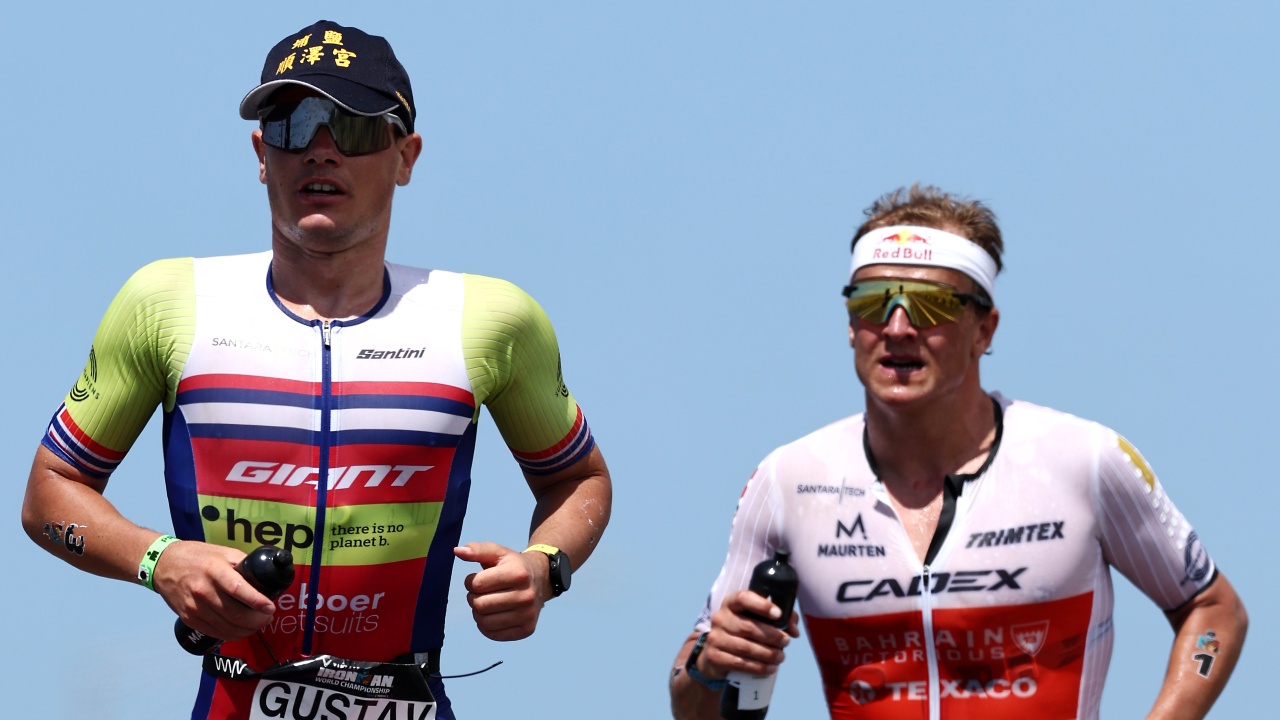 As far as full-distance racing is concerned, they've achieved it despite some significant hurdles. Just consider…
Blummenfelt won the rescheduled IMWC in St George by nearly five minutes despite still recovering from a respiratory virus which ruled Iden out on the eve of the race. If you want a sense of how difficult that is, then look at how St George third Braden Currie fared in Kona after battling a cold in the build-up.
Speaking to their coach Olav Aleksander Bu before Hawaii, he revealed that even at this point the Paris 2024 Olympics is already the clear number one priority. As a result their training plan was only 60% geared towards full distance – their last race before Kona remember was in their home town of Bergen at the other end of the distance spectrum.
When I asked Olav why they didn't race the PTO US Open in Dallas instead, he explained: "The problem was that racing World Cup in Bergen, which is a sprint, is so far off the requirements at Kona that they had to choose. Since Bergen is their hometown, they wanted to perform at a decent level, which required us to deviate from the Kona prep.
"At the same time, it would give us an indicator of their level as Paris 2024 is our #1 goal.
"Travelling and then racing the PTO US Open would put the whole Kona prep at risk due to time available to specialise between Bergen and Kona. So that is the only reason why they didn't race the PTO US Open, which would have been more aligned with the Kona prep."
And yet still they were able to take home first and third from Kona, with Iden's winning time more than 10 minutes quicker than the previous course record.
Record breakers
Records for the Norwegians are a recurring theme – when I asked Olav when the IRONMAN prep has been closest to 100% over the last 12 months, he replied just the once – at Cozumel in November 2021. That remember was when Kristian clocked 7:21:12 and many said that was due to a down-current swim!
What then could they be capable of if they focused purely on middle and long-distance like most of their rivals?
Bu believes the run is where the real gains will come – times of 2:35 will seem relatively slow and he believes 2:25-2:30 will be the benchmark in the near future, perhaps even quicker in ideal conditions.
While mindset and ability have played an enormous part in the Norwegian success story, we have not even mentioned yet the way their appliance of science is changing the game.
There is no doubt that the meticulous approach has played a significant role in elevating Blummenfelt and Iden – and it sounds like it's about to move to the next level too. Put simply, they have a clear idea of what is achievable and realistic.
It's no coincidence that nearly everything they've suggested might happen, has done so. Even down to the point of attack in Kona…
Reasons for optimism
But does their likely absence from IRONMAN racing in 2023 and 2024 leave a void?
Will next year's Kona champion almost have an asterisk against their name with no Blummenfelt or Iden on the start list?
Hopefully not. Firstly that's not how elite sport works – there was no Jan Frodeno this year for example. You can only beat what is put in front of you.
The positive signs are that these Scandinavian giants have now raised the bar for everyone. No fewer than four athletes broke Frodeno's old course record in Kona. A staggering 10 dipped under the eight-hour mark. And the first 19 all went 2:56 or quicker in the marathon.
Hugely respected athletes like Sebastian Kienle and Patrick Lange – both former winners – have hailed the new levels as "inspiring".
Aussies Max Neumann and Cam Wurf both underlined that what happened in Kona last weekend has now given them added motivation to go back and work even harder over the next 12 months to try and match it.
That's how it should be and now it's the turn of Alex Yee, Hayden Wilde and co to try and derail that Norwegian train at the Olympic distance.
Good luck with that…