Team Jenkins (Jinx Sport) Monthly Column – January 2020
RACE DAY IS HERE
(Header image photo credit: James Mitchell – www.jamesmitchell.eu)
ITU Triathlon World Champion in 2008 and 2011, Helen Jenkins has also represented Great Britain at the last three Olympic Games.
Since then, she's had a child (Mali), had to go through major spinal fusion surgery (2018), and in 2019 she and her husband, coach and Olympian himself, Marc Jenkins, welcomed their second child (Max) into the world. Family life, time to move on, racing days over and time to reflect back on a great career? Absolutely not, confirming in December that she would be racing IRONMAN 70.3 Dubai in February 2020. Well, that race day is less than 24 hours away now.
Each month, Helen and Marc will give us their separate and individual takes on the past month, as they strive for their next success in the sport they love. Here's their latest update, which of course covers the start to 2020 and their thoughts and feelings ahead of a first race start since 2016.
 (You can find the previous updates here: Aug 2019 | Sept 2019 | Oct 2019 | Nov 2019) | Dec 2019)
---
Helen Jenkins
We decamped to Lanzarote for January; both mine and Marc's parents were there for the month so we had childcare and a great training location. I make it sound very easy, but it hasn't been the easiest month.
Training wise it has been great. I did a few weeks of bigger volume and towards the end of the month I was really happy with some of the sessions I hit. I am a long way off where I was when I last competed, but when I last competed, I was in shape for the Olympics! I have improved so much over the last month. Max just turned eight months and it made me realise how far I had come. I didn't 'train' when I was pregnant with Max, I exercised maybe once a day. Then post-pregnancy I didn't start any organised training for a couple of months.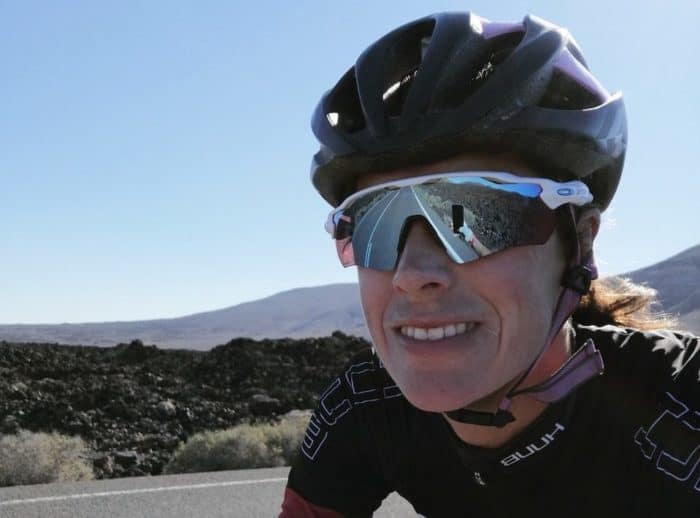 Mid-month, Marc returned to the UK for some coaching work, it was too good an opportunity not to go, but it left me with a lot more childcare around training. I don't want to sound like I am complaining because I genuinely love what I do, I love the training, getting fitter and seeing progression. I love that I am able to spend a lot of time with our kids around training. I am in the lucky situation that I have parents and in-laws who help out when I am training. But it is pretty tough to fit in a 25-hour training week and then have the energy to do all the fun stuff like parks, beach, deal with a teething baby and the occasionally moody two-year-old on your own. Also, we had a rushed trip to the local clinic as Mali developed bronchitis! I had moments in those two weeks where the last thing I wanted to do was train.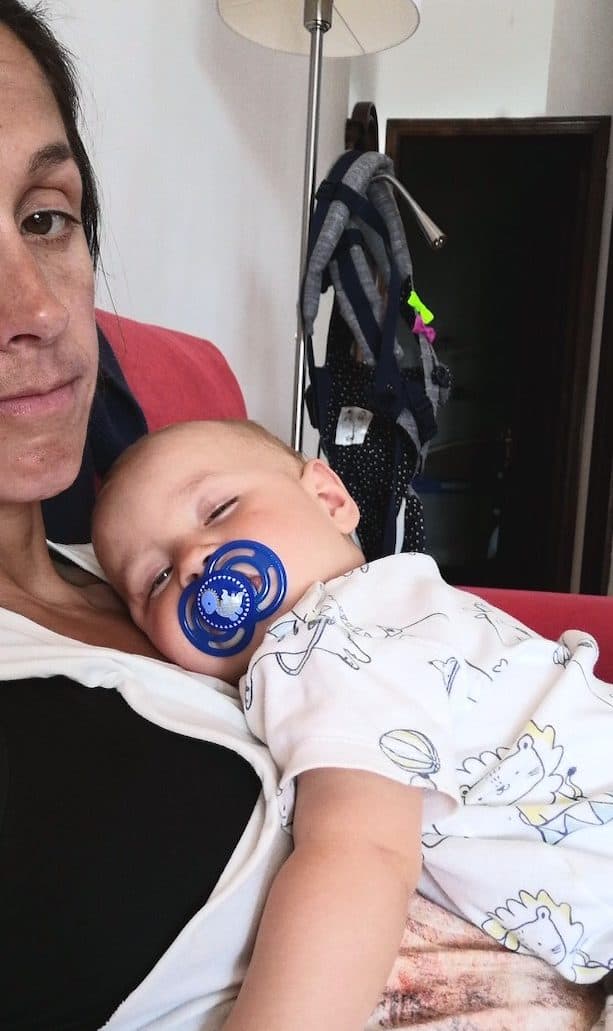 One night after spending a couple of hours awake with Max in the night I was seriously doubting my ability to be a triathlete again… things always seem a bit worse at 2am. But, the next day I went out and trained. I had to adapt a bit, some sessions were shorter or less intense, I had to take a day off one day. I am pretty pleased with how we managed it all. Thankfully Marc returned and took over the night-time wake ups, so I got a great week of sleep and we managed some lovely family time. One of the reasons for my desire to return to racing is so the kids can come along on this crazy triathlon life. Early morning walks down the beach (anyone's else's kids think 5am is acceptable wake up time?!), in the pool every day and watching the occasional session has made all the tougher times in January worth it.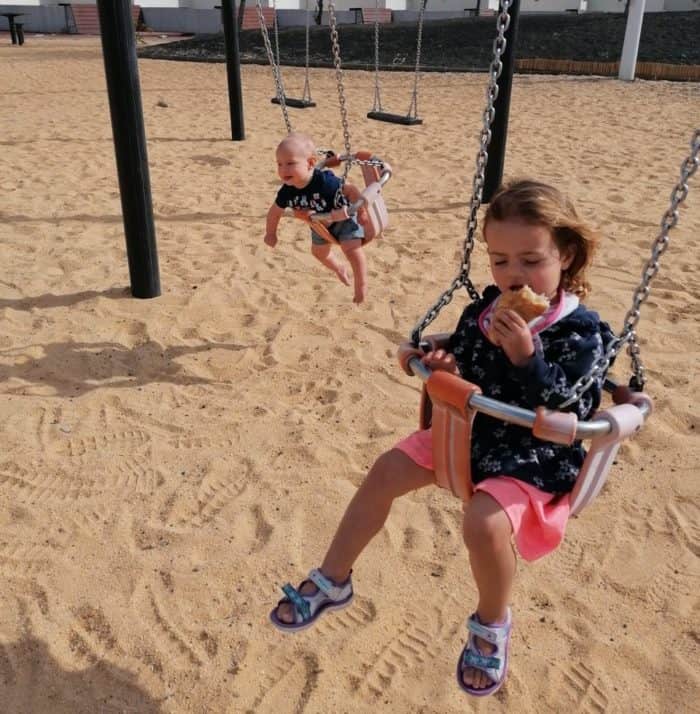 So next up is RACING! It's very weird to be in race week after so long. I'm not sure if Marc actually thought I'd get to this point with my injury track record. But we are here. I am excited and nervous. So many unknowns – where is my fitness? How will I like the 70.3 distance? The technicalities of a longer distance, nutrition, transition bags (so many!), long sleeve race suits, TT bikes!!
I don't feel as fit as I'd like to be, or as rested and focussed. The kids come first in priorities so there have been occasions when I haven't been able to achieve all the training, I had planned but I am the best I mother and athlete I could be at this time. I'm definitely not perfect at either but a very happy medium, so now to race day…
Marc Jenkins
It's Race week… again!!
The prospect of Helen getting to any race week in January 2018 seemed very unlikely. Surgery, as you will know if you have been following her story, was essential if Helen was to have any quality of life moving forward after her back progressively worsening over the years.
The surgeon was clear and honest; this isn't for sport, this is for a healthy life and less pain. At that point the prospect of racing again was unlikely, but we knew we didn't want to carry on the same processes we had the previous 12 years of train a bit, get injured, start again, maybe somewhere in the season get a race in. Given the career Helen has had, I think it is incredible given how bad her spine was and how limited the training consistency was. Three Olympic Games and two World titles, I think there is a bit of luck in there that she was actually able to make the start line on those specific days with a good block behind her. That process had become far too exhausting and emotional however and now with children, would have really impacted on life at home if we'd carried on having done nothing.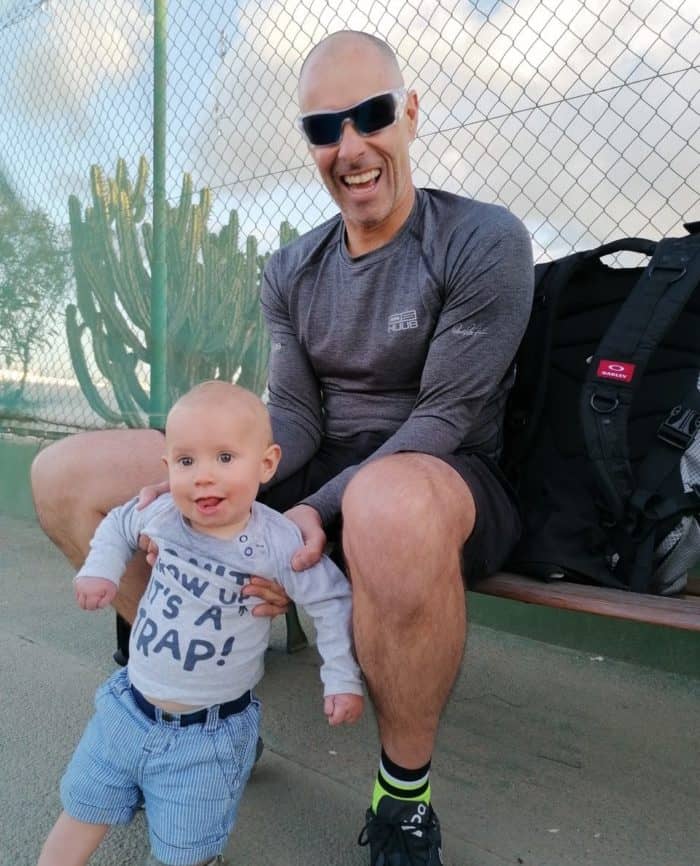 So, Helen has got on a plane and gone to race her first 70.3. The build-up has been different than ever before. A pleasurable hard this time, looking after the kids and dealing with the time restraints parents have vs. the past where it was dealing with pain, tears, emotions from letting down her supporters, her sponsors, the people that helped all this happen and seeing goals drift in to the distance while dealing with some neural/spinal episode.
Incredibly, over the past four months we've not dealt with too many physical issues that getting fit again wouldn't always present. It's been a gradual four months. Helen's done incredible over the last couple of months. While I've been in London every other week coaching actresses for an upcoming movie, she has been training and dealing with the two kids. As if one wasn't exhausting enough and she has just kept going. Helen is a true professional. I hate to say it, but more committed to the detail than I ever was… actually, more committed than anyone I've ever seen, but then that's all a product of her past and what she has had to deal with.
Race week. It's a new format for her, she isn't as fast as she has been in either swim or run which is to be expected with the time since she started training, but we knew we had to draw a line in the sand and have something to focus on and that was Dubai. So, the goal is to get through the race and in 10 days' time, train again. She will improve in the next 10 weeks there is no question of that, what we don't know is, if her body will let her get through the intensity and duration of a race. She has managed the training to get there… so now to race day.