Lucy Charles-Barclay's battle to even get to IRONMAN 70.3 Kraichgau powered by KraichgauEnergie nearly had the perfect ending, but she eventually had to settle for second pace behind local favourite and defending champion Laura Philipp.
Britain's Charles-Barclay, the #2-ranked triathlete in the world, had endured a frustrating build-up to the race due to Brexit rules around overseas travel.
The 2021 IRONMAN 70.3 World Champion was seemingly going to have to miss the race amid visa difficulties having used up almost all of her 90 allocated days in Europe in the first half of 2023, but a late development saw her make a short visit to Germany to take on Philipp and co.
Meanwhile in the men's event there was also a German winner, but possibly not the one many expected as youngster Rico Bogen beat two-time IRONMAN World Champion Patrick Lange.
Pro Women – Down to the wire
Charles-Barclay put the protracted build-up behind her by doing what she does best – leading out the swim.
She came out of the water 55 seconds in front of Philipp and Aussie Ellie Salthouse, with two minutes and more back to the rest. That trio would all end up on the podium but the race ebbed and flowed on the bike.
At the 28km point the gap between LCB and Philipp was still 55 seconds but things changed markedly as Charles-Barclay dropped down to sixth in the standings and suddenly 1:24 behind Philipp.
Salthouse then took over the lead but was usurped herself by Daniela Bleymehl by the time they reached T2, with just 18 seconds between that front trio and Charles-Barclay now with nearly three minutes to make up.
But she made a fantastic bid to do just that, getting to within 38 seconds by the halfway point, with Philipp now back at the head of affairs and Salthouse in between them.
With 3km to go Charles-Barclay was up to second and 24 seconds adrift but that was as close as she got to the world #6 – still a great display, especially in the circumstances.
Another Brit who also shone was recent IRONMAN 70.3 Marbella winner Nikki Bartlett, who finished fourth after coming out in 13th place on the swim. "Definitely my best performance to date," she said afterwards on Twitter.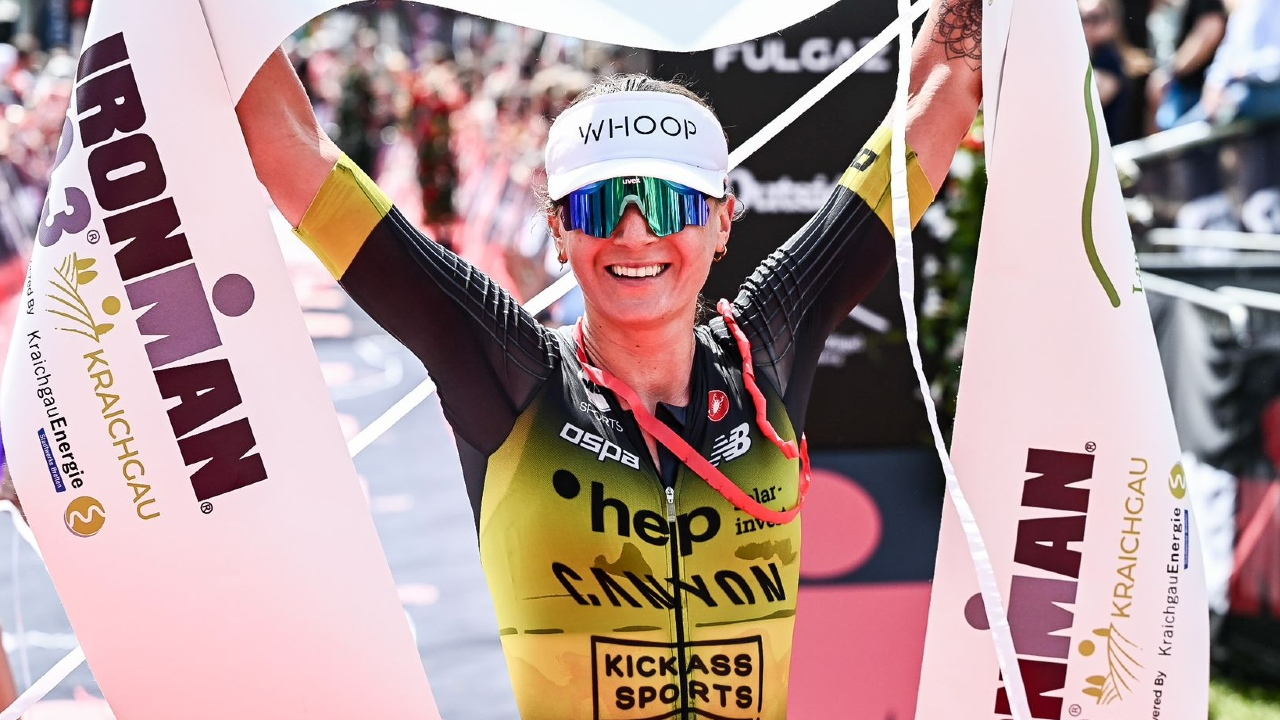 Pro Men – Youth overcomes experience
It was no surprise to see uber-swimmer Lukasz Wojt (GER) out of the water first but even at this early stage Bogen was his closest challenger 42 seconds back, with Lange close to him.
But it all closed up on the bike as a group of four Germans moved clear of the rest 30km in – Bogen, Jesse Hinrichs, Jan Stratmann and Gregor Schreiner holding a 1:42 advantage over the chase pack, which was led by Lange.
Four became three as Hinrichs dropped away but Lange was losing ground, 2:38 back after 70km and that was pretty much exactly how it stayed into T2.
But Bogen made his move early on the run and was nearly a minute ahead of Stratmann by the 5km mark – and impressively he was also maintaining a two-minute gap to Lange.
That did close late on but Lange was never closer than the 53 seconds between them on the line, with Bogen bagging the first big win of his fledgling career. Andrea Salvisberg prevented a German clean sweep of the podium by filling the third and final spot.
And afterwards Bogen said: "This is a big win! It feels amazing. With a strong field featuring Patrick Lange and Andrea Salvisberg, it was so cool to come away with a win.
"Pre-race, I scouted out the course and I was like wow there really lots of hills. It is deceiving at first glance as it looks flat, but it just goes up and down, this suited me well as I am a good biker. I was able to bring it back home on a super awesome run course."
IRONMAN 70.3 Kraichgau 2023 results
Sunday 21 May 2023 – 1.9km / 90km / 21.1km
PRO Women
1. Laura Philipp (GER) – 4:15:27
2. Lucy Charles-Barclay (GBR) – 4:16:11
3. Ellie Salthouse (AUS) – 4:16:20
4. Nikki Bartlett (GBR) – 4:18:54
5. Anne Reischmann (GER) – 4:19:09
PRO Men
1. Rico Bogen (GER) – 3:49:51
2. Patrick Lange (GER) – 3:50:45
3. Andrea Salvisberg (SUI) – 3:51:11
4. Jonas Hoffman (GER) – 3:52:10
5. Jan Stratmann (GER) – 3:52:49