This is a preview of IRONMAN 70.3 Michigan 2023 – you can click here to read how Jackson Laundry and Tamara Jewett made it a day to remember for Canada.
Canadian duo Tamara Jewett and a certain Lionel Sanders top the respective start lists for IRONMAN 70.3 Michigan in Frankfort on Sunday, with both looking to bounce back from frustrating days at the recent IRONMAN 70.3 World Championship in Finland.
Jewett was one of several women hit with a five-minute penalty on the bike but she rallied as best she could to take 11th place after a fastest-of-the-day 1:15:56 run.
Sanders meanwhile was of course DQ'd after crossing that "imaginary" centre line – something we've heard so much about since – and even three weeks on still seems harsh.
Can they get back to winning ways this weekend? Read on to find out how to follow the race and see who they'll be up against…
Start time and how to follow live
The 2023 IRONMAN 70.3 Michigan takes place on Sunday September 17 on the shores of Lake Michigan in Frankfort, a resort town at the mouth of the Betsie River.
The professional men's field will start at 0750 local time, with the women's field following 10 minutes later later. That corresponds to 1250 in the UK, 1350 CET and 0450 Pacific.
There's no live broadcast coverage of the race which means the ever reliable IRONMAN Tracker is the way to follow the action as it unfolds.
The one-loop swim course is entirely within the protected Betsie Bay which should mean calm conditions.
The bike course largely follows highway M-22 and the surrounding roads in Benzie County with two out-and-back sections, featuring a few hills but better described as rolling.
And the half marathon – which is mostly flat – is also made up of two out and back loops on paved trails and roads between Frankfort and the village of Elberta.
Pro Women
Jewett at #13 is comfortably the highest-ranked athlete on the PTO standings competing in either race this weekend.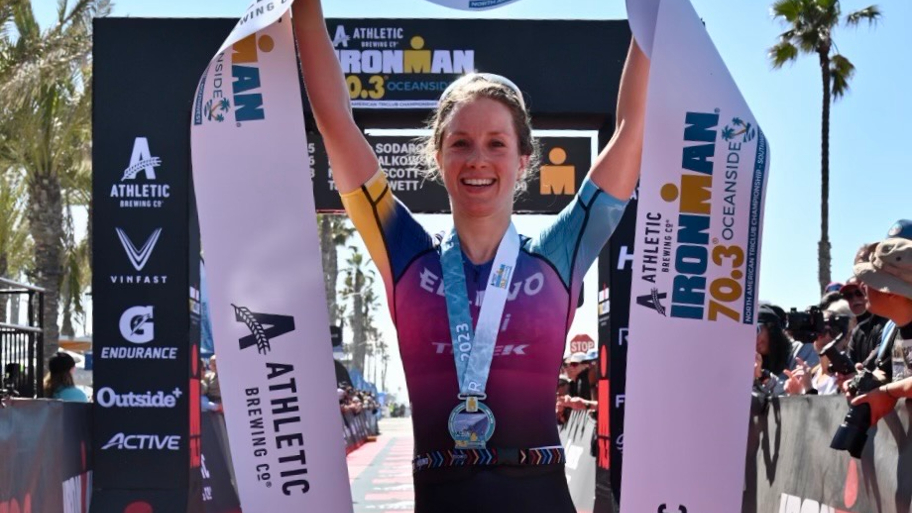 Known as one of the fastest runners in the sport (only Ashleigh Gentle and Anne Haug are ahead of her in that discipline, per PTO stats), she was the impressive winner of 70.3 Oceanside at the start of a season which has seen her go all in on triathlon rather than combining it with her job at law firm Torys LLP.
She's since had top 10 places in the PTO European and US Opens and while that penalty scuppered her chance in Finland, she still took plenty out of the race, saying: "Some huge gains that I am absolutely thrilled about: arguably my best ever swim…bike power is developing well – I am flat out a different cyclist than I was a year ago."
Those improvements in the water will be tested to the limit by Lauren Brandon, who only has Lucy Charles-Barclay ahead of her in the swim standings and is the hot favourite to be first into T1.
But in terms of the overall race, no other woman is in the top 30 of those PTO rankings and it will be a surprise if there's anyone to challenge Jewett by the time we get to the run.
Pro Men
There's also got to be a strong chance of a Canadian winner in the men's race, with Sanders, Jackson Laundry and Matt Sharpe three of the stand-out candidates.
It's easy to forget amid the controversy around the Lahti DQ, that Sanders could very easily have finished in the top five in those 70.3 Worlds. He'd got himself closer than for much of this season in the swim and was cutting through the field on the bike before things were derailed.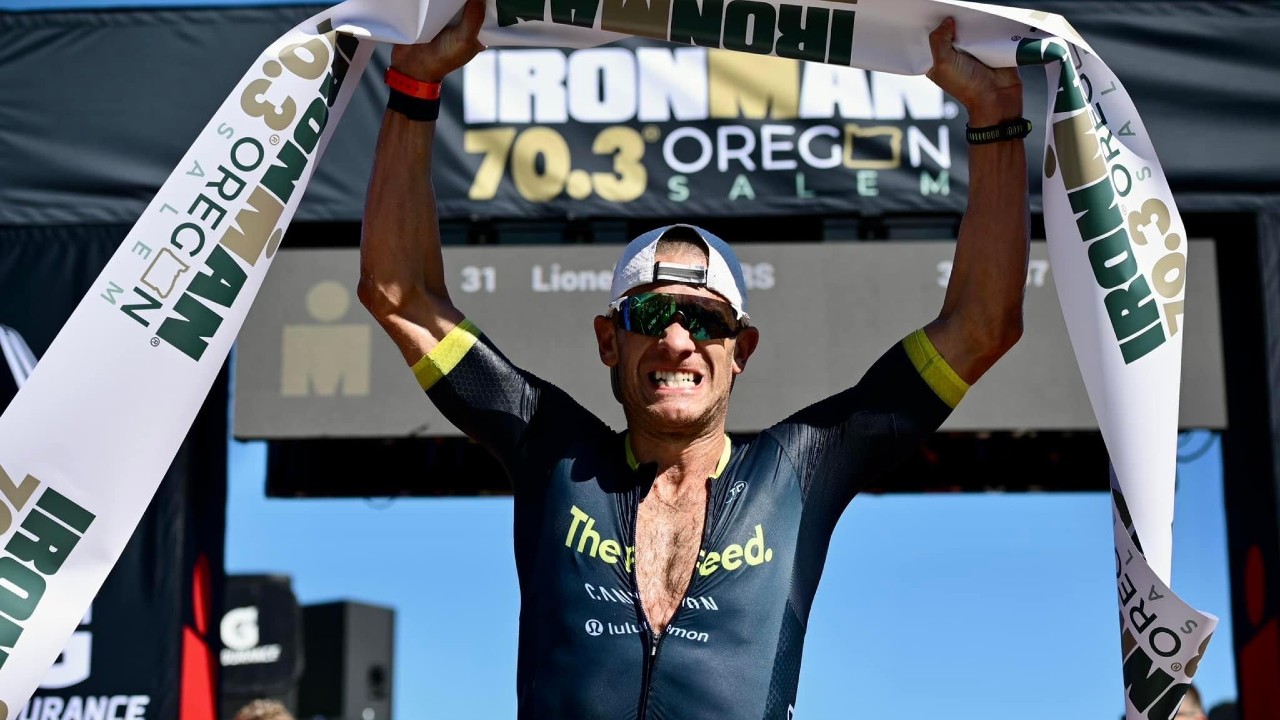 A winner at 70.3 Oregon earlier this summer against the likes of training partner Trevor Foley, who reopposes here, it will be fascinating to see if he roars back with a statement win. Certainly his response to the DQ – both in the penalty tent on the day and since then on his YouTube channel – has been hugely impressive.
It's a good line-up against him though, illustrated by a strength-of-field figure of over 80 [click here to find out what that means].
Laundry had three consecutive 70.3 podiums earlier in the season at Oceanside, St George and Gulf Coast – with little between himself and Sanders in the last two of those races. But he's struggled a little since and actually finished alongside Sanders in Finland.
Sharpe himself can rival Sanders in a way neither would want this season – in the much-debated penalties sphere – after 'Zippergate' cost him a podium place at IRONMAN 70.3 Maine.
That display again showed that the former ITU athlete can be a real threat at this distance and it also led to him getting a spot at the PTO US Open. Heading into Sunday he said on Instagram: "It's been a solid block of training since Milwaukee and I'm looking forward to seeing what a few training experiments might yield on race day."
The winner at 70.3 Maine was Foley so he too should be right in the mix again and Aussie Sam Appleton adds some international flavour to the line-up and is likely to be one of those forcing the pace on the swim.
Prize Money: What's on the line?
The prize purse on offer this weekend is $30,000 – with each of the winners collecting a $4,000 share of that total.
In addition to money, there will be a total of four qualifying slots (two MPRO / two FPRO) for the IRONMAN 70.3 World Championship in Taupō, New Zealand, December 14-15 2024.
The total funds will be paid eight-deep, as follows:
$4,000
$2,750
$2,000
$1,750
$1,500
$1,250
$1,000
$750