Emma Pallant-Browne and Bradley Weiss were the inaugural winners of the first IRONMAN 70.3 Mossel Bay in Western Cape Province, South Africa. Only just over a week since finishing on the podium at the IRONMAN 70.3 World Championships in Utah, Pallant-Browne won by nine minutes.
Weiss overcame Matt Trautman in the latter stages of the run to form part of an all South African top five.
PRO Women – No signs of fatigue for Emma
Today's top swimmer was South Africa's Bridget Theunissen in 25:25 but Emma Pallant-Browne was only seven seconds back.
Pallant-Browne showed no signs of fatigue as she set up a three-minute lead on the hilly, out and back bike course. By the start of the run, everyone else was racing for second place as Pallant-Browne ran 1:23:38 to take the tape with no one else around.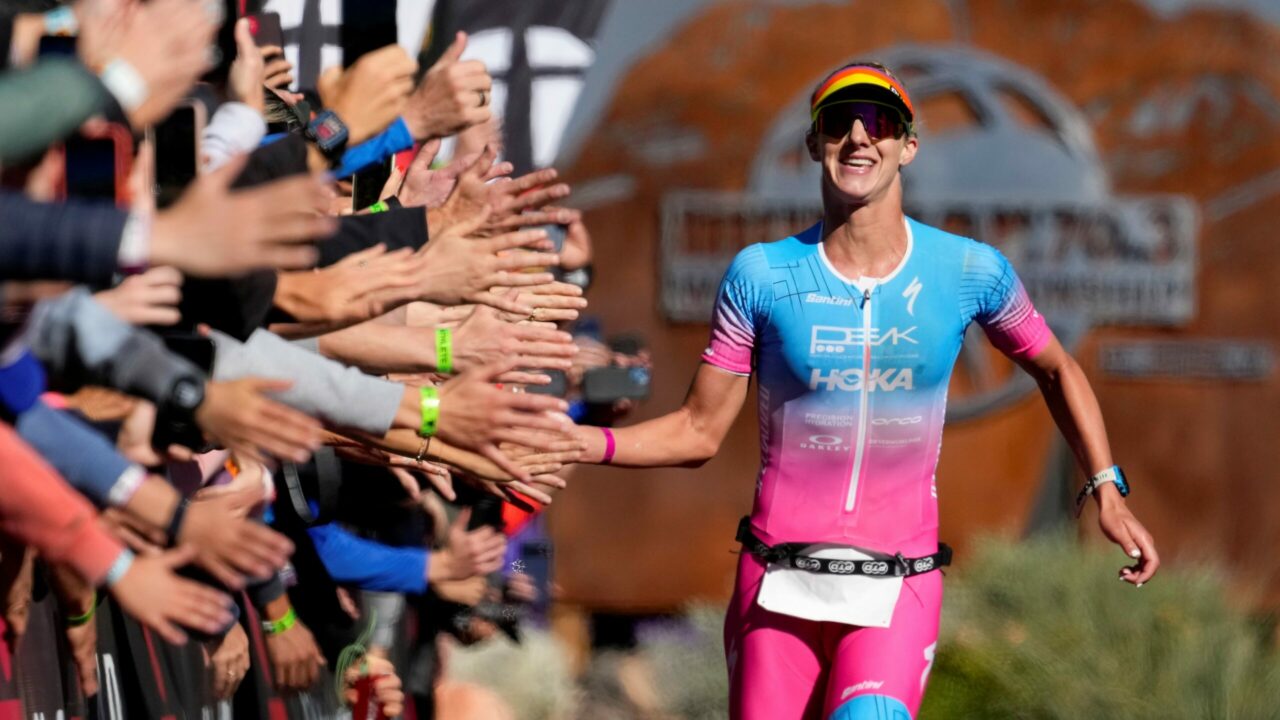 PRO Men – Weiss makes the pass
It was reassuring to see Henri Shoeman out of the 1900m Santos Bay (De Bakke) swim in first place. After a year of injuries, including a broken elbow and arm as recently as September, his swim time of 21:49 was all the more impressive. He was almost two minutes ahead of second placed Keegan Cooke (23:44) and Matt Trautman was another two seconds behind.
Trautman, twice a winner at IRONMAN Wales, lead the charge on the hilly bike course. By the turn-point he had over a 30 second lead from Weiss with Shoeman in third. The top three positions were maintained through the rest of the ride and the early stages of the run.
At around 17km, Weiss passed Trautman and ran away for the win. His half marathon run split was 1:13:55 compared to second placed Trautman's 1:16:17. Cameron MacNair took the third podium spot. Shoeman called it a day after 10km of running.
IRONMAN 70.3 Mossel Bay 2022 Results
Sunday November 6, 2022 – 1.9km / 90km / 21.1km
PRO Men
1. Bradley Weiss (RSA), 3:50:37
2. Matt Trautman (RSA), 3:51:22
3. Cameron MacNair (RSA), 4:06:27
4. Adriaan Myburgh (RSA), 4:08:47
5. Keegan Cooke (RSA), 4:09:34
PRO Women
1. Emma Pallant-Browne (GBR), 4:23:26
2. Magda Nieuwoudt (RSA), 4:32:26
3. Julie Aspesletten (NOR), 4:43:31
4. Bridget Theunissen (RSA), 4:53:00
5. Vicky van der Merwe (RSA), 4:57:47