The bad luck continues for South Africa's Henri Schoeman, the 2018 Commonwealth Games champion and Rio 2016 Olympic bronze medallist.
Another bad break
Following a year of rehabilitation and working his way back to health and fitness after breaking his foot at the Tokyo 2020 Olympic Games, Schoeman recently returned to competition at the PTO Canadian Open and the Mixed Team Relay event at the Birmingham 2022 Commonwealth Games.
He was due to take up his place as part of the Bahrain Victorious Scorpions team at Super League Triathlon London on Sunday, the first of five SLT Championship Series races.
Unfortunately bad luck strikes again, as he revealed on his Instagram feed this week. Posting from hospital, he said:
I'm not sure what to say.
I've had the most testing 13months of my life, as I'm about to start my first real block of racing. It looks like fractures in my left elbow and arm in a bike crash earlier today.
Rehab and mobility work is already underway under the guidance of his Orthopedic surgeon, but with both a broken bone and a shoulder which took much of the impact and will also need some recovery too, with Munich (11 September), Malibu (17 September) and Toulouse (2 October) all within the next month, his chances of making any of those seems limited at first glance.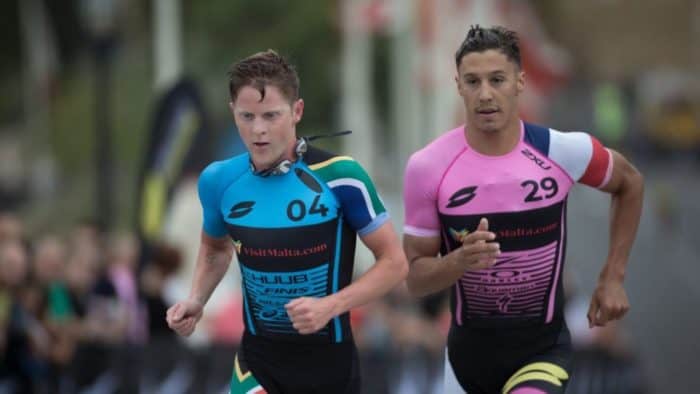 Schoeman has been a key part of SLT racing for many years. While he missed the 2021 season following that foot injury, he has been a podium regular with his exceptional swim speed combined with his skills on the bike and run, meaning he is always in contention.
Opportunity strikes for Chris Perham
While it is bad news for Henri, it does represent opportunity elsewhere. Stepping in will be Great Britain's Chris Perham, Chris does have some previous SLT experience, racing in Jersey and Malta in 2019.