This is a preview of the race – click here to read how Emma Pallant-Browne and Javier Gomez claimed impressive victories.
Emma Pallant-Browne and Bradley Weiss were the inaugural winners of the first IRONMAN 70.3 Mossel Bay in South Africa and both are back to defend their titles this weekend.
South African-based Brit Pallant-Browne won in dominant style by exactly nine minutes from Magda Nieuwoudt, who reopposes, while Weiss led a home clean sweep of the podium in a much closer men's race, with runner-up Matt Trautman and third-placed Cameron Macnair also returning.
Course, start time and how to follow live
Mossel Bay is nestled amongst the majestic Outeniqua Mountains on the Garden Route in South Africa's Western Cape Province, one of the country's most popular tourist destinations.
Athletes start with a 1.9km swim in the warm clear waters of Santos Beach. The point to point course will take them to T1 which is located on neighboring De Bakke Beach, along the bay.
They will then take on an out-and-back bike course, inland up to the Gourtix River Valley and back to Mossel Bay. The three-lap run course will take athletes through the heart of Mossel Bay, with the finish line back at Santos Beach.
The race starts with the men at 06:30 local time on Sunday 19 November 2023. That's 04:30 UK time, 05:30 CET, 20:30 on Saturday Pacific time and 23:30 Saturday EST. The women's start will be five minutes later, at 06:35 local time.
There is no live broadcast / streaming this weekend, which means that the ever reliable IRONMAN Tracker app is going to be your primary source of live information.
Pro Women
It's a select six-woman field and Pallant-Browne is the clear favourite after another strong season.
She's ranked #10 in the PTO standings after two IRONMAN 70.3 victories in Swansea and Aix-en-Provence as well as fine fourth places in the IRONMAN 70.3 World Championships in Lahti and the stacked PTO European Open in Ibiza.
Living in South Africa, she's no stranger to the climates, and sounds to have had the ideal build-up, writing on Instagram this week: "Happy, healthy… and it's race week. Mossel Bay 70.3 this weekend to end a fab six weeks training at home. I always say a happy athlete is a fast athlete, so time to put that to the test."
South African pair Nieuwoudt and Natia Gous take her on as does fellow Brit Laura Addie, with the field completed by French pair Julie Iemmolo and Eloise Du Luart.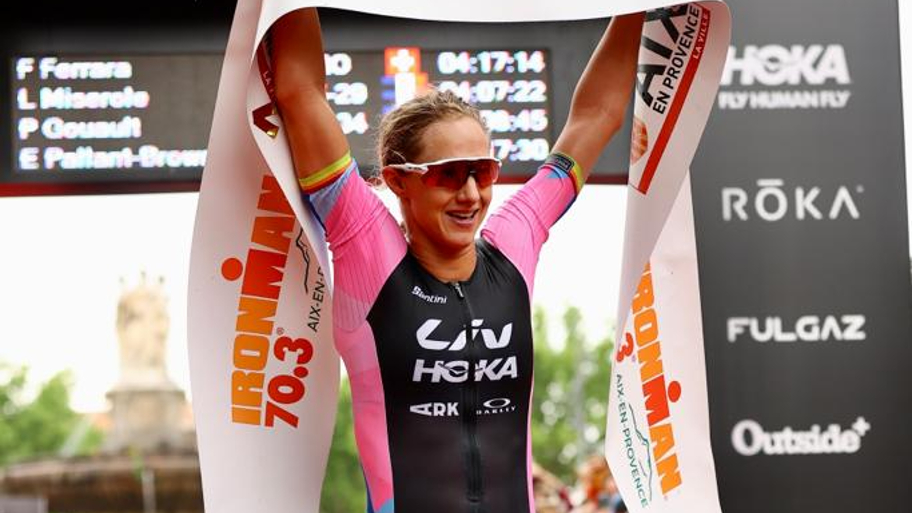 Pro Men
The all-South African podium of 2022 lock horns again, with Weiss, Trautman and Macnair wearing #1, #2 and #3 respectively.
Weiss comes off a strong seventh place finish in the IRONMAN World Championship in Nice just a couple of months ago, all the more impressive as he was hit with a five-minute penalty during that race.
His main challenger this time could be two-time IRONMAN 70.3 World Champion and Olympic silver medallist, Javier Gomez.
The Spanish legend makes a welcome return to action in what is his first IRONMAN 70.3 race since his victory in Pucon back in January 2022.
Going into this he said: "I am thrilled to come back to international races. It has been two difficult years dealing with injuries. I cannot be happier to be in the start line again. I hope to enjoy every single second in this amazing race venue."
Also racing in the men's professional field will be South Africans Keegan Cooke, Gerhard De Bruin and Timothy Hayward. Breaking up the predominantly home field will be Domenico Passuello (ITA), Balazs Csoke (HUN) and Tom Hug (GER).
Prize Money: What's on the line?
The prize purse on offer this weekend is $30,000 – with each of the winners collecting a $4,000 share of that total.
In addition to money, there will be a total of four qualifying slots (two MPRO / two FPRO) for the 2024 IRONMAN 70.3 World Championship in Taupō, New Zealand.
The total funds will be paid eight-deep, as follows:
$4,000
$2,750
$2,000
$1,750
$1,500
$1,250
$1,000
$750