Anyone who read our eve-of-race interview with Tamara Jewett won't have been surprised to see her power to a dominant victory at IRONMAN 70.3 Oceanside.
She'd told us: "The first race is always a bit of a rust buster no matter what. But I know I am very fit, and I don't see any reason it shouldn't go very well."
And how true those words proved – she was in contention throughout, didn't let a 30-second penalty on the bike derail her and then closed down none other than IRONMAN World Champion Chelsea Sodaro in a blistering run display to take the victory.
'That's the recipe for success'
And the Canadian said afterwards: "I was so pleased at my position coming out of the swim. We've been working really hard on trying to close it to the front and it was exciting to see that start to happen today.
"In terms of the penalty I think it was just my lack of experience of being a little closer to the front of the bike race. There was some challenging congestion with some of the tail-end of the pro men's field.
"Luckily it was only 30 seconds, I think it was fair and I just tried to stay as focussed as I could.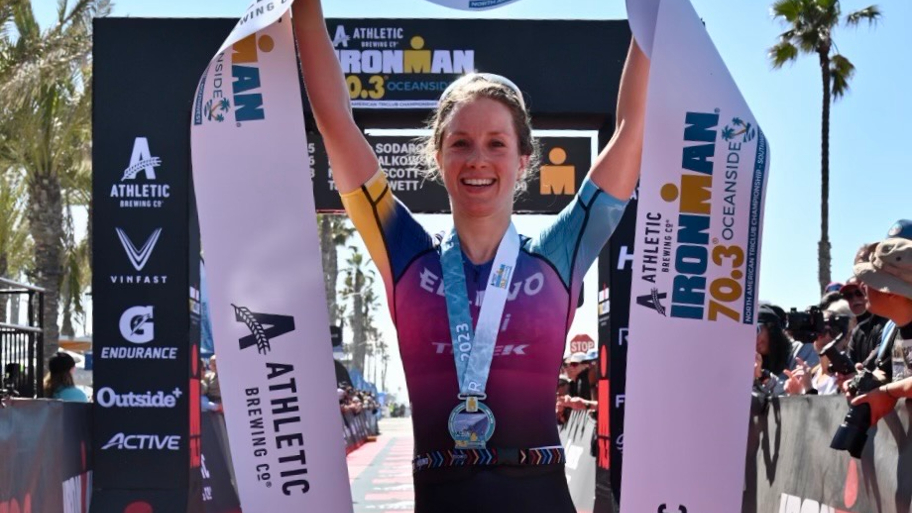 "I couldn't have had a better start to the season, I'm so thrilled. I just have so much respect for the women I'm competing against here. I think from that group anyone can come out on top and it's just a little surreal to be the first one today.
"I felt really positive through the race and had fun racing and I just know that's the recipe for success for me."