Weymouth wins go to South Africa and Belgium
The UK M-Dot season concludes at IRONMAN 70.3 Weymouth
Make no mistake, with the IRONMAN World Championships coming up in four weeks time, James Cunnama (RSA) is a man in form. Fourth at the IRONMAN European Championships in Frankfurt, a huge performance at IRONMAN Hamburg and another at IRONMAN 70.3 Lanzarote, should have left the South African in no need of further confirmation that he is in the sort of form to possibly match his Kona fourth place of 2013. That didn't stop him dominating IRONMAN 70.3 Weymouth today.
Third out of the swim (25:32) behind the pace-setting Manuel Kung (SUI) who swam 24:17, Cunnama had the British trio of Fraser Cartmell, Kit Walker and Elliot Smales for company, along with David Breuer (GER).
First out of water: @m_kueng in 00:24:17 #IM703Weymouth pic.twitter.com/ZgtqKTpEYO

— IRONMANLive (@IRONMANLive) September 17, 2017
30km into the ride and Cunnama was clear in second place, now just 44 seconds down with a further two minutes back to a chase group of six. By 60km Cunnama had hit the front and by T2 his pace had built a huge lead of four minutes over Kung and 5:23 over Tom Lecomte (FRA).
After the fastest bike split, James added the fastest run (1:16:01) too, to cross the finish line first outside of Weymouth Pavilion by a whopping five and a half minutes. The international podium was completed by Lecomte in second and Belgium's Kenneth Vandendriessche in third. A strong run from Fraser Cartmell earned him the top British finisher position in fourth. It's been a busy 'UK 70.3' tour for Fraser, with 5th at Staffs, 6th at Dublin, 5th at Edinburgh and now 4th in Weymouth.
James Cunnama flying away. @JamesCunnama #IM703Weymouth pic.twitter.com/EV9beQGO8D

— IRONMANLive (@IRONMANLive) September 17, 2017
For the Pro women, the opening swim was predictably headed by Hannah Drewett (28:01), a week after racing at the 70.3 World Champs. In second – also having raced last weekend at IRONMAN Wales – was Kate Comber (28:55), with Katrien Verstuyft (BEL), Joanna Soltysiak (SWE), Natalie Seymour and Nikki Bartlett three minutes back at this early stage.
Absolutely gutted. Best ever swim then Di2 failure. Out of IM Weymouth 70.3. Good luck to everyone out there

— Nikki Bartlett (@NikkiBartlett1) September 17, 2017
A technical issue with her electronic gears would soon put Nikki Bartlett out of her final preparation race before Kona, and by the midpoint of the bike Seymour (second last year), had caught Drewett on the ride, with a two and a half minute lead over Verstuyft, Soltysiak and Magdalana Nieuwoudt (RSA). Those positions changed little on the road to T2, leaving Drewett and Seymour starting the half marathon side-by-side.
@NatalieSeymour9 on the run. #IM703Weymouth pic.twitter.com/BIq1qHWpu1

— IRONMANLive (@IRONMANLive) September 17, 2017
Seymour quickly took the lead on the run, and at the halfway mark was 1:50 clear of Verstuyft with Soltysiak almost five minutes down on the Brit who was seeking her first IRONMAN 70.3 victory. By 15km the gap was less than a minute and with 4km to go, it was down to 30 seconds.. the writing was on the proverbial wall!
Fight against the elements today: choppy swim, freezing on the bike and a breeze on the run but it only makes the win more sweet 😃 https://t.co/X8zjOqpOM8

— Katrien Verstuyft (@K_Verstuyft) September 17, 2017
Verstuyft continued with her pace to run clock a 1:23:43 run split, to take the win by 1:23 over Seymour (1:27:01), with Soltysiak holding off the closing Emma Deary for the final podium place.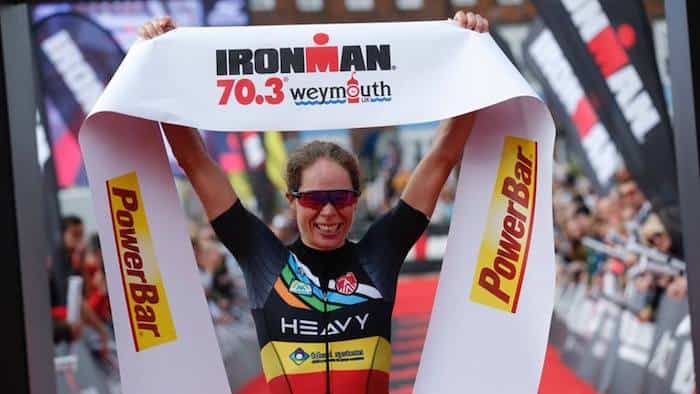 IRONMAN 70.3 Weymouth – Sunday 17th September 2017
1.9lm / 90km / 21.1km
PRO MEN
1st – James Cunnama (GBR) – 4:02:32
2nd – Tom Lecomte (FRA) – 4:08:01
3rd – Kenneth Vandendriessche (BEL) – 4:10:13
4th – Fraser Cartmell (GBR) – 4:10:13
5th – Manuel Kung (SUI) – 4:13:00
6th – David Breuer (GER) – 4:16:41
7th – Kit Walker (GBR) – 4:21:05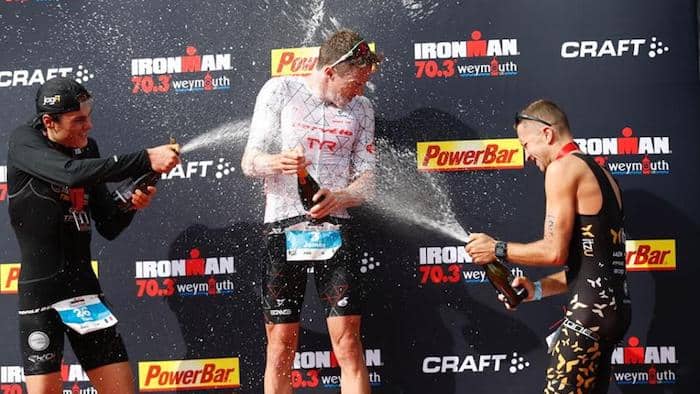 PRO WOMEN
1st – Kathrien Verstuyft (BEL) – 4:42:35
2nd – Natalie Seymour (GBR) – 4:43:57
3rd – Joanna Soltysiak (SWE) – 4:49:56
4th – Emma Deary (GBR) – 4:50:32
5th – Corinne Abraham (GBR) – 4:51:39
6th – Kate Comber (GBR) – 4:56:19
7th – Magdalana Nieuwoudt (RSA) – 4:59:31