Germany's Svenja Thoes secured her third career IRONMAN win on Sunday on a day of close racing at the second edition of IRONMAN Ireland, Cork.
[** UPDATE – Thoes was initially given a post-race disqualification for outside assistance. But she has since appealed and had that overturned so has been reinstated as the winner. More details on that and an official statement from IRONMAN here]
Sainter sets the swim pace
The opening 3.8km swim in the Celtic Sea, Youghal, saw two athletes exit the water in close order. Chantal Sainter (third at IRONMAN UK last year) crossed the timing mat just ahead of Switzerland's Nina Derron, fifth recently at Alpe d'Huez.
The racing was close however, as just couple of minutes back was Anna-Lena Best-Pohl (GER), Ai Ueda (JPN) and 2019 IRONMAN Wales champion, Simone Mitchell. Another Brit, Tara Crosvenor, was close too, less than a minute behind that trio.
It was another four minutes before one of the pre-race favourites, Svenja Thoes (GER) would reach dry land and head to T1. Like Derron, Thoes was also in Ireland on the back of that Alpe d'Huez Long Course experience, where she had finished second.
Close racing on two wheels in Cork
Over the first quarter of the rolling bike course, Sainter and Derron retained the lead, with Mitchell and Best-Pohl now four and a half minutes back. After relatively slow swims, the fastest riders on course however were German duo, Laura Zimmerman and Margit Eifers, who were now up to fifth / sixth and making up ground in their hunt for the front of the race.
That trend continued. By halfway, it was still Sainter and Derron leading the way, but it was now a Zimmerman, Eifers and Mitchell trio in chase, 5:20 back.
IRONMAN France winner Thoes upped her pace during the second half of the ride and, in a season which has already yielded four podium results, by the time T2 came around, the close nature of the race magnified even further, as Zimmerman, Eifers, Thoes, Mitchell and Derron headed towards their running shoes less than 30 seconds apart. Sainter had lost a little time, but was still less than two minutes back in sixth position heading out onto the marathon. Close racing indeed.
Thoes holds off Mitchell's marathon challenge
10km in and Thoes held the lead, but with Mitchell and Zimmerman still both within 90 seconds, there was a lot of racing still to be done.
Through the halfway point and the Thoes advantage had been reduced to just 10 seconds, Mitchell putting up a fine display after missing so much racing over the past couple of years with health issues following COVID. Zimmerman was still there in third (+1:44) and Sainter was regaining positions and up to fourth place (+4:44).
With 15km to go Mitchell, perhaps, was starting to show signs that her efforts to take the win here were taking their toll. The gap to Thoes started to grow slowly, and with 10km remaining the elastic appeared to have broken, as Zimmerman has moved into second place. Thoes was now 2:27 clear of her compatriot, with Mitchell three minutes back. It was now Germany one-two, and Great Britain three and four.
Thoes duly closed out a day of close and intense racing with a 3:12:33 marathon to top the podium and add to previous wins this year in France and Malta. Mitchell showed her strength, both physical and mental, to fight back over the final 3km to reclaim second place (3:14:41 marathon), to finish less than a minute clear of Zimmerman, who clocked 3:16:26 for her run.
Almost nine and a half hours of racing, and less than four minutes separating the podium trio. Great stuff.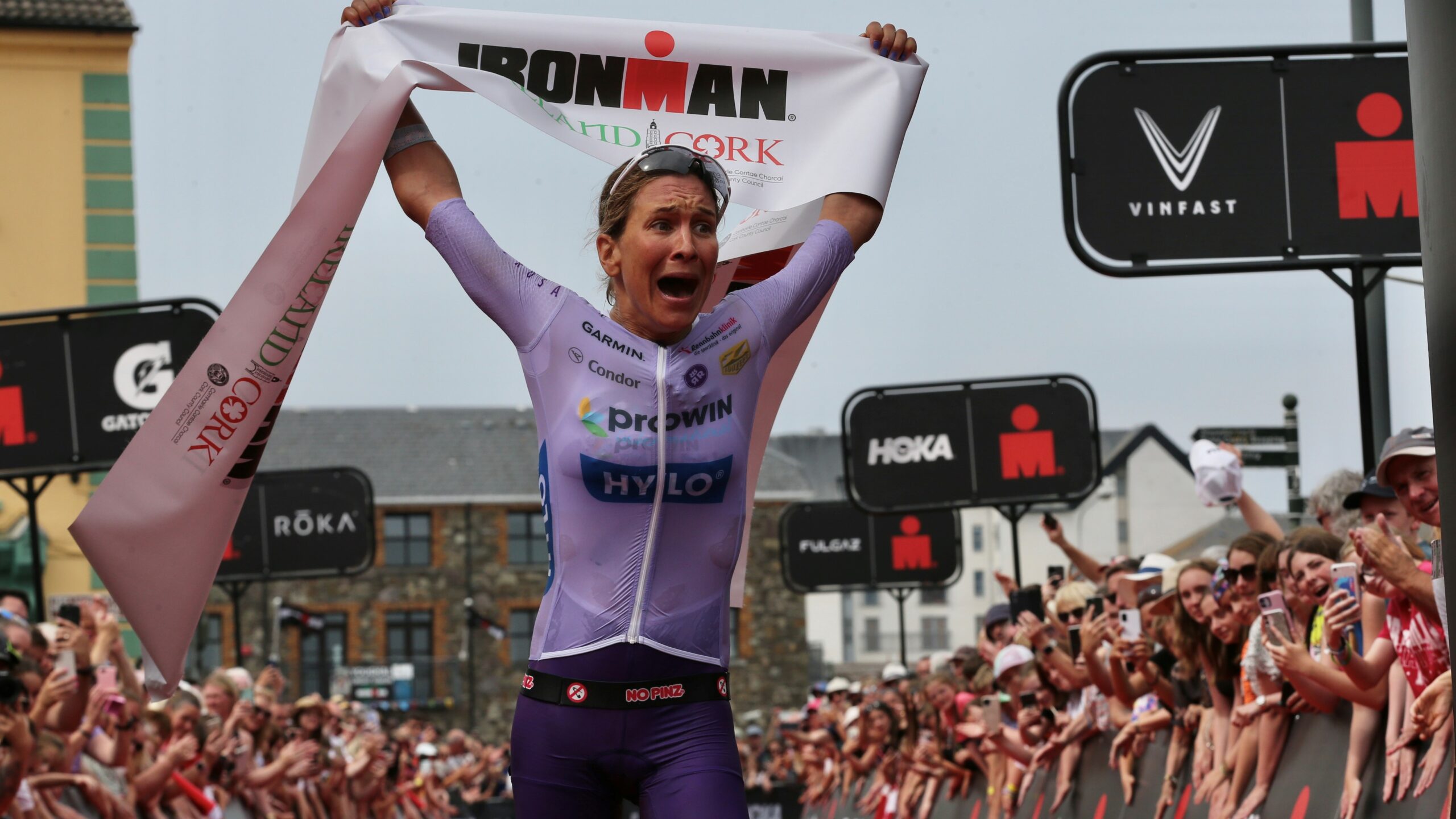 IRONMAN Ireland, Cork 2022 results
Sunday 14 August 2022 – 3.8km / 180km / 42.2km
PRO Women
1. Svenja Thoes (GER) – 9:24:54
2. Simone Mitchell (GBR) – 9:27:50
3. Laura Zimmerman (GER) – 9:28:45
4. Chantal Sainter (GBR) – 9:34:15
5. Nina Derron (SUI) – 9:36:21
6. Tara Grosvenor (GBR) – 9:39:18 **
(* Fastest run split – 3:08:33)