Tenby champion earns her third IRONMAN victory of the 2017 season
Andreas Dreitz wins his debut IRONMAN in Emilia-Romagna, Italy
13 days after winning her second IRONMAN Wales title in Tenby, Duracell Bunny Lucy Gossage was looking to extend her season and, perhaps, add another IRONMAN title to her already impressive C.V. at the debut of IRONMAN Italy Emilia-Romagna. Having never raced two full-distance events so close together, she referred to this attempt as her 'dirty double'.
Based in the seaside town of Cervia, not far from the popular cycling base of Cesanatico, Lucy would be joined by the returning Caroline Livesey (who we interviewed last week), in her first full distance race since being attacked while cycling earlier this year. With a bike course featuring a net altitude gain of just 700m, the times looked set to be significantly faster than we witnessed in Tenby two weeks ago.
Hotting up here at #IMItaly on pre-race day! View of the mount line from my balcony 😀 Good Luck to all racing. It's going to be amazing 💪 pic.twitter.com/Izv6rBZlsI

— Caroline Livesey (@tri_c_livesey) September 22, 2017
Pro Women
Despite a Pro field of 18 athletes, a lack of uber-swimmers meant that – for a pleasant change – Lucy exited the water (54:25) with the leading group of seven, just 16 seconds back from Jenny Fletcher (CAN). Caroline was also in that top group, along with Tine Deckers (BEL), the five-time IRONMAN France champion. To give some context to the swim times, the fastest Age-Group female clocked 49:27, approaching five minutes quicker than Fletcher, the fastest Pro women. Swift as always through T1, Gossage was first on to the bike.
By the 90km mark, Tine Deckers was leading the way but Gossage was in control and clear in second place, never letting that gap grow to much more than a minute. Caroline Lehreider (GER) and Marta Bernardi (ITA) were six minutes back in 3rd/4th, Martine Kunz (SUI) 8:30 down and then Caroline Livesey leading a group of four in 6th/7th/8th/9th.
That gap was returned – with interest – over the second half of the ride with Gossage showing little sign of her efforts in Wales, arriving at T2 with a six minute lead over Deckers following a 4:51:59 bike split. With the clock on 5:55:08 as she headed out for the marathon, was there even a chance of a Sub-9 finish today? The next three or so hours would show whether she was fully recovered from Wales. That said, she was feeling good and pretty confident before the race…
A buy one get one free ironman…. Bring on one last smashfest! pic.twitter.com/VDEEYadK4M

— lucy gossage (@lucygoss) September 22, 2017
Lehrieder was 11:14 behind in third starting the marathon with positions 4th-9th separated by just five mins. Caroline Livesey would start the run in ninth, 22:28 down on the pace-setting Gossage.
Over the first half of the run, Deckers did close slightly on Gossage – but with 21km to go, her advantage was still not far short of five minutes. The pace was now just outside of that needed for a 'Sub-9' – would Deckers continue to close, or would Lucy follow the script from the bike leg and extend her lead over the second half of the race? On her full-distance return, Livesey was still moving well and holding that ninth position heading into the second half of the run.
With 10km to go, Gossage had managed to slightly extend her buffer to five minutes and 30 seconds. Both Lucy and Tine were running at practically the same pace for the first 30km. Would anything change over the last 45 minutes? Not much.
Lucy wasn't going to give this one up, and with a closing 3:11:32 marathon took the title in fine style. Watch out Italy, Gossage will be in end of season after-party mode tonight! Deckers was only slightly slower on the run (3:12:58) to take the second spot on the podium just under seven second back at the finish line, with the podium being completed by Marta Bernardi (ITA), who used the home crowd inspiration to hold off the fast running Elisabeth Gruber (AUT).
What a great race for @lucygoss !! Congrats to the victory at the #IMItaly in 09:06:39!! pic.twitter.com/EXheqYUltF

— IRONMANLive (@IRONMANLive) September 23, 2017
Caroline Livesey came close to moving up to seventh, just 34 seconds behind Jenny Fletcher at the finish line. More importantly though, she's back after a very hard year and will be able to move forward with confidence now, under the guidance of coach Will Clarke.
Three IRONMAN was in one season for Lucy Gossage – not bad for a part-timer, eh?! Well, as she did tell me at the end of 2016… don't write me off yet. We never did!
Pro Men
Unlike the Women's Pro race, there was plenty of swim firepower amongst the Pro Men, who on a fast day were headed out of the 3.8km in 45:49 by Jeremy Jurkiewicz (FRA), with another 12 Pro men within two minutes, including the uber-biking power of Andreas Dreitz (GER) and the final long distance appearance of a distinguished career for Timo Bracht (GER).
Once out onto the 180km cycle, Dreitz was solo and leading by the 30km mark and then continued to extend his lead at every single checkpoint, reaching T2 (via a rapid 4:16:47 split), with a huge lead of more than 13 minutes over Aleesandro Degasperi (ITA), before one minute later a group containing Jurkiewicz, Jens Petersen-Bach (DEN), Timo Bracht (GER), Niclos Bock (GER) and Philip Koutny (SUI).
In his first IRONMAN after a bucket load of 70.3 wins, Dreitz added an impressive 2:51:53 marathon which closed the deal and took him to the top spot on the podium with an impressive debut finish in 8:03:29. Petersen-Bach and Andrej Vistica (CRO) ran a touch quicker for second and third respectively, but they were not able to threaten today's champion for the win.
1° @IRONMANtri #Triathlon Italy Emilia Romagna, @slattanzio1al traguardo per condividere con voi l'arrivo del vincitore @andi_dreitz pic.twitter.com/wY2NgIZFuO

— Triathlete (@Triathleteita) September 23, 2017
IRONMAN Italy Emilia-Romagna – Saturday 23rd September 2017
3.8km / 180km / 42.2km
Pro Men
1st – Andreas Dreitz (GER) – 8:03:27
2nd – Jens Petersen-Bach (DEN) – 8:12:57
3rd – Andrej Vistica (CRO) – 8:17:47
4th – Jeremy Jurkiewicz (FRA) – 8:21:25
5th – Timo Bracht (GER) – 8:25:40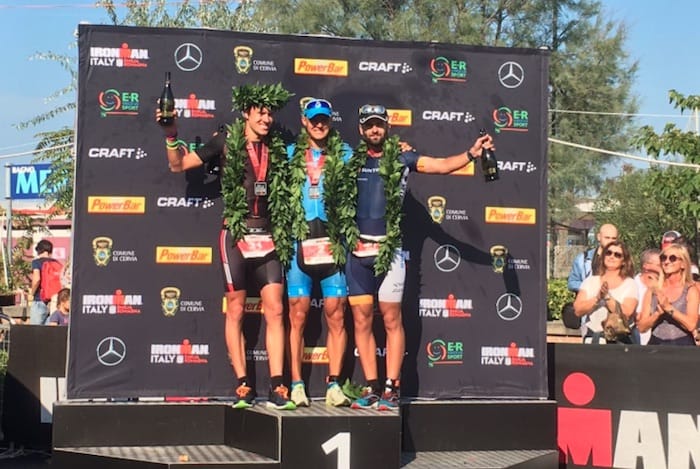 Pro Women
1st – Lucy Gossage (GBR) – 9:06:39
2nd – Tine Deckers (BEL) – 9:13:35
3rd – Marta Bernardi (ITA) – 9:20:04
4th – Elisabeth Gruber (AUT) – 9:20:26
5th – Camilla Lindholm Borg (SWE) – 9:34:37
8th – Caroline Livesey (GBR) – 9:48:45