Four days on from Saturday's IRONMAN World Championship in Kona, Hawaii, how can we reflect on a record-breaking and historic day?
Here are a few of my thoughts on hugely enjoyable edition of the sports most iconic race, which had a different look to it in 2023, as the women took centre stage.
No turning back
In his pre-race interview during the Body Marking Show on race day – more on that below – IRONMAN CEO, Andrew Messick said, "And just for the record… today is going to be awesome!" He was correct on that in my eyes, and that has been reflected in similar comments from the overwhelming majority of the triathlon media, athletes and fans of the sport.
I'm not surprised. A (male) triathlon friend of mine had messaged me earlier in race week, and said "I've enjoyed this build-up more than any other year." From a viewer perspective, the 2022 two-day edition was massively more engaging (for both women and men) than previous years, and the coverage enhanced by not having to chop and change constantly through the tracker app to try and workout what's going on, with reduced screen time for each race.
I don't think there was any doubt, or at least there shouldn't have been, that the women would produce incredible performances with the stage to themselves this year.
Fellow triathlon writer Tim Heming used a quote some years back that I was struck by at the time – one which applies here. In triathlon, at least, "the narrative drives the story", not the gender. When you have (genuine) talk of perhaps the strongest female start list in long-distance triathlon history, and there's little to choose between the favourites, you have all the narrative you need.
That's a perhaps long-winded way of saying that to me at least, the women never had anything to prove. But if there were others out there who had any doubts or needed convincing, well, take that.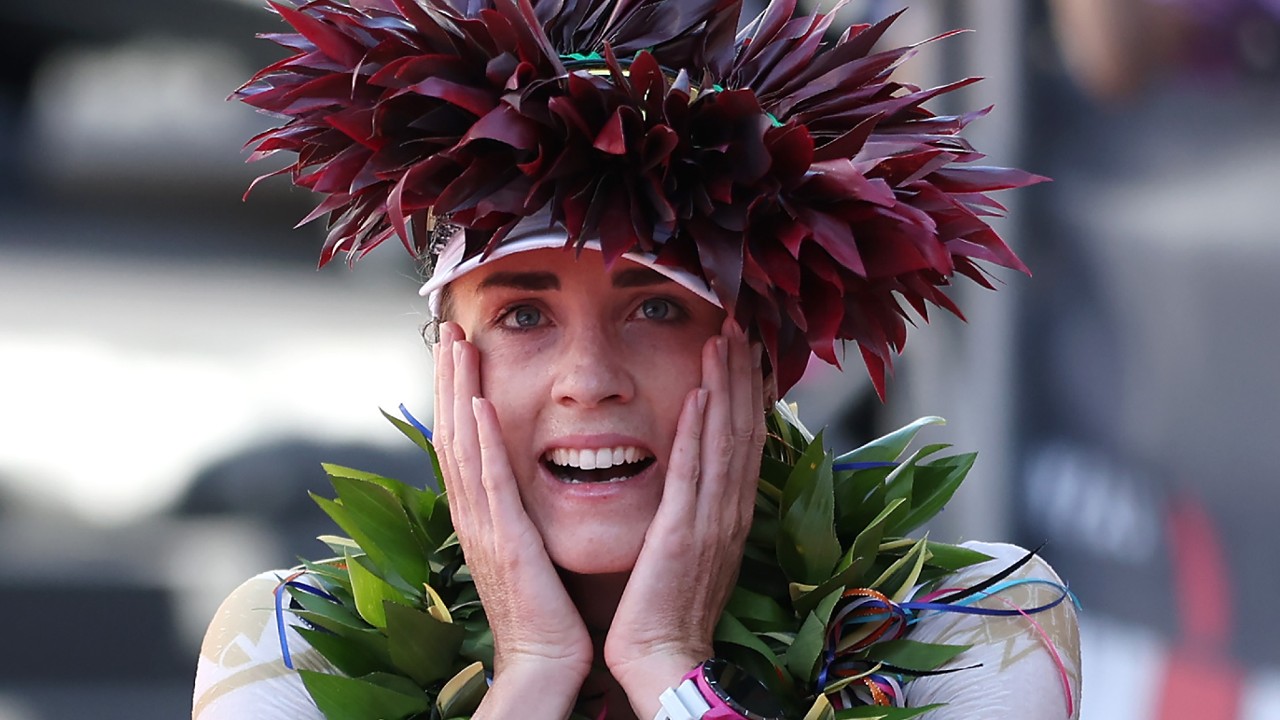 I do think there are still valid questions as to whether the most optimal situation would be a format and venues which would allow two separate days of racing for the men and women (which seems unlikely to be possible in Kona), as with the now established format of the IRONMAN 70.3 World Championship.
However, I think the opportunity to showcase both men and women on separate days is here to stay for IRONMAN.
Queens of consistency
What can you say about Lucy Charles-Barclay and Anne Haug?
From 'bridesmaid to bride', Lucy's stellar Kona record now reads one victory, four second places and an age-group win.
For Anne, a gold, silver and two bronze medals in four Kona starts, to add to another bronze at the delayed 2021 Championship edition held in St George last year.
Two athletes who have never failed to podium (at least) at the IRONMAN World Championship in 10 pro starts between them. Walking away with an all-time course record (Lucy) and a run-course record (Anne), that's a statistic which could be added to in future years.
With the retirement of Jan Frodeno, I suspect their coach, Dan Lorang may have plenty of enquiries as to whether there's space in his athlete roster. Having coached both Jan and Anne to wins in 2019, it was another landmark day for the man who has a day job as Head Coach and part of the management team at the BORA – hansgrohe Pro Cycling team.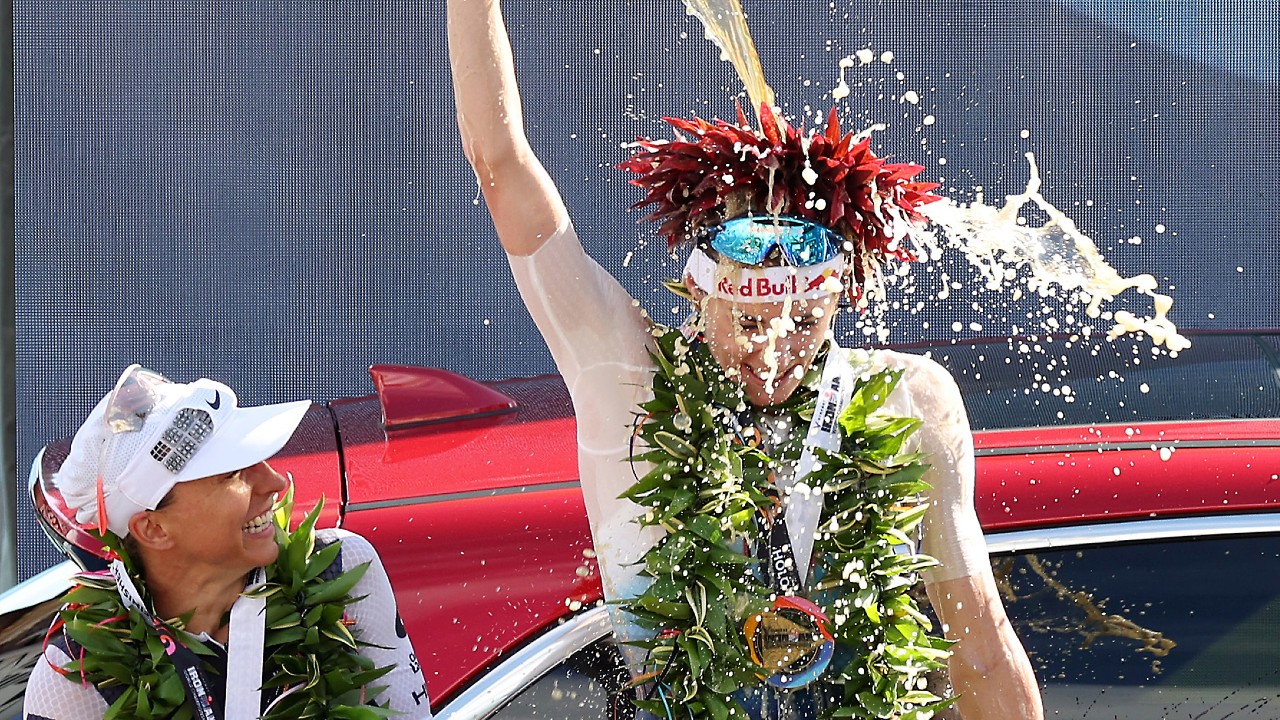 Favourites delivered
Putting aside specific position predictions and forecasts – both our own and elsewhere – in big-picture terms, the best athletes performed in style. Pre-race, we referred to the top tier of favourites as the 'super seven'; the grouping from which we would be totally stunned if the winner did not emerge from.
Nothing ever goes completely to plan – and unfortunately Great Britain's Kat Matthews was the one left "disgusted, embarrassed, but overwhelmingly sad by my race performance/DNF" – but the other favoured athletes filled all of the top six positions.
That continued. We couldn't settle on a 'top 10' internally here pre-race, and compromised with 11 because we had four athletes closely matched just outside that super seven – namely Skye Moench, Sarah True, Lisa Norden and Fenella Langridge. While Fenella suffered "the hardest day I've ever had on a race course", Skye, Sarah and Lisa would finish seventh, eighth and ninth respectively.
In a sport where so much can go wrong on the biggest stage, and with widespread belief that this was probably the strongest in-depth start list we've ever seen, that such a high percentage of athletes can still perform under pressure is something I find incredibly impressive. Kudos to all for executing their race plans over eight-and-a-half-plus hours of racing.
Even when things didn't follow the script – Laura Philipp off the pace in the swim, Daniela Ryf not able to power through on the bike, Chelsea Sodaro more than 22 minutes down starting the run – the commitment through the field to dig deep was exceptional.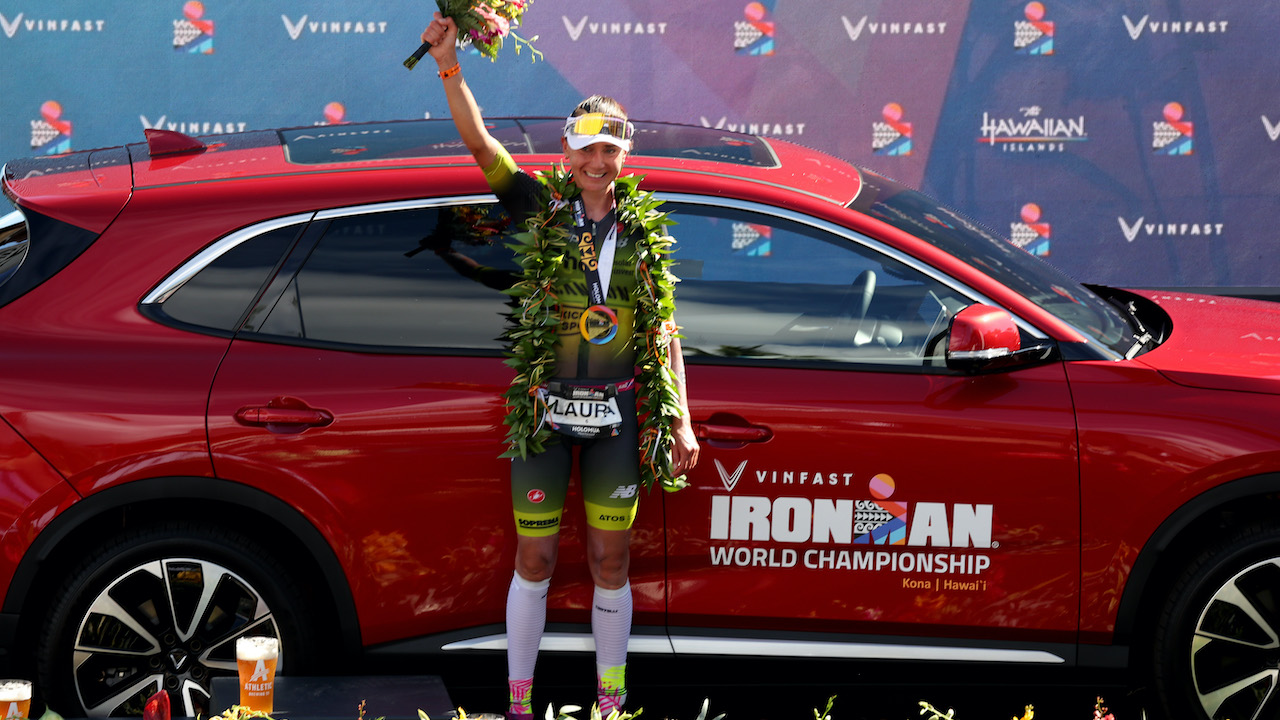 Inspirational Els and 'Sid'
It wasn't just those top 10 positions which were hard-fought or filled with stories. Els Visser (NED) was a key part of the main chase group through the first half of the ride. At 90 miles she was still riding with Haug, at which point her pedal broke, leaving just a spindle and a very awkward and seriously sub-optimal last 30km to reach T2. She lost six minutes relative to Anne over this short period, but was able to continue and ultimately break the nine hour mark and claim the final pay cheque, in 15th position. Having survived a shipwreck, her resilience was never in doubt.
And just one place and 35 seconds later reaching the finish line, was Great Britain's Laura Siddall. She was knocked off her bike at IRONMAN Brazil this year, suffering a brain bleed as a result. 'Sid' didn't start racing as a Pro until she was 34, and now 43, grabbed her wildcard opportunity to set her fastest ever time in Hawaii, along with her best bike and run splits.
Simply incredible.
Knibb a glimpse of the future?
There was no doubt pre-race that the addition of two-time IRONMAN 70.3 World Champion Taylor Knibb added an extra layer of excitement and intrigue to an already compelling event. In her first attempt over the distance, and just eight weeks after securing her qualification for the Paris 2024 Olympic Games at the Test Event in the French capital, the Cornell University graduate showed her class – and future potential over the distance – with a fourth-place finish.
Some 1:40 down on gun-to-tape winner Charles-Barclay after the swim, a patient and prudent approach to the day was perhaps evident when she took her time in T1 to actually start the 180km ride 2:16 in arrears in seventh position. She moved into second place within 20km, but that was as close as she got, position-wise, to the front of the race.
Having had to serve a one-minute penalty for an unintentional littering offence, broadly speaking, LCB and Knibb biked pretty close to the same pace over the 180km (4:32:29, versus 4:34:00 – with that penalty tent stop), the two fastest splits of the day. Often seen and heard chatting to the media crew, Knibb was taking a more patient approach to the bike leg than I think many (myself included), had forecast.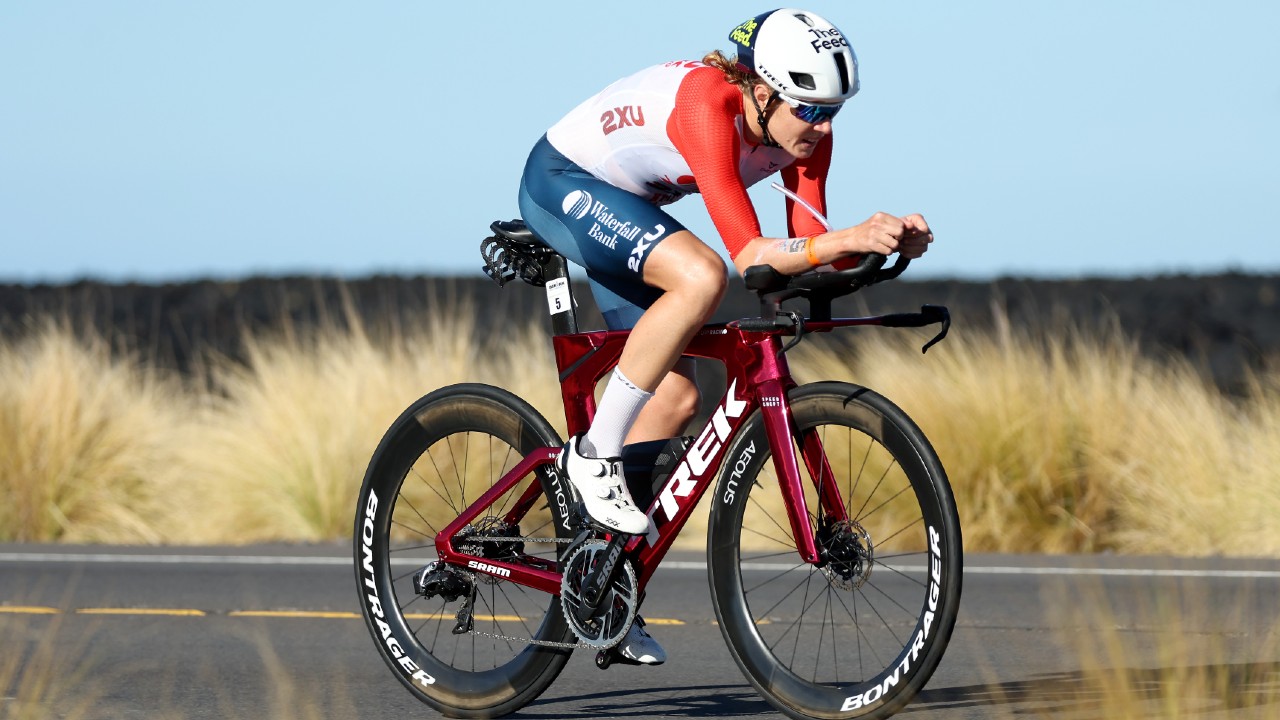 If this was a scouting mission for future years, respectful of the demands of the race and her shorter-term goals of Paris 2024, then it showed admirable maturity.
It was an approach which saw her hold onto a podium position until the 24-mile mark of the run, when Philipp finally made the pass. Knibb came home in fourth place and an 8:35:56 IRONMAN debut, rounded out with a 3:05:13 marathon. At least I got that aspect of my pre-race prediction correct however!
With those learnings in the bank, another two years of maturity and likely a more race specific build, Taylor Knibb will surely be back and tough to beat in 2025.
Thanks for the memories Daniela
While Knibb could represent the future, we have to acknowledge what appears to be the final Kona race start of five-time IRONMAN World Champ and four-time winner on the Big Island – namely the all-time great that is Daniela Ryf.
Back in June the Angry Bird had provided what she described as her "best ever performance" at Challenge Roth, and thoughts here at least were that if she could repeat that sort of effort, a fifth win could be on the cards. That didn't happen of course, but Ryf held strong during the marathon after not having her best day (by her incredibly high standards), on the bike, to take fifth.
If this was a passing of the torch in some regards, then quite appropriate that it was Charles-Barclay who took top spot, having finished second to the Swiss star in 2017 and 2018.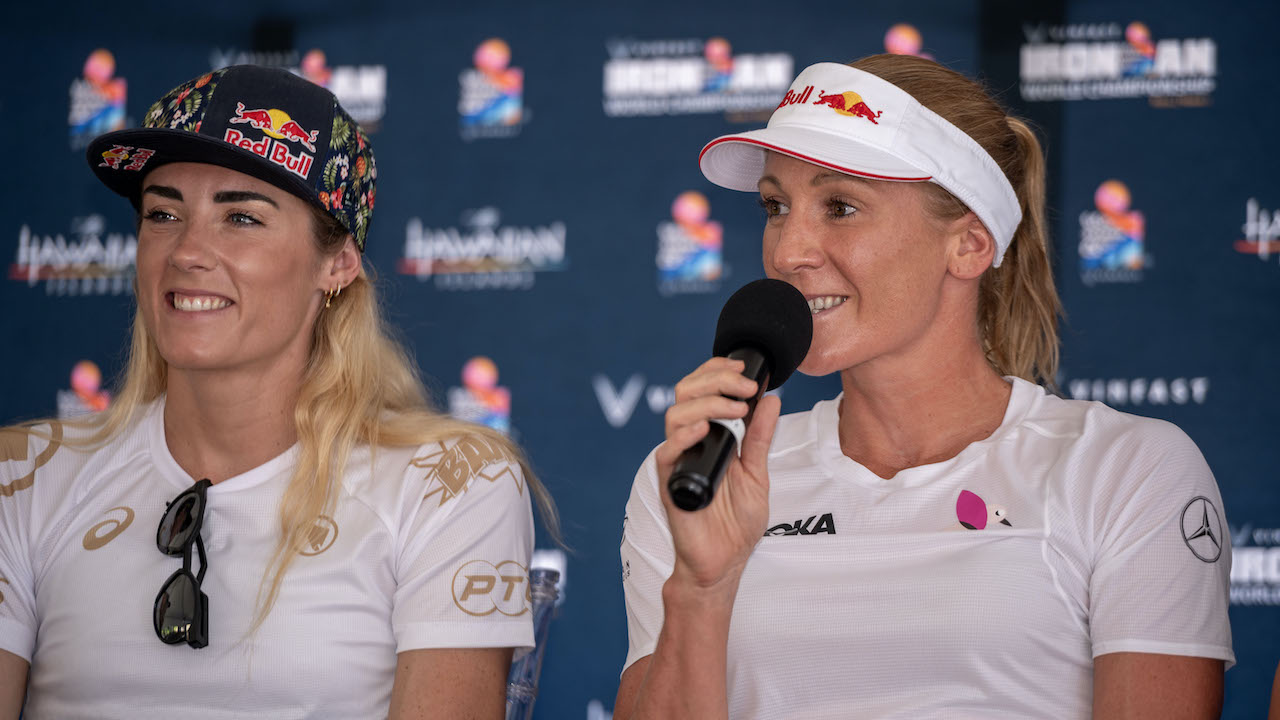 A pre-race gem?
It's fair to say that any reference of 'IRONMAN coverage' usually generates the strongest of responses. Quite honestly, I do believe that some of those are so entrenched that it would be literally impossible to change some peoples' opinions, whatever they did. And that's fine, it's a free world and everyone has a view, right?
One area that I think IRONMAN did do particularly well in Kona – and to be fair, have done for a few years now – is with their pre-race coverage, usually referenced as the 'Body Marking Show'. Starting almost two hours before race start and running for 90 minutes, this features the sights and sounds of the Pro athletes checking-in, interviews with many of the athletes, some pre-recorded segments and views and thoughts from the broadcast team.
Now, we've seen and heard from many/all of those athletes in the lead-up, but with the sun still rising and nerves approaching max, we get to see – or perhaps make our own interpretations – on how the athletes are looking and feeling when reality is about to bite. This is not fighting talk a week out, this is a far more raw and different insight.
With Greg Welch leading on those in the check-in zone, and then Matt Lieto and Mirinda Carfrae supporting with further updates in the bike park, it's not something that can be highly scripted. The floor managers in the production team have to be on their game in these situations, and yet we got to hear from all of the favourites (and more), the athletes all contributed and overall, I think they did a sterling job in making this an engaging 90 minutes.
Sure, this segment is likely for the hardcore triathlete fan only… but it's one that I appreciated and I hope is retained.
Elsewhere coverage wise, the one thing that had me thinking, "you've got to be joking?!", was the decision to drop in a full screen advert when Lucy was well into the last mile of the marathon, with just two right turns remaining. The course record pace may have impacted any 'run of show' pre-race scheduling plans, but this was simply a horrible decision so late in the race.
On the positive side however, we seem to have seen the back of the Maurten Move…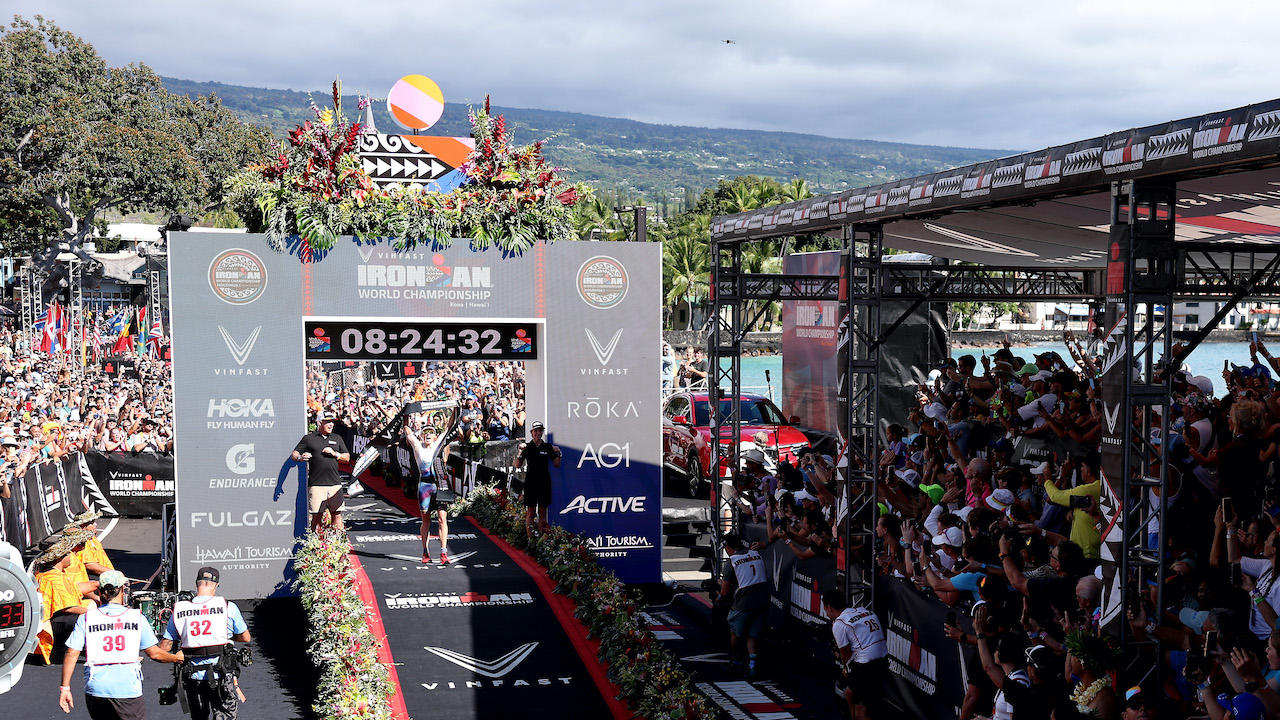 All-in-all then, a hugely positive day in which the women of triathlon were given the spotlight – and they made sure that light was a bright one.
Congratulations – and thank you.