Jan Frodeno might appear to be the ultimate perfectionist but admits he cannot be scared to fail when he returns to action at Challenge Roth this weekend.
The German superstar has not lost a triathlon since way back in 2017, but he has also not raced since last year's Collins Cup in Samorin.
A partial tear of the Achilles tendon put paid to his defence of the IRONMAN World Championship title in St George in May.
Now Frodeno is ready to make his comeback as he starts the countdown to that return to Kona in October.
The 40-year-old knows he will not be at absolute peak fitness for Sunday's showdown in Bavaria, but he has clearly comes to terms with that fact.
Frodeno realistic
Speaking at Thursday's press conference, he said: "I'm feeling quite well actually! It'd be lying if I didn't say the last few months didn't suck, there has been a lot going, but I'm happy it's positive now and I'm happy to be part of this mix of young, dynamic athletes, and at least I'm not the oldest!
"I'm never afraid of anything in competition including failing, but I have to have a realistic approach – I lost three months due to injury so for me it's a very strange situation so I have to put my perfectionism aside. But it was easier to do this than to stay at home and this is why I'm looking forward to Sunday.
"I know I've trained well and I'm in good form, but I don't have enough running kms so I'm hoping for a positive outcome and I have to realistic to a certain degree and also consider the rest of the season.
"I always give it my best and I don't want it to be any different here. I'm not the young athlete I used to be, and I have to listen to what my body tells me and, in the end, I will come through the race as well as possible."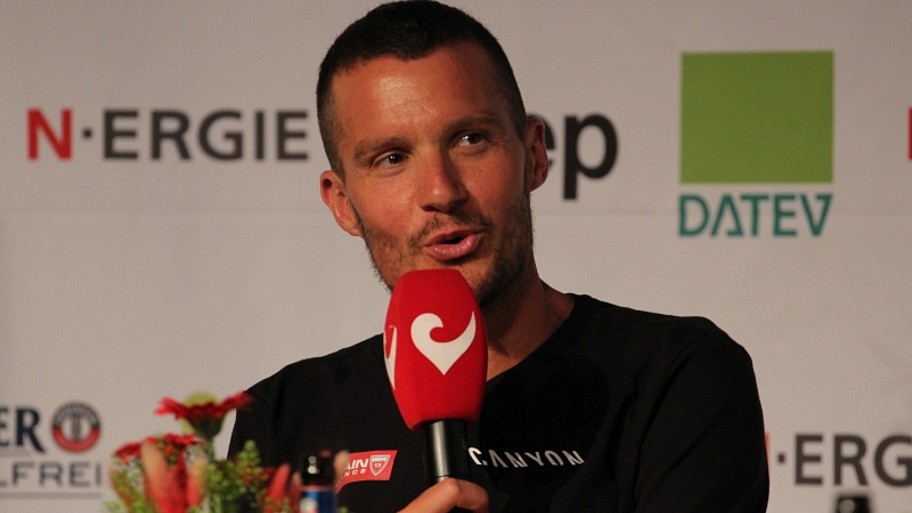 Happy to be back
While Frodeno is realistic about what might happen on Sunday, he is nevertheless delighted to be back in action – and at a very special race.
"For me it is a very positive moment after what has been a difficult time. Let's do triathlon again at this iconic race and course.
"Life is full of ups and down and this will contribute to my strength and make me a more complete athlete, whether I am there yet, time will tell. It's great to have this race with some of the best in the world."
Fellow Kona king and defending Roth champion, Patrick Lange, could well provide the main opposition to Frodeno on Sunday – a mouth-watering showdown between two superstars returning from injury.
"I really love that Patrick is racing because I want to beat him and that's actually the biggest compliment I can give," said Frodeno.