This is a preview feature written ahead of the 2022 edition of DATEV Challenge Roth. You can read our extended reports on how the races played out, which saw Magnus Ditlev earn a big win at just 24 years of age, while defending champion, Anne Haug, overcame a poor swim and bee sting to retain her title in Bavaria.
Challenge Roth has been an integral part of the European triathlon summer for more than three decades and it is back today for a massive race you can WATCH LIVE HERE.
Known as IRONMAN Europe up until 2001, the event split from the M-Dot umbrella, forming the Challenge Family, from 2002. It has continued to flourish since.
There is plenty to look forward to this year too, with three IRONMAN World Champions starting (and six Kona titles between them), but with plenty of young guns looking take the headlines away from local superstars.
Start time and watch the race live now
The 2022 DATEV Challenge Roth powered by hep takes place on Sunday July 3.
The Pro Men start at 0630 local time (CET), which corresponds to 0530 in the UK and 0030 Eastern time. Pro Women start three minutes later at 0633.
The event is being broadcast live (just click the video below to watch), with commentary from Belinda Granger and Julian Meinhold.
They will be supported by former Challenge Roth (and IRONMAN and IRONMAN 70.3) champion, Sebastian Kienle, who was scheduled to race himself but recently had to withdraw from the event.
The Challenge Roth website will also provide timing data, leaderboard, text updates, images and more and thus provide a great companion to the broadcast images.
PRO Men
The big headline for the iconic race of German triathlon is the return to competition of two German multiple IRONMAN World Champions (and previous Roth winners too), Jan Frodeno and Patrick Lange. With both absent from the recent IRONMAN World Championship in St George with injuries, there was eager anticipation to see them back in action. We now know of course that Frodeno sadly was a DNF early on the run.
Patrick was an impressive winner of a slightly short Roth race 12 months ago, while Jan set (at the time) the fastest iron-distance time of 7:35:59 during his Roth victory six years ago.
Frodeno's last racing loss was at the IRONMAN World Championship way back in 2017, the day that Lange claimed the first of his back-to-back Kona wins. That race aside though, Frodeno's record against Patrick is a very dominant one. As the first race start for both in 2022 however, there is absolutely no form line to go on. Still, Jan doesn't typically start races unless he's ready to win…
While the German stars will make the local headlines, having Sam Long (USA) and Magnus Ditlev (DEN) racing, to name just two, will ensure this is far from a two-man race. Long has been in Europe for a while (he was second last week in Walchsee), with Challenge Roth being a big target for him.
Neither Long or Ditlev start with their strongest disciplines in the water, but the Roth swim is an incredibly simple one – there's even a lane rope dividing the wide Main Donau Kanal. With just two turns and an otherwise straight course, swim gaps in Roth are often closer than elsewhere. As two of the best cyclists in the sport too, they could potentially work really well together should they leave T1 in close order. Add Sweden's Robert Kallin into the mix, and that could easily be a power trio chasing hard.
While still new to the distance, Ditlev only lost out in a sprint finish early this year at IRONMAN Texas, despite a bike mechanical which cost him nine minutes at the side of the road while leading.
It is good to see Reece Charles-Barclay back to racing after his early season heart investigations, while there is further British interest in the men's race from ERDINGER athlete Thomas Davis, who is returning to Bavaria after his debut 12 months ago.
Another Brit who has raced well in Roth before (8:26) is Pete Dyson, who combines his sport with full-time work.
PRO Women
The absolute favourite status for the women's race has to go to the 2019 IRONMAN World Champion and winner here last year, Anne Haug.
There are plenty in the sport who consider her race last year hugely underrated – and that's likely because of the slightly shorter (bike) course and large margin of victory. Times can both help and hinder analysis, but her sub-2:44 run compares exceptionally to the 2:38:30 of Lange on the same day. Only two men went quicker.
Second and third last year were two Brits, Laura Siddall and Fenella Langridge, and both return for another shot at the German superstar. Seventh (Laura) and eighth (Fenella) at the IRONMAN World Championship in St George in May, there was little between them then, just as in Roth last year.
It's no secret that Roth is Laura's favourite race, and having finished fourth / second / fourth / second in her previous attempts, she will want to be part of the champagne celebrations in front of one of the best finish lines in the sport once again.
Other podium contenders appear to be Rebecca Clarke (NZL), who was a very close second at IRONMAN Australia in May, Denmark's Maja Stage Nielsen, who was 10th at the IRONMAN World Champs in St George and Judith Corachan Vacquera (ESP).
Recent winners in Roth
2021: Patrick Lange (GER) / Anne Haug (GER)
2019: Andreas Dreitz (GER) / Lucy Charles-Barclay (GBR)
2018: Sebastian Kienle (GER) / Daniela Bleymehl (GER)
2017: Bart Aernouts (BEL) / Daniela Ryf (SUI)
2016: Jan Frodeno (GER) / Daniela Ryf (SUI)
2015: Nils Frommhold (GER) / Yvonne Van Vlerken (NED)
Prize Money: What's on the line?
The prize purse on offer this weekend is EUR 62,000 – with each of the winners collecting a EUR 14,000 share of that total.
The total funds will be paid ten-deep, as follows:
€14,000
€7,000
€3,500
€2,000
€1,000
€900
€800
€700
€600
€500
Of course, thanks to the formation of the Professional Triathletes Organisation, financial rewards from performance are not solely from on-the-day performances.
The PTO World Rankings will see a total of $2million awarded at the end of 2022, based up on the final standings in those points tables. The rewards there can be substantial, with a move up or down the rankings system potentially earning you more than any individual event.
One thing of note – athletes gain an additional 10% bonus to their PTO points earned in their 'best' full distance race of 2021, which could well see some significant changes next week.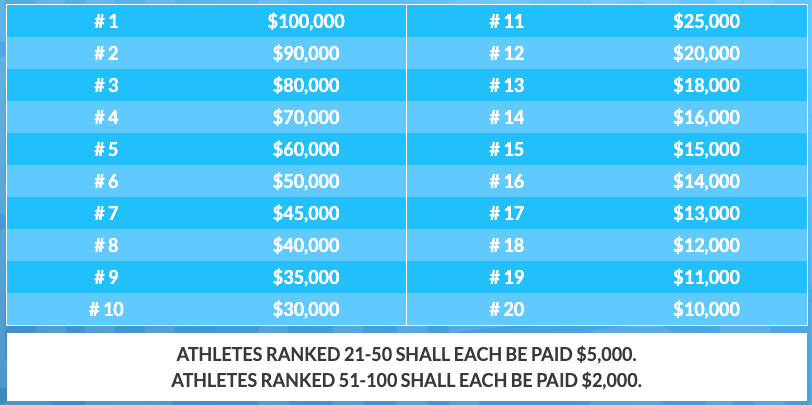 As a Challenge Family event, there's also a third potential source of earnings for athletes too, courtesy of the Challenge Family World Bonus!
Challenge Family offers a $125,000 bonus pot, which is paid out as $25k / $16.5k / $12k / $6k / $3k to the top five ranked male and female athletes across the Challenge Family/CLASH Endurance race season.
Having finished second last week at Challenge Walchsee, added to previous victories at CLASH Miami and Challenge Puerto Varas, Sam Long currently leads the World Bonus Standings. With Challenge Roth offering the highest points of the season (600 for 1st, 500 for 2nd, 400 for 3rd), a win for the 'Big Unit' could well put him out of touch and make him a strong favourite for that $25k bonus.