Jan Frodeno was left "speechless" after powering to a new record iron-distance time in Sunday's Zwift Tri Battle Royale in Germany.
Frodeno overcame the pain of a fall during the closing run to storm home in a new best of 7:27:53. He was more than 15 minutes clear of rival Lionel Sanders, who himself clocked a personal best of 7:43:28.
Everything pre-event had been set up with the aim of chasing a new iron-distance record – Frodeno already owned the previous standard with 7:35:39 at Challenge Roth back in 2016.
The weather did not play ball however, with cold and wet conditions in the Allgäu region hampering the two combatants.
Unbelievably hard – Jan Frodeno
Frodeno admitted afterwards: "That was hard, so unbelievably hard. You haven't done an ironman for two years and you race it like a 70.3, that's a mistake in the beginning.
"Massive thank you to everybody who came out It was so tough because it was cold and it was rainy. Everybody was out and It was really quite something. I'm speechless but I'm a broken man right now.
"The truth is, it's not exactly what's referred to as Frodeno weather – so I'm sorry to everybody who came out and endured the conditions – it's amazing. I have to say it got quite cold on the bike, but really it was just amazing to do this kind of thing."
While the physical pain was significant for Frodeno, he also recounted the mental stress of constantly calculating where he was from a time perspective.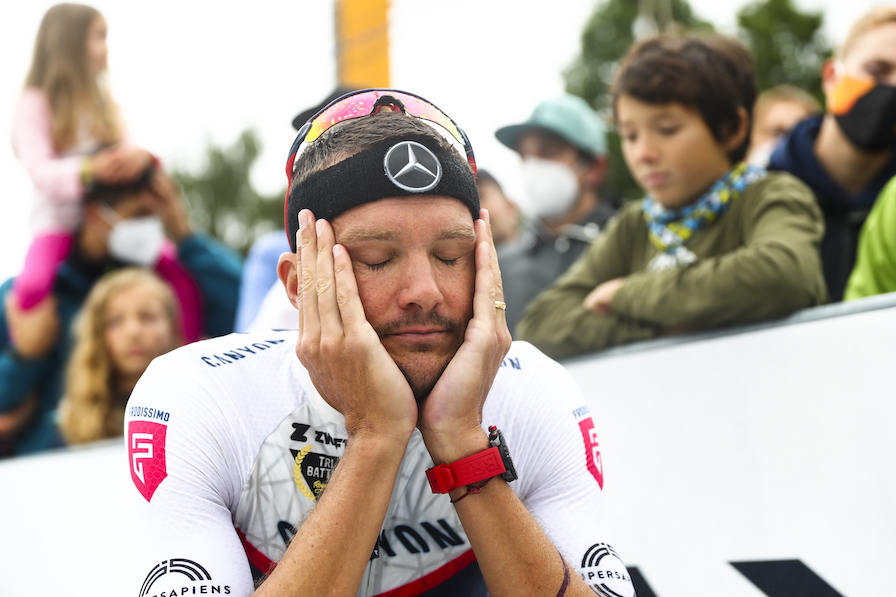 Doing the math
"It was so clinical because you never had to look up, you could just try to go as fast as possible," he said.
"I was doing the maths in my head, I don't think I've ever calculated so much – 1 minute 20s, one kilometre at 45km/h. I don't know how many times I've worked that out.
"Same thing on the run, trying to keep the time as fast as possible of course. We dreamt of this but I didn't have a time in my head. Lionel said he wanted to go 7:29 and I'm like 'I've gotta go faster than that if he's going 7:29'."
Frodeno also paid tribute to his valiant opponent, saying: "Lionel is a great athlete who has pushed me further and further over the last two years and who was on for a world record here for a long time, which many people certainly did not expect of him."