Javier Gomez, one of triathlon's all-time greats, is now fully focussed on returning to the world of Ironman.
A five-time World Triathlon champion and two-time IRONMAN 70.3 World Champion, he's also won an XTERRA World title as well as the ITU Long Distance Triathlon World Championships in 2019.
The Spaniard made his full-distance debut back in 2018, when second to Braden Currie at the Asia-Pacific Championship, but it's only now that he's concentrating fully on the non-drafting, middle and long distance formats.
"I am not going to do anymore ITU most likely," he confirmed in an interview with Bob Babbitt.
Speaking on 'Breakfast with Bob,' the 38-year-old talked in detail about learning to race at long distance, his current training programme, his new coach and the main goals for the year.
Different approach
First off, he was adamant that racing at Ironman distance cannot be compared to shorter distance triathlon, saying: "It is almost a different sport."
He revealed that he has now changed his training programme as a result and is 'doing things properly' compared to that 2018 bow.
He said: "It doesn't matter how good you are over short distance – it doesn't matter if you can run a 28:34 10km – that is not going to help you at all.
"[If] it's hot and you are exhausted – it requires a different type of preparation, I learned that the hard way and I am training differently now. And I am getting much better at things like nutrition.
"I am not a young kid anymore, but I think I am doing things properly and I think I can still do much better than I did in 2018."
Encouraging start
After nine years under the guidance of Carlos Prieto, Gomez opted for a change and hired Dan Plews as his new coach at the start of 2022, pointing to the Briton's expertise in Ironman training.
It was a successful start for the pair as well, with Gomez winning his first race under Plews' stewardship at IRONMAN 70.3 Pucón earlier this month, taking control on the run and finishing nearly two minutes quicker than Lucino Taccone in second.
With the likes of Olympic champions Alistair Brownlee – who beat Gomez in an epic race at London in 2012 – and Kristian Blummenfelt both moving into IRONMAN distances recently, it adds yet another layer to a fascinating long-distance landscape.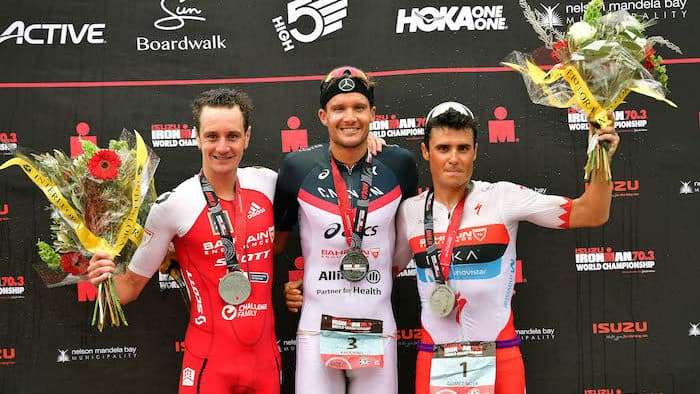 "The level in long distance is incredible at the moment, we have so many incredible athletes stepping up from ITU," agreed Gomez.
"It is going to be interesting, but I am just focusing on myself. I try to show my full potential in the race and then see what happens."
Looking back to his 2022 bow in Chile, Gomez said: "For the first race of the year it was really good. I am training with Dan Plews now and he is helping me a lot, so I am excited. I am learning so many things that I will need in long distance and I think I will be more efficient in the next races."
And he had no hesitation in nominating his first "big goal" – the rescheduled IRONMAN World Championship at St George in May.