British iron-distance record holder to return to Challenge Roth in July
IRONMAN Texas DNF means change of direction for Joe Skipper
It's fair to say that the first part of 2017 hasn't quite gone to plan for Joe Skipper (www.joeskipper.co.uk).
12th place at IRONMAN South Africa was definitely a sub-par performance – a long way from his pre-race expectations.
However, he had always planned to race IRONMAN Texas too, the North American Championships (the race that practically saved his career two years ago), and so didn't have to wait too long to put things right. Well into the second half of the bike leg, things couldn't have looked better. Making up his typical swim deficit, he had biked all the way through to the front of the main bike back behind the pace-setting Andrew Straykowicz; feeling great and exactly where he would have hoped to be… before a puncture took him out of the race. "I was on a great day and had actually gone off the front off the lead group when I punctured."
With no qualifying points earned at Texas (and having reasonably expected to secure most, if not all of what he would require from one of those two Continental Championship races), Joe is taking a new – but familiar – direction for the summer. A return to Challenge Roth is his new target. Kona 2017 is off the schedule.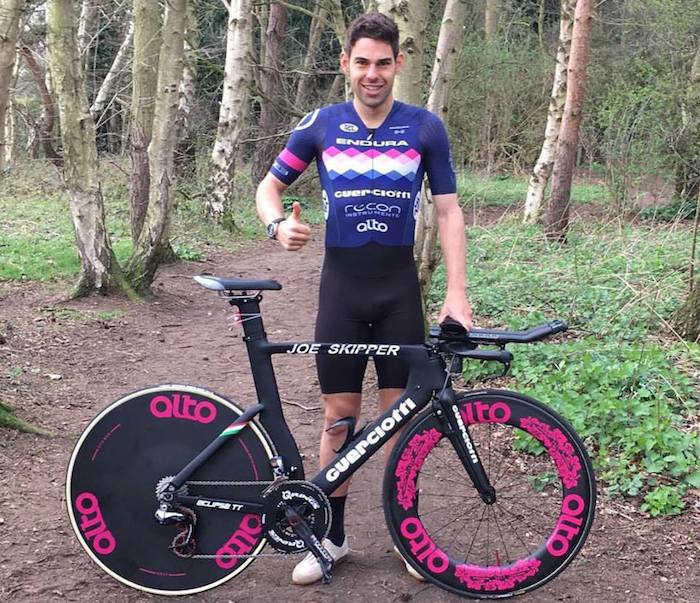 Joe currently sits at 160th position in the 2017 Kona Pro Rankings (KPR) with 540 points. While there is no 'set' threshold for qualification (full details of the KPR process are detailed HERE), Thorsten Radde (who runs the excellent www.trirating.com, and is a specialist in this area), indicates for example that David Plese, currently with 3,695 points is, in his analysis, "On the Bubble (could be enough, but not sure)". With a non-Championship IRONMAN victory earning 2000 points for victory, even an IRONMAN victory would still require more racing / some top placed IRONMAN 70.3 results to guarantee Kona qualification.
The right decision?
Still young in IRONMAN terms (Joe turned 29 in March), for Joe I personally think this is an excellent decision. Over-racing to qualify and then arriving in Kona exhausted before you start, is the equivalent of "turning up to a gun fight with a water pistol!". Joe has plenty of years left to seek success in Kona. Taking the pressure off of the points chase now – and with 2016 Challenge Roth winner, Jan Frodeno, racing at IRONMAN Austria – Joe is free to target victory at one of the iconic races of the sport. He gained huge exposure and press for his British record breaking second place in 2016. Another record, in tandem with a race win, would be a nice way to recover from the first part of 2017.
It also provides an opportunity to start his 2017/18 Kona qualifying year early. With Challenge Roth taking place in July, targeting a late 2017 IRONMAN race (any races taking place after 20th August 2017 count towards his 2018 points total), would make a lot of sense – and also tick of the 'validation' requirement for the year.