Sunday's debut edition of IRONMAN 70.3 Swansea saw an expected victory for the PTO's currently world ranked #4, Katrina Matthews.
The IRONMAN World Championship silver medallist was returning to racing action after that memorable weekend in Germany at the Sub8 Project. While the win never really felt in doubt from my perspective – despite Ruth Astle leading at T2 and the fast-improving Lydia Dant not too far behind – it wasn't the devastating performance we saw at Lanzarote earlier in the season.
Shock to the system
Tennis player Brad Gilbert wrote a popular book called Winning Ugly, and just as the best football teams have that ability to secure victory when they are not at their best, that was my take on Kat's Sunday in South Wales. I spoke to her post-race, suggesting it was a great 'rust-buster' ahead of the Collins Cup, and that seemed to strike a chord.
"I think you've hit it on the head there – it was a real shock to the system. I've had a really good sort of short training block, and this was going to be something of a training race – if there is such a thing for a professional athlete – and I actually came into it quite confident, but I didn't really know where my body was going to be.
"I had such good competition today, Ruth and Lydia really pushed me all day and I guess it was what it was. A win doesn't have to to be pretty!"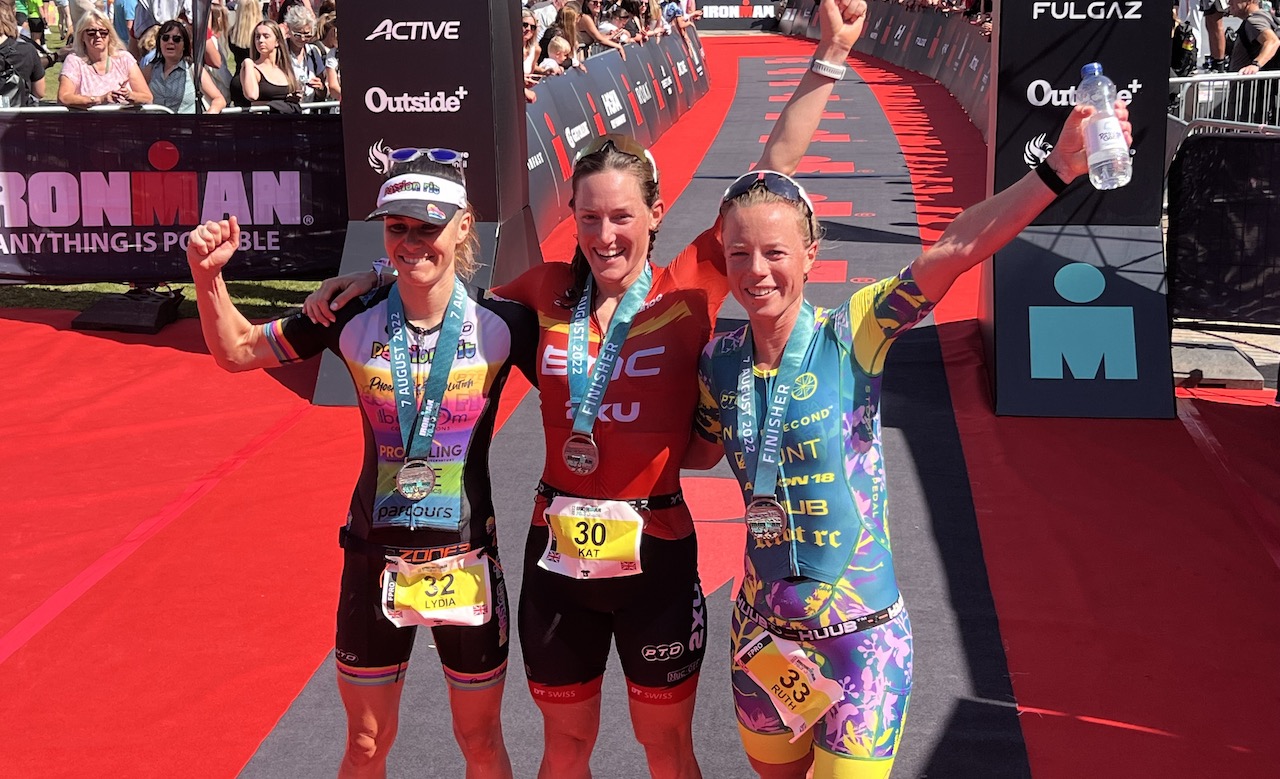 Emotions matter
In our pre-race feature, I referenced the down time (from racing) that Kat had taken post-Sub8 to recover from two high profile and high pressure full-distance efforts, in St George and Dresden. While that is a logical and professional approach to elite performance and recovery, Kat gave a great insight into how emotions, as well as logic, comes into play.
"It sort of feels natural to me. When I'm racing I need to be emotionally attached to it, passionate about it, and if I'm not then I know that I'm not ready to race. It's not like I'm forcing time away [Ed. from racing], it's just that I know that it's not right for me to put myself into trans-continental flights and race every single thing.
'My main focus is obviously going to be Kona this year, and I know that there was just no way that I could maintain momentum all the way through from March (Lanzarote) through to the end of October. So a little bit tactical, but mainly just listening to my body and my head."
Turning pressure into a positive
While Matthews has been producing some strong results since she first entered the Pro ranks in 2019, it was perhaps that early season performance at IRONMAN 70.3 Lanzarote that truly marked her out as a serious contender for the IRONMAN World Championship to most observers globally. Prior to that, I had made her one of my five contenders for victory in Utah, but the triathlon world's focus truly stepped up just over a month later.
On what would be her first ever IRONMAN World's start, that sort of expectation could be a huge burden for some, but I was impressed in the lead up to St George that Matthews had spoken about treating that as confidence that others have in her ability, rather than pressure. She explained:
"For St George that was really where my head was at. I don't think I use that specifically as a strategy for every race, but that's where my headspace was before St George and I knew that I was really, really fit, and that I had the capacity to do well, so it was just about putting it down on paper. I didn't have enough on the day to beat Daniela, but I tried which I was really proud about."
Sub8 memories
I finished by asking Kat, almost two months on now, about her big picture reflections on that memorable day at the Sub8 Project.
"It was a very unique, overwhelming team ethos of an environment. Honestly, it was like nothing I've ever done and nothing I expected in the sport. It was physically and mentally harder than I thought, but it had so much more enjoyment in doing that as part of a team.
"It still such a team now, I mean some of the girls were at the Commonwealth's and we've been cheering them on, we are still a team – it just continues to flow into other sports."