The training behind the unprecedented success enjoyed by Norwegians Kristian Blummenfelt and Gustav Iden is showcased in a fascinating new film from Santara Tech.
Santara Tech was co-founded by Blummenfelt, Iden, their coach Olav Aleksander Bu and manager Adam Acworth – with the stated aim of driving innovation and performance in endurance sport further and faster than ever before.
They've already changed the triathlon landscape – Blummenfelt is the reigning Olympic champion and last year added the 70.3 Worlds and the rescheduled IRONMAN World Championship in St George to his CV, while Iden won a whole host of the biggest races himself, crowned by a record-breaking victory in his first attempt at the IRONMAN World Championship in Kona.
All roads lead to Paris
And the focus now for the pair is the Olympics in Paris in 2024, something which is underlined time and again in the first instalment of 'The Norwegian Method', billed as the first time ever they've let cameras into the lab to document their infamous winter testing.
Coach Bu, who told us last year that they would be documenting the whole process and putting it in the public domain, is centre stage in the film.
Explaining where they find themselves, he says: "So now we're back in Norway having spent most of the year away. A very important topic for us now is to get back in shape for Paris 2024.
"We use a lot of instruments that will be common to many people but we use them quite differently.
"We have a lot of data of what it did look like to be the best (from Blummenfelt's triumph in Tokyo). We don't expect that to be good enough going into Paris 2024. So we look at how we can improve things."
And in what might be uncomfortable viewing for their rivals, it's crystal clear that Bu believes there are many more significant gains to be made, adding: "I don't believe in the human limits that have been established so far in research. I think we can go far beyond it.
"We have to take every hour that we have available and make sure that it counts."
Numbers add up
The video starts to explain the ongoing process of recording how the athletes respond to training blocks and how things are honed with the help of many different partners, who are no doubt also learning plenty about prototypes of their own products thanks to the Norwegian input.
And it's clear that Bu is happy with the start point they've got 18 months out from Paris, telling Iden there's no need to be humble by pointing out: "The numbers he is producing now just after his off-season are basically what the other athletes are producing when they are peak season."
And that's reinforced when Bu admits: "The most surprising data during this testing has been the level they come in at after what was a post-season break. These are by far some of the best numbers from a metabolic side that we have collected at any time."
Smarter training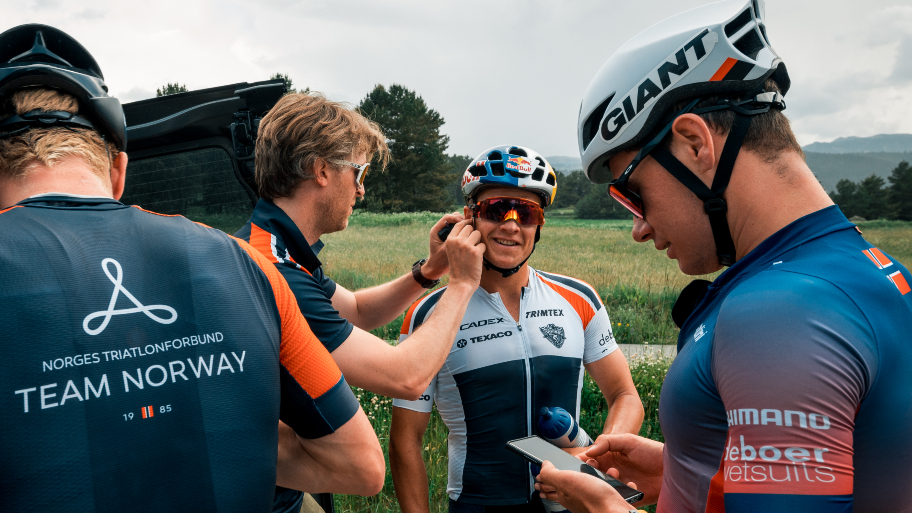 But both Blummenfelt and Iden are under no illusions about the task ahead of them, with the reigning Olympic champ saying: "Nobody has successfully gone back from long course to Olympic distance.
"That is going to be very difficult, but the intensity and the training is something I've been missing."
And that's echoed by Iden who admits: "It's not easy to go back to short course now because the level is insane.
"The guys racing in short course are really talented and also really hard workers. They are starting to get even more scientific and I think we may have inspired a bit of that – so we've also made it even harder for ourselves!
"But we don't do these tests to impress anyone, we do it to gather data… so we can do smarter training in the future."
It's well worth a watch as is the recent podcast from Rich Roll which features Bu and goes into real depth on the Norwegians' 2022 season.