"I'm a Canadian living in America who's on Team Norway – I don't know how I got into this situation!"
That's how Lionel Sanders describes himself in the latest PTO documentary ahead of this weekend's groundbreaking Canadian Open.
'No Limits' will clearly have a target on his back in Edmonton – when doesn't he – but it's clear he's relishing the challenge ahead.
'My best is still to come'
Having recently announced he's going to become a father, it's also obvious he's in an equally good place with his training now that he's working with coach Mikal Iden.
Sanders says: "The training has changed in that I have definitely become more accountable. In that I'm thinking about what's going on under the hood – more of a scientific underpinning.
"It's about the training I'm doing and how it affects what happens in a race, and that's something I was deeply ignorant of – training creates your racing. Coach Mikal has helped me correct that.
"Undoubtedly my best is still to come. I think three years from now I will achieve my peak in triathlon."
Making it meaningful
But equally, he's under no illusions that it's getting harder and harder at the top, especially now that the PTO's ethos of the best racing the best regularly is starting to come to fruition.
Lining up against Sanders in Edmonton will be Olympic and IRONMAN World Champion Kristian Blummenfelt, plus his fellow Norwegian and 70.3 World Champion Gustav Iden.
There'll also be Jackson Laundry, who beat Sanders at 70.3 Oceanside earlier in the season, as well as the late bonus addition of two-time Olympic champion Alistair Brownlee.
And while Sanders, now ranked #5 in the world, followed that Oceanside runner-up spot with a second place in the rescheduled IRONMAN World Championship at St George and then a win at 70.3 Mont-Tremblant, he recognises the landscape is changing – and for the better.
"Absolutely it's getting harder. I'm getting better every single year. My swim is getting better but the deficit stays the same. It's great, it's fun.
"It all goes back to what makes something meaningful – the title or the people? It's the people.
"The golden era is coming – very good, well-rounded athletes who are crazy hard workers and mentally tough."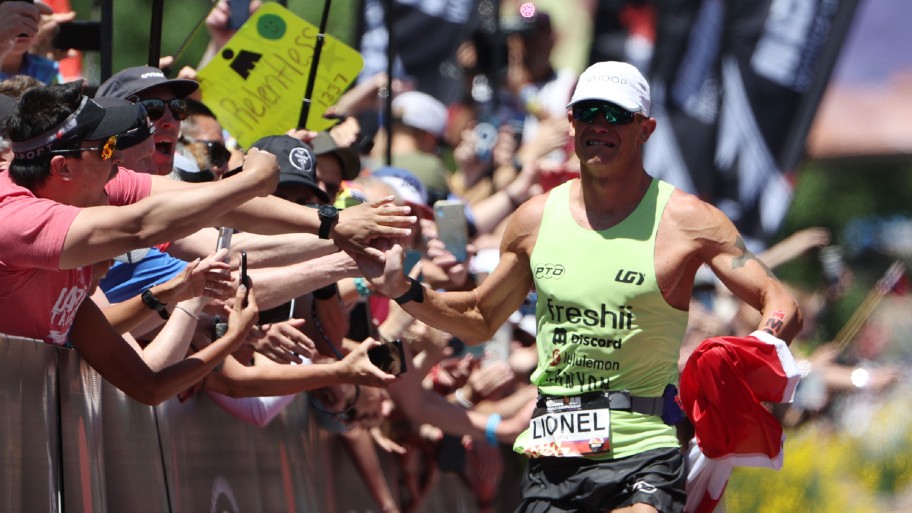 And his next chance to underline his standing is in this weekend's $1million showpiece.
He added: "For better or worse, money attracts people. We're going to start to go to races where the top tier is at – and this is what is going to push the sport to a new level. These are going to be the wins which will be the most meaningful.
"If there was ever a time to excel and upset this whole thing, it's now. The next couple of years – so let's do it."