Lionel Sanders carries the moniker 'No Limits' every day, but the Canadian has a new one in mind for Sunday's huge showdown with Jan Frodeno in Germany – 7:29.
The Zwift Tri Battle Royale in Allgäu, Germany (0900 local time, 0800 BST Sunday) is the much-publicised head-to-head meeting of two of the greatest athletes in long-distance triathlon.
But as well as bragging rights, the spectre of a new iron-distance record time looms large – the whole event is geared up for an assault on the 7:35:39 mark set by Frodeno himself at Challenge Roth back in 2016.
Sanders knew what might be possible, and what even might be expected, as he prepared for this important business trip to Europe.
Sanders targeting new limit
He explained: "Years ago when I first got into this – if you remember the Real Starky, that triathlon parody thing – and I went in there, just a naive kid, and I said I think the human limit thing is just under 7:30. It's funny how life works because I think Jan thought I was saying in Kona. He said 'no, 7:30 is not possible'.
"But I'm pretty sure, in his mind in the training for this event, he was thinking 'I'm gonna break 7:30'. And so I said, well if I'm gonna race him, I need to start thinking that way too. So I put that poster up on the wall – I put 7:29:30."
The bike course is where Sanders knows he must dominate if he is to stand any chance of causing a major upset on Sunday, and it will also play a major part in the potential for a new record time.
"I did a little test session on Wednesday. Not on the course, but pretty well right next to the course," he said.
"303 watts for 44kmh. So it's good, it was pouring rain – that's a pretty quick surface in the pouring rain. Better pavement than I really have ever experienced ever. You can run pretty high air pressure.
"It's certainly a low four-hour course, just is it a sub four-hour course? And If it's a sub four-hourse course, then well, I think the 7:35 time is probably in jeopardy.
"I think the attention to detail is amazing. Literally I don't think we can create a course that's going to be any faster ever. The bar will be very very high.
"I have no other place to do damage unfortunately. So you catch him on the bike or you don't do it. There's only first and last place in this event. What's the worst that can happen – I can finish last place. I guess I'm guaranteed a podium, but that's not saying too much."
The weakest area for Sanders is undoubtedly the swim, and ultimately where any chance of a competitive Sunday could disappear. It's an area Lionel has focused on trying to improve.
"I joined a swim team in Tucson, really great coach, really great group. I mean I needed to improve my swimming.
"Unfortunately, the level of this sport, to have any deficit is a problem. Jan has elevated the game, there's really very little place to make up time.
"So I had to improve my swimming. I mean I'm not there yet, but some of my swims have been career-best swims and I'm just enjoying the process. Learning new things in the water that I'm finding transferring over. Just being softer, not trying to muscle it."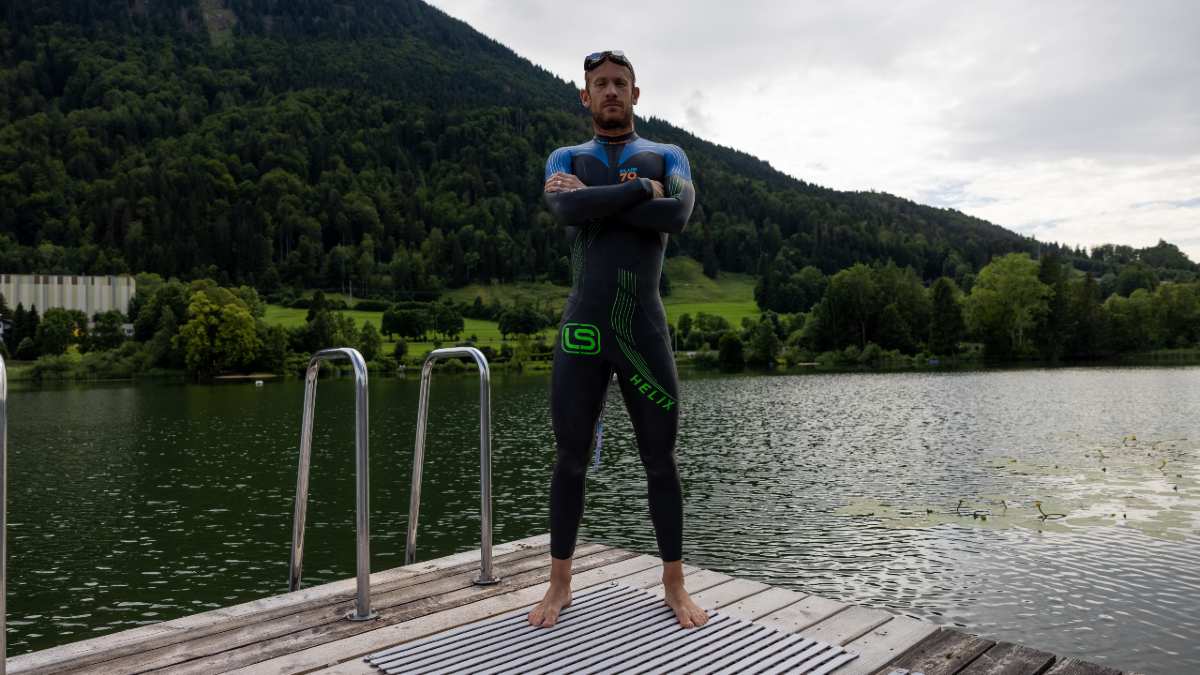 Sanders chasing Frodeno 'first'
Despite what the record books might tell him, Sanders says he is also chasing a first on Sunday – a win over Frodeno.
Sanders did actually finish in front of his arch rival at the 2017 IRONMAN World Championship in Kona, claiming second place behind Patrick Lange while the German limped home way down the field after being hampered by injury.
While the stats will show that as a win for Lionel in their rivalry, the circumstances mean he discounts it – and is instead still seeking that elusive success over the man he regards as the best ever.
"It doesn't count, that's not satisfying, doesn't count. No satisfaction whatever," he explained.
Many doubted whether Sanders would even take up this engagement after limping home at IRONMAN Coeur d'Alene less than three weeks ago. He does not yet have a slot booked for Kona ,and the chances to claim one are running out. Despite that, the decision to come here was he says an easy one.
'I'd rather do this than Kona'
"Every time I get better in all three disciplines – every time he's better too. I had to think about this because I don't have a Kona slot.
"I had to say 'what would you rather do? Kona or this?' And From an experiential standpoint, I would rather do this than Kona, just because Jan has had such a positive impact on my career.
"It's truly the opportunity of a lifetime – that's why it took me three seconds to say yes. I came here for one thing and one thing only. I intend to push him to the limit, and we'll find out."