This is a preview of Jan Frodeno vs Lionel Sanders in the Zwift Tri Battle Royale – click here for full results and a report on how Frodeno set a new ironman distance best time of 7:27:53.
The Zwift Tri Battle Royale sees Jan Frodeno and Lionel Sanders face off in a head-to-head exhibition race in Allgäu, Germany and you can watch it live.
The event pits two athletes at the pinnacle of triathlon against each other over a long distance race, which entails a 3.8km swim, 180km bike and 42.2km run under normal international rules.
You can follow live coverage without leaving Tri247 via the YouTube stream directly beneath this text.
With the coronavirus pandemic continuing to disrupt the international calendar, three-time IRONMAN World Champion Frodeno challenged 2017 ITU Long Distance World Champion Sanders to an unprecedented one-on-one contest.
Should the event be as enthralling in reality as it is set up to be on paper, it could mark the beginning of a new era in triathlon.
The Zwift Tri Battle Royale isn't the only exhibition event challenging the conventional triathlon set-up, with the Pho3nix Sub7 and Sub8 races also set to push the sport in a new direction.
Though Sanders and Frodeno are not involved, that event also pulls together some of the top names in triathlon in a series of head-to-head races.
Away from triathlon, similar contests in boxing and golf that break away from a sport's traditional competitions have enjoyed success.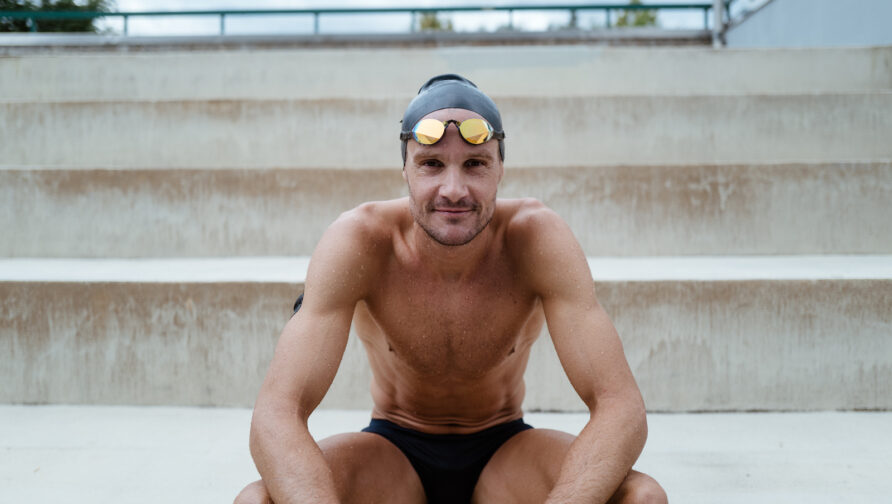 Golf's 'The Match' exhibition series saw two giants of the sport in Tiger Woods and Phil Mickelson face-off in 2018, and this year's edition will see NFL superstars Aaron Rodgers and Tom Brady added to the equation.
Exhibition events in boxing involving celebrities are also beginning to become more commonplace, with YouTuber Logan Paul recently taking on one of the greatest fighters the sport has seen in Floyd Mayweather.
Such events have generated millions in revenue and attracted global interest, and intriguing head-to-head contests such as the Zwift Tri Battle Royale have the potential to do the same for triathlon.
When does it take place?
The Zwift Tri Battle Royale will be held on Sunday July 18, 2021, in the picturesque surroundings of Allgäu in Swabia, southern Germany.
The race gets underway at 0900 local time (0800 UK/0300 ET/midnight Saturday on the West Coast), with Frodeno and Sanders plunging into the waters of the jaw-dropping Grosser Alpsee Lake.
Following the swim, the duo will complete five laps of a bike course that runs through the towns of Immenstadt and Sonthofen.
After passing through Burgberg on the run, the pair are expected to complete the race in just over seven and a half hours.
Tri Battle Royale – how to watch it live
As mentioned already you can watch it here via that YouTube embed higher up this article.
A live broadcast lasting over eight hours will also be available on tri-battle.com featuring a series of experts and guests providing analysis of the event.
Expect classy graphics and virtual components, as event organisers have promised 'a production level you would expect of any large sporting event'.
The breathtaking backdrop of Allgäu will no doubt serve up some incredible footage, as Frodeno and Sanders race through one of the most beautiful regions in Germany.
You can experience just how much power Jan and Lionel are putting out during the race by hopping on Zwift.
Their avatars will be putting out the same power while cycling and be covering ground at the same speed as the athletes during the run leg transmitted live from the course.
All you need to do is follow both Jan and Lionel on Zwift Companion to be able to easily find them on the Start screen to ride or run with them on Sunday.
Frodeno vs Sanders analysis
For many, arguably most, Jan Frodeno is the GOAT. Olympic champion, three-time IRONMAN World champion, twice IRONMAN 70.3 World champion, he's already an all-time legend in the sport of triathlon. What's more, dominant wins already this season in Miami and Gran Canaria, suggest he could yet be better than ever, with his 40th birthday approaching in August.
Lionel Sanders is compulsive viewing. He's also got everything against him for this race. A meltdown at IRONMAN Coeur d'Alene is hardly confidence-boosting, while any potential physical after-effects won't be evident until July 18. One thing Lionel is however, is a competitor. He races on anger, and will thrive on the belief that the vast majority feel that Jan is bringing him to Germany to show his dominance. Yet again.
Could we see a world record?
As if his racing statistics weren't enough, Jan Frodeno is both the Kona course record holder at the IRONMAN World Championship, and holds the fastest iron-distance time on record, 7:35:39, set at Challenge Roth in 2016. That could be under threat here.
The hope is that the event is at least competitive (Frodeno has a strong lead over Sanders in previous meetings), but if Lionel can push Jan hard enough, who knows what might be possible on July 18…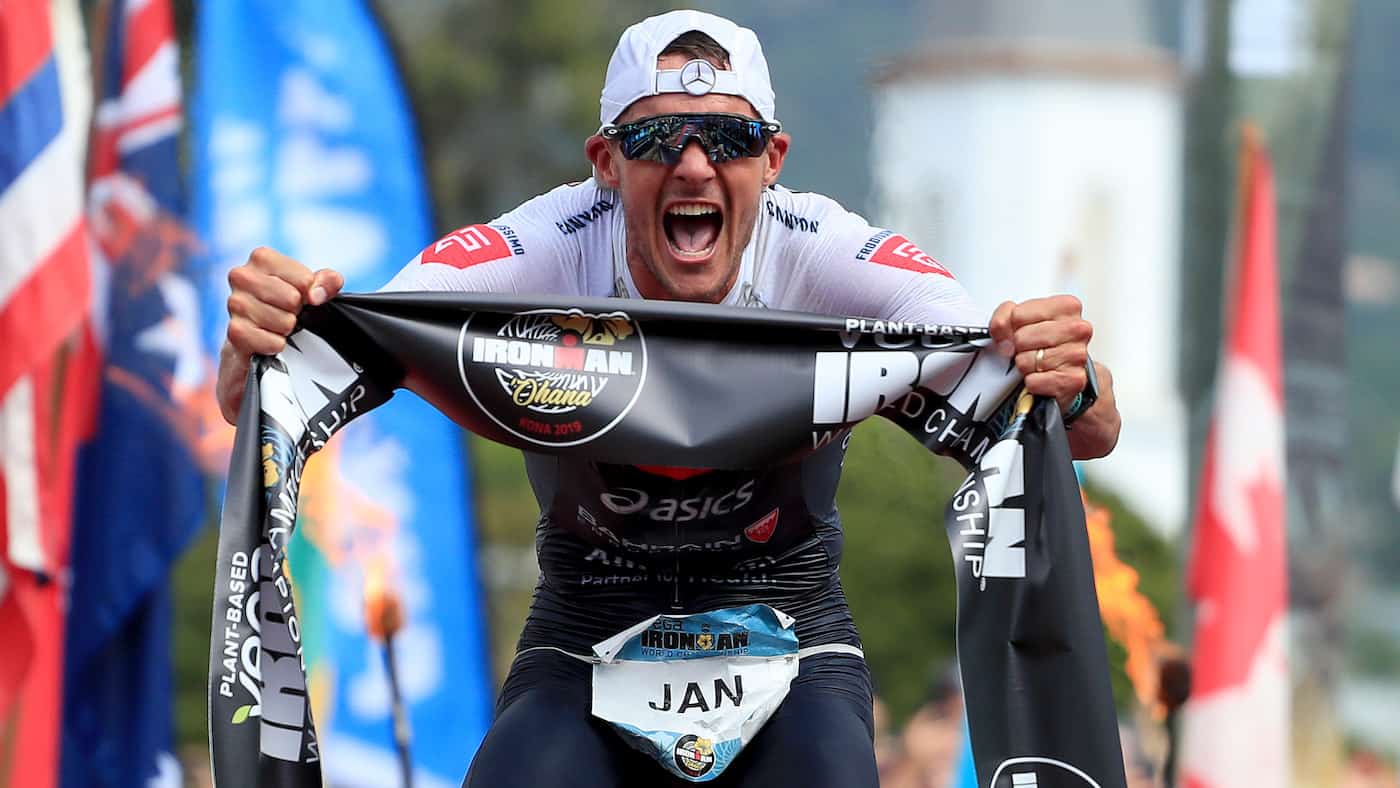 What are they racing for?
The origin of the Tri Battle Royale was an Instagram exchange between Frodeno and Sanders at the start of June.
With a lengthy wait until Kona in October, Frodeno had asked for suggestions for a sporting challenge, and Sanders was quick to respond with a proposal for the German to take him on at IRONMAN Coeur D'Alene.
But with the start list for the event in the USA already out, Frodeno challenged Sanders to a one-on-one race in his 'backyard', and by June 18 the Tri Battle Royale was born.
Despite claiming a plethora of titles throughout his time in triathlon, Sanders stated that a victory over Frodeno 'would likely be the highlight of his career'.
Frodeno, 39, meanwhile says he is 'not willing to step down just yet', and that the idea of racing against the 'rising star of the sport' in Sanders provides him with the motivation to improve.
Who is behind the Tri Battle Royale?
Zwift is a virtual training app for both running and cycling, but it will it will be the title sponsor of the real-world showdown between Frodeno and Sanders in Germany.
The two athletes are avid users of the app, incorporating it in their indoor training sessions regularly throughout the year.
Zwift Tri Battle Royale race organiser Felix Rüdiger says further partnerships are set to be announced ahead of an event that has caught the attention of many brands.
Zwift's sponsoring of the event comes during an increasingly prosperous period for triathlon, with funding from elsewhere also beginning to trickle into the sport.
Pho3nix has partnered the Professional Triathletes Organisation (PTO) for the Sub7 and Sub8 project, while Super League Triathlon has secured multiple sponsorship deals and offers lucrative prize purses.
With likes of the PTO continuing to provide the sport with financial backing and other brands such as Zwift keen to secure partnerships, the future of triathlon looks bright.
And if the Zwift Tri Battle Royale is as successful as it has the potential to be, it could kickstart a new genre of competition that generates yet more money for the sport.