Lionel Sanders says he remains 100% all in on that ZWIFT TRI BATTLE Royale head-to-head showdown with Jan Frodeno in Germany next month.
The Canadian superstar limped over the finish line at IRONMAN Coeur d'Alene on Sunday after struggling with nutrition issues. That threw immediate doubt on whether the much-publicised clash with Frodeno in Allgäu on Sunday July 18 would still go ahead.
To complicate matters further, Lionel still does not have a confirmed spot for the IRONMAN World Championship in Kona in October. So would he still race Frodeno? Or would he instead head for IM Lake Placid a week later in a bid to grab a berth on 'The Big Island'?
Frodeno vs Sanders still very much on
The answer came loud and clear when Sanders released a post-Coeur d'Alene update on his YouTube channel. Given the competitive nature of the man, we should have known ahead of time what it would be.
"I'm 100% going to race Jan. This is the opportunity of a lifetime…" said Lionel.
"This is worth more than Kona to me, to have the opportunity to go head-to-head against the best of all-time.
"I will go somewhere else to get that Kona spot, to attempt to get that Kona spot. Even if I don't get the Kona spot there, and I have another bad race, Im gonna put my name on another IRONMAN start list and I am gonna continue to race until I do an IRONMAN, I get to the finish line and I say 'alright, now we're moving in the right direction, now you're starting to understand how to do this properly'."
Sanders had stated in the immediate aftermath of Sunday's race that his preparation had been "the best ever", and that he was still searching for answers. Upon reflection, he is now clearer on what needs to be fixed.
Sanders issues are all about fuelling
"Training is good, it's a fuelling problem – I can just tell, it's muscle function is having a serious decline, If I'm training really well, executing well well within myself and looking absolutely pedestrian out there.
"I think most people would agree if that's a 70.3 or even an ITU long-course Worlds distance, I'm gonna look a lot different. So it's not fitness, it's something else."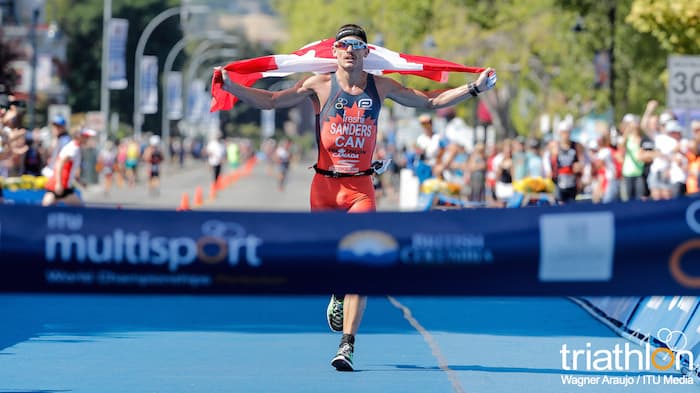 Now Lionel has less than three weeks to get ready for that showdown with Frodeno, and he says the time for talking is over.
"Whatever, I don't wanna talk any more, I just want to fix it. I just wanna go out there, shut my mouth and fix it. Keep at it until I have confidence that 'yes, now you're getting it, now you're understanding'. That's what I'm gonna do."
The route to Kona for Lionel Sanders?
With that meeting with Frodeno on July 18 still on, the possible route to Kona for Sanders becomes more complicated. We can likely rule out Lake Placid as that comes just a week later on July 25.
The final date for qualifying is August 29, and we have the Collins Cup in Slovakia the day before that. Sanders is basically the face of Team Internationals for that flagship PTO event, so we cannot imagine he won't be there, at a venue that has provided two of the best races of his career, at Challenge Family's The Championship in 2017 and 2018.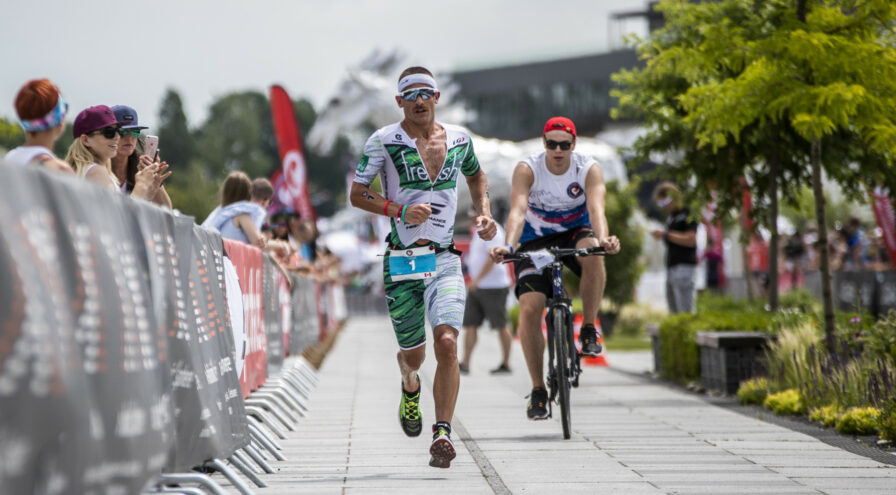 That would seemingly leave just two potential routes to Hawaii – via IRONMAN Frankfurt on August 15 (3 Kona spots available) or IRONMAN Copenhagen on August 22 (2 Kona spots available).
The Denmark race is of course just six days before the Collins Cup, so at this stage Frankfurt would appear the most viable option. It comes four weeks after the Frodeno clash, and two weeks before Šamorín. Potentially meaning a long stay in Europe, rather than packing for a long weekend in Allgäu.
This of course is just informed speculation, it's very difficult to predict what a man as competitive and driven as Lionel will do next. Whatever happens, it will be a fascinating sub-plot to follow during the coming weeks.
Potential race schedule to Hawaii
This is what Lionel Sanders' race schedule up to Kona could look like:
July 18 – Zwift TRI BATTLE Royale, Allgäu
August 15 – IRONMAN European Championship, Frankfurt
August 28 – The Collins Cup, Šamorín
September 18 – IRONMAN 70.3 World Championship, St. George, Utah
October 9 – IRONMAN World Championship, Kona, Hawaii (qualification pending)