Lucy Charles-Barclay is looking to build on what was in many ways a bonus second half of the season following her superb comeback from injury.
Her whole year had appeared in major doubt when she suffered a stress fracture in her left hip.
'Dare to dream'
Speaking in the latest Team Charles-Barclay video on YouTube (embedded below) she looked back to that moment and explained: "We had a plan A+ goal to make the start line for both Kona and the 70.3 Worlds and I remember when I wrote that down thinking 'that is just impossible, it's pie in the sky'.
"But I just wanted to dare to dream and do both. So to be on that startline in St George after my second place at Kona was just a dream and it felt amazing to be doing plan A+."
The comeback had started in sensational fashion with victory at the World Long Distance Champion in Samorin in late August and was followed by third place at the US Open in Dallas.
Those displays enabled the green light for a return to Hawaii where she was runner-up for the fourth time in a row and she then just missed out on another podium spot as she tried to defend her 70.3 Worlds crown in St George at the end of October.
Teamwork
She added: "Looking back on this year, I lost six months due to my injury but got four races in and finished first, third, second and fourth. Actually that's a great season and all in just three months.
"For a year that could have been a complete write off, I'm just so proud what I have achieved but also what the team of people around me allowed me to achieve by investing 100% into my dream of getting back, being on the start line healthy. I can't thank them enough.
"And I really hope we can just build on this and have an even better year next year."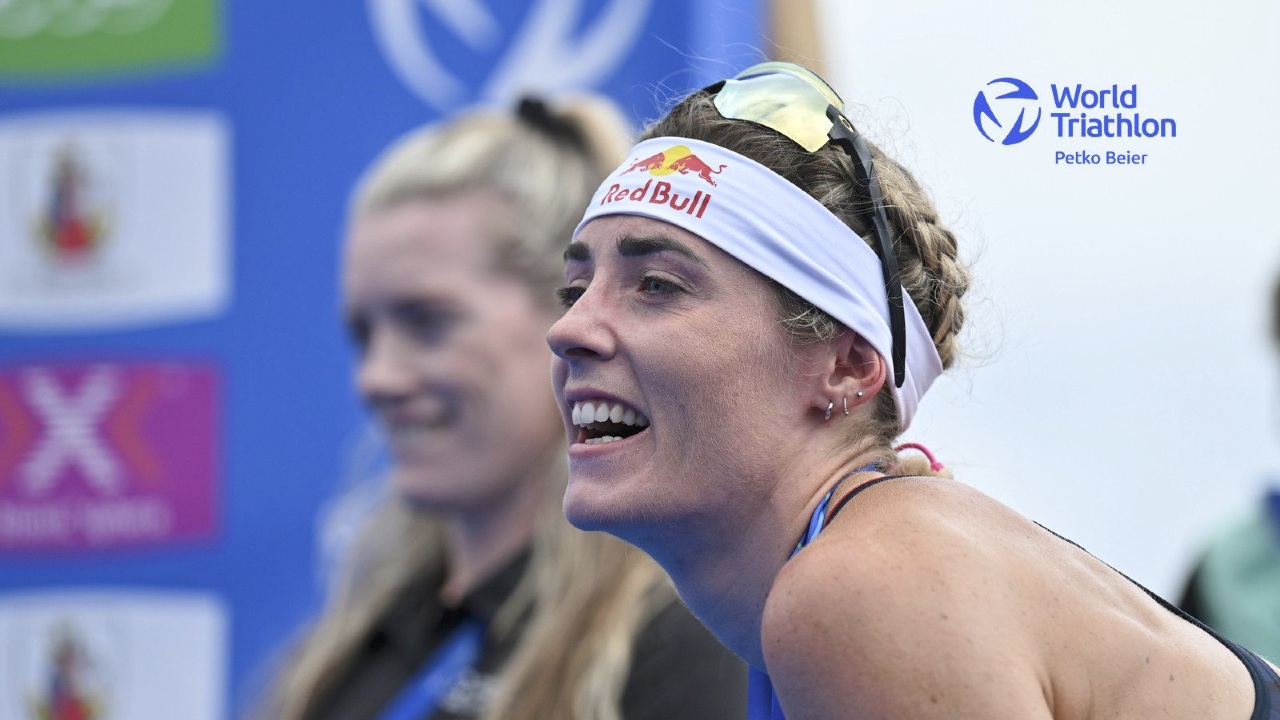 Bittersweet
Looking back to her fourth place at St George, she found a number of positives to take from a challenging race in the cold conditions.
"I felt really good a week out from the race but then we went down from altitude to St George and I did a swim on the Wednesday, two days before, and couldn't hit anywhere near the pace I had been hitting at altitude.
"And that was when I was slightly concerned as I thought I should have been flying given there was so much more oxygen. I just didn't get that lift.
"Generally I was just a little bit flat and didn't have that extra gear. And it felt harder because 12 months before I'd had my best ever race there.
"But I didn't let it impact my mental confidence because I've had races before where I felt absolutely terrible before the race but had a great race.
"I'm still very happy with how my mind felt – I was keeping positive, doing my thing and the whole race was kind of enjoyable having other people around me. I'm not used to riding in a group so things like managing the distance to the wheel in front, that kind of focus made the bike go so much quicker.
"The same on the run – I really enjoyed it, it feels way more tactical when you're in a group dynamic which I'm not used to at 70.3."
The podium looked on when she overtook Olympic champion Flora Duffy on the run, only for Emma Pallant-Browne to power through late on to snatch third.
And Charles-Barclay said: "I'd put in so much effort to get past Flora so that I had nothing left to give when Emma went past me. There was nothing in the tank. But it was bittersweet because I was so pleased for Emma."
New perspective
"And for me it was a learning experience and good to know going forward that I can race in cold conditions.
"It was a great race and it's so exciting to see women's racing at the moment, the level is rising all the time. Having all these little battles within the main race is so good for our sport."
There was also a clear sense of perspective as she added: "It rounded out four great races which I didn't expect to have.
"If I'm in any race healthy and injury free then I'm just going to be really happy to be there and will never take it for granted.
"I'm excited for the future and what next year has to bring. I'm excited to have a healthy and full season of work where I can go into these races and be at 100% capacity with a big base under me."