It doesn't get much closer than that
David McNamee starts 2018 with a win. But only just…
Last week I wrote a feature commenting on how the 'big dogs' of men's middle and long distance triathlon had seemingly started 2018 in fine form. Gomez (again today!), Brownlee, Sanders and Frodeno have all made their mark this year. Well, today Great Britain's Kona 2018 Bronze medallist, David McName added his name to the winners listings in his first outing of the season too, at the debut of IRONMAN 70.3 Marbella.
Now, describing David as a 'big dog' may not seem consistent with his laid back, understated style, but that facts are that his results over the last two seasons put him into that upper tier of Elite athletes. Having only just turned 30, lots of scope for improvements too.
Today's win? Well, after almost four hours of racing and "The most brutal head to head battle I have ever had", he won by around six inches!
Sprint final between @c_leiferman and @DavidMcNameetri #IM703Marbella – @DavidMcNameetri takes it in a photo finish after 3:57:47 pic.twitter.com/TzBiQDTvXu

— IRONMANLive (@IRONMANLive) April 29, 2018
How it played out
Manuel Kueng (SUI) headed out the swim in a (surely short…) time of 18:15, with only Daniel Baækkegård (DEN) able to stay with him. McNamee headed a large group of 13 athletes around 30 seconds later, with the dangerous biking legs of Andreas Dreitz (GER) managing to stick with the tail end of that pack.
The young Dane was proving to be a strong rider, holding a half minute lead at the midway point of the bike over Dreitz, McNamee, Romain Guillaume (FRA) and Chris Leiferman (USA). Guillaume and Drietz pulled away over the second half of the ride, to reach T2 almost 2:30 clear their trio of chasers.
Dreitz pulled away from Guillaume on the run, but McNamee and Leiferman – seemingly locked together – were closing the gaps. By 10km they has passed the Frenchman and had closed the deficit on Dreitz to little more than a minute.
The pass! @DavidMcNameetri pushed to the front! 17 km done, @c_leiferman is just a piece of paper behind, @andi_dreitz a few meters behind the lead – hard racing #IM703Marbella pic.twitter.com/RfFoyP73zU

— IRONMANLive (@IRONMANLive) April 29, 2018
Dreitz was proving a tough a challenge, and it was only with 4km remaining that the catch was made. McNamee and Leiferman still running step-for-step. It looked like it would come down to a sprint. It did, they were so close that they have the same finish time… but the Scot just gets the winning verdict.
Never has a photo captured my emotions so clearly. The most brutal head to head battle I have ever had. Thanks for all the epic support out there #ironman #racing #triathlon #marbella #win #podium https://t.co/ynAWwYMMxc pic.twitter.com/dBNGy2iwsv

— David McNamee (@DavidMcNameetri) April 29, 2018
Laura Philipp proves her class
Third in the 2017 IRONMAN 70.3 World Championships, Germany's Laura Philipp delivered on her favourite status with a six minute winning margin.
Third out of the water and just 14 seconds off the pace of swim leader Judith Corachan Vaquera (ESP), by T2 she was four minutes clear after a 2:39:18 bike split over the challenging course. She extended that lead with a 1:19:05 half marathon to dominate proceedings.
IRONMAN 70.3 Marbella – Sunday 29th April 2018
1.9km / 90km / 21.1km
MEN
1st – David McNamee (GBR) – 3:57:47
2nd – Chris Leiferman (USA) – 3:57:47
3rd – Andreas Dreitz (GER) – 3:58:42
4th – Romain Guillaume (FRA) – 4:01:44
5th – Adrian Haller (SUI) – 4:02:58
31st – Richard Westover (GBR) – 4:21:31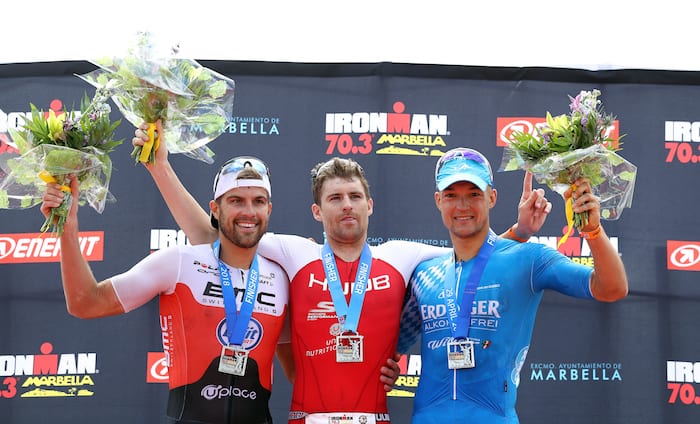 WOMEN
1st – Laura Philipp (GER) – 4:25:27
2nd – Marta Bernardi (ITA) – 4:31:28
3rd – Daniela Sämmler (GER) – 4:33:29
4th – Anja Beranek (GER) – 4:35:34
5th – Judith Corachan Vaquera (ESP) – 4:37:24
7th – Suzie Richards (GBR) – 4:52:54