World Champion Mola wins as crash takes Jonathan Brownlee out of contention in Japan
The weather for today's ITU World Triathlon Yokohama was…
It's all a bit Marti Pellow @worldtriathlon Yokohama right now. Wet Wet Wet…

— TRI247 (@tri247) May 13, 2017
And that – until we'd almost arrived at T2 – was about as interesting as it got if you want me to be honest.
The swim? It was 1.5km, non-wetsuit, and basically the whole field were within about 30 seconds – lead out by the returning Jonathan Brownlee.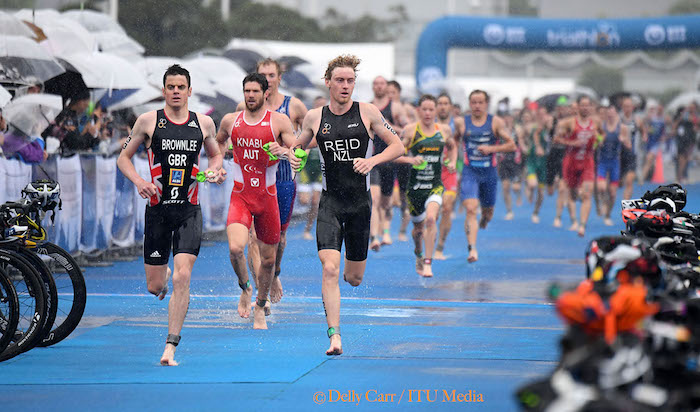 The technical course on the bike contained lots of turns, some very smooth and shiny surfaces and white lines everywhere. Combined with the rain, it was a case of safety first.
Brownlee was joined early by Kristian Blummenfelt (NOR) for an attack which gained… five seconds. Eliminated quickly, the next 50 minutes saw very little happen (and certainly didn't see a Spanish vest show its colours at the front of the race…!), all ready for the 10km run. Actually, Tom Bishop did have a minor bike spill (and did a great job to get back to the group), while Adam Bowden is reported as crashing out of the race.
And then, just as we were ready for T2…a crash took out Jonathan Brownlee who hit a barrier hard and seemed to somersault over it. In the process, his new bike was broken – and shortly after the ITU had put up a 'DNF' graphic, we saw Jonathan running with his bike over the final few hundred metres, much like Chris Froome in the Tour de France last year! Can't keep that boy out of the headlines! Anyway, his race wasn't over – but his chance of any top result was long gone.
What a great sportsman 💪@jonny_brownlee #WTSYokohama #NeverGiveUp pic.twitter.com/LcESTf7lsD

— Michiel Hellegers (@sportlifecrisis) May 13, 2017
Once on the run, it was soon going to be a case of four athletes and three medals. 2016 World Champion, 2016 Yokohama winner and Gold Coast 2017 winner, Mario Mola, soon made sure the Gold would be his. The trio of Fernando Alarza (ESP), Henri Schoeman (RSA) and Kristian Blummenfelt (NOR) would produce the most excitement of the race. While Alarza made it a Spanish double, Schoeman looked set for Bronze – before the Norwegian produced a sprint from somewhere in the depths of his being to take the Bronze, just as he did 12 months ago.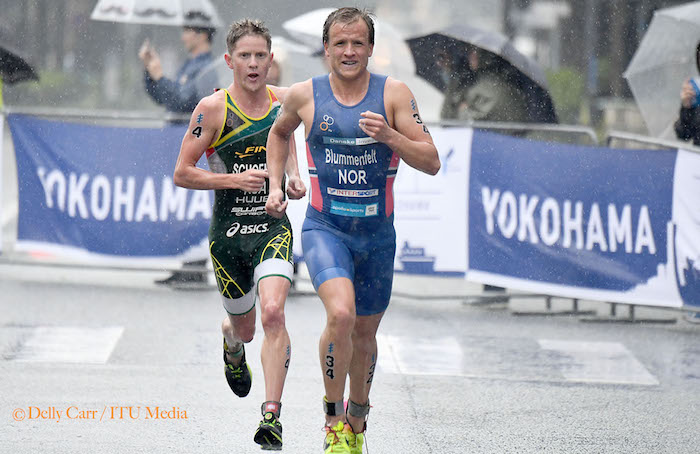 With a second win of 2017, Mario Mola returns to the top of the ITU Rankings.
Back-to-back #WTSYokohama champion, @mariomola! pic.twitter.com/QpfoYWN779

— TriathlonLIVE (@triathlonlive) May 13, 2017
ITU World Triathlon Yokohama – Saturday 13th May 2017
1.5km / 40km / 10km
1st – Mario Mola (ESP) – 1:48:15
2nd – Fernando Alarza (ESP) +0:08
3rd – Kristian Blummenfelt (NOR) +0:11
4th – Henri Schoeman (RSA) +0:14
5th – Andreas Schilling (DEN) +0:59
6th – Rostislav Pevtsov (AZE) +1:10
7th – Adrien Briffod (SUI) +1:11
8th – Igor Polyanskiy (RUS) +1:19
9th – Javier Gomez (ESP) +1:25
10th – Gabor Faldum (HUN) +1:28
11th – Gordon Benson (GBR) +1:31
12th – Tom Bishop (GBR) +1:39
42nd – Jonathan Brownlee (GBR) + 6:56
DNF – Adam Bowden (GBR)
Our winners today, @mariomola @Fernando_Alarza and @kristianblu pic.twitter.com/OtBBrs6oaR

— TriathlonLIVE (@triathlonlive) May 13, 2017
World Rankings after Yokohama (Race 3)
1st – Mario Mola (ESP) – 2064
2nd – Fernando Alarza (ESP) – 2058
3rd – Javier Gomez (ESP) – 1862
4th – Henri Schoeman (RSA) – 1494
5th – Richard Murray (RSA) – 1326
6th – Tom Bishop (GBR) – 1079