While there was no course record in the women's race this year at the Outlaw Triathlon 2021, Kerry Hickson was still the second quickest female ever, at the 11th running of the event at the National Water Sports Centre in Nottingham.
Here is the post-race reaction from the women's podium. (You can click here to read our race report).
Kerry Hickson 9:31:40
Rebecca Duxbury 9:43:51
Claire Weller 9:45:18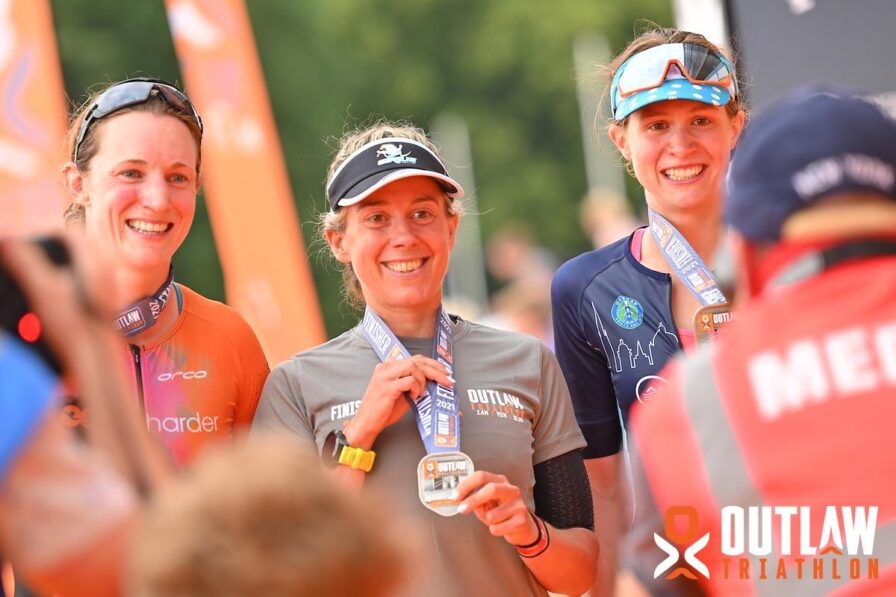 Kerry Hickson
Despite leading the race from gun to tape, Hickson admitted post-race that she never had any thoughts of victory ahead of the start. That despite a previous personal best over the distance of 10:00:32.
"No… I didn't think I'd ever beat Rebecca. I've been working really hard on my bike with my coach, Siri, and just did as well as I could. I knew they were all coming, so just dug in!"
One thing everyone commented on was how controlled Kerry looked the entire day. She appeared to be enjoying the run, and the pain was being masked well.
"The run hurt a lot, but the one thing I wanted to do was keep smiling throughout the run, that was my plan.
"I love this race so much, it was the first ironman I ever did four years ago and as soon as I got my Kona slot, I wanted to come back. The aid station and the Pirates – just amazing!"
Rebecca Duxbury
Like Kerry, Rebecca Duxbury is already qualified for the IRONMAN World Championship from racing back in 2019.
"That was my second long-distance triathlon, and was much better than my first. I did IRONMAN Wales in 2019.
"This was brutal. That wind on the bike was so much stronger than I thought it was going to be. The run was really humid, I felt like I was hanging on for dear life by the end of it, but I could see that I was catching Claire so I thought I just need to keep going. I caught her at 21 miles… I felt dreadful!
"Having all my Oxford Tri friends here to cheer me in was brilliant. I think it might have beaten Wales for most amazing finish line ever."
Claire Weller
Claire Weller is no stranger to the Outlaw Triathlon series and the podium, but this was something very new – her first race over the full distance. Second onto the run after the quickest bike split of the day, Weller was third at the finish line.
"I'm pleased yes, this was my first full-distance triathlon so just to complete it, I'm pretty happy with the result.
"My biking felt really strong, I felt that I struggled in the run – maybe with the humidity and the heat. Loads of learning points going forward but a positive result. I loved it.
"The run is harder than it used to be, with the added loop around the rafting (course), but it's really interesting – a great course."