In the second episode of the PTO Documentary "Crushed: The Kat Matthews story", Matthews and her training partners take viewers step-by-step through the harrowing incident. You can watch episode two, on YouTube, via the embed below.
"I thought she could win Kona"
After looking at her rise in the sport in the first episode of the documentary, the second episode graphically describes, with eyewitness accounts including Patrick Lange, the moments directly before and after the collision.
Lange, who has twice won the IRONMAN World Championships in Kona, first recounts how impressed everyone within the camp was with Matthews' form in the build up to Kona. Lange, who was also preparing for the IMWC, had been alongside Matthews throughout their training camp in Texas in the days building up to the crash.
"First of all, I was really happy to see her achieving these great results. When teammates are performing at this kind of level, I was just happy for her."
Mark Matthews, Kat's husband, was another member of the team who was confident that Kat could achieve something great in Kona, and even believed that her training in the build up to the race indicated that she could take the title.
"She was building. Texas was going really well, her numbers were looking great, swim numbers better than ever, run numbers better than ever, bike power better than ever."
"I thought she could win Kona. I thought if [Daniela] Ryf didn't do something crazy and Lucy [Charles-Barclay] was kind of as Lucy always is in Kona, I thought she could win there. Then she got hit by a car."
"When you think someone's dead there's nothing you can do"
Recounting the day of the incident, Kat shared that it started just like any other day on camp, with no indication that a potentially life-threatening accident was waiting just around the corner.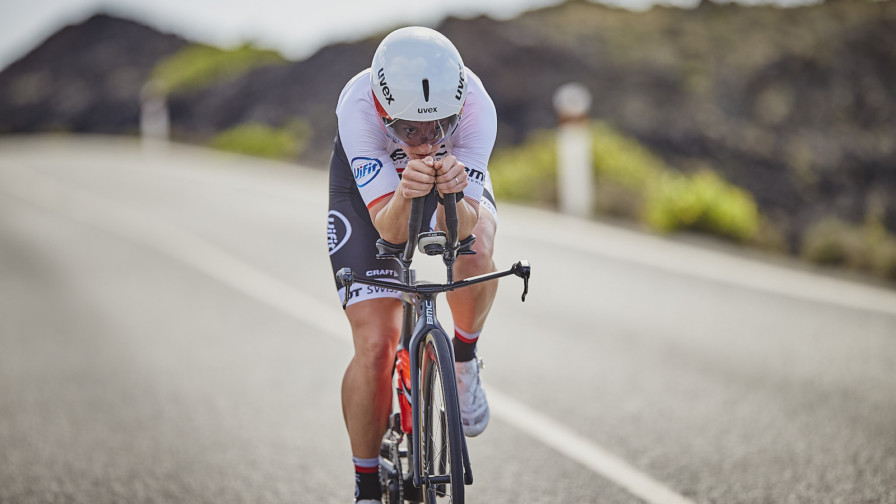 "The day started, and I was a bit grumpy for some reason. I had set off slightly earlier to the guys who were also riding, starting this really nice bit of road that I had ridden everyday for a month."
"I stopped at the gas station for an ice coffee, because I was desperate. I was slightly ahead of the guys at the time, then Jack [Schofield] and Patrick were just behind me."
After getting back on the road, Kat came back past Lange and Schofield, and it was just then that Lange recalls the the collision and its immediate aftermath.
"She overtook us in the aero position, then I heard a big bang and saw her flying through the air. In this moment everything kind of slowed down and we knew that something really bad had just happened.
"There was this puddle of blood, and it just kept growing and I was just praying that this puddle of blood would stop growing. There was not much I could do, I was just trying to stabilise her and I was just begging her, please please.
"The blood was coming from behind her ear. The ear, which was bleeding, was like almost 90% ripped off."
Schofield, who was also on the scene with Lange, shared just how horrifying the incident was, describing it as one of the worst moments of his life and recounting the incident in such detail that it's clear it is something that will stay with him for a long time.
"I think that was probably the worst five minutes of my life. When you think someone is dead there is nothing you can do. Everything is going through your head, like, I've just watched my friend die, what happens now.
"I can remember that [the sound of the crash] more than anything, that crunching sound. The metal on metal kind of crunching, that was just the noise and it was so loud, It was just bad, like real bad."
"I just felt this despair and grief"
Whilst the crash, the arrival of the emergency services, Lange contacting Mark Matthews and the trip to the hospital may have all been a blur to Kat, she vividly recalls the moment that she realised she was lying in a hospital bed.
"I remember lying in the hospital bed, there was someone very close to my face, I'd gone into the windscreen initially and think I'd grazed it in such a way that there was a lot of glass in my face. That's when I was like, okay, I'm in hospital.
"I fractured my occipital condyle, which is the base of the skull, then you go to the thoracic spine, and I had compression fractures in T3 and T4, then also a fracture in my sternum, it sort of crushed me and that's what they call it, axle crushing."
Once the extent of her injuries were discovered, Matthews shared that the medical staff were very cautious of further damage to the neck and spine and it was at this point that the fact she wouldn't be racing Kona began to sink in.
"They were so worried about my neck and spinal cord that I was very much like you need to stay in bed and stay still. The difference between cycling along and being a week away from the world champs to 'oh we're worried that you might die or not walk again', I think that realisation, was too much to handle and I just felt this despair and grief."
Kona?
Despite all of her injuries worries, Matthews was eventually discharged the day before her flight to Kona was due to leave. Whilst many people would have gone straight home, Kat and husband Mark decided to make the flight out to Kona and it was from here that the build back began to formulate in Kat's mind.
"People asked isn't it hard to be in Hawaii whilst the race is happening, but it wasn't about the race being in Hawaii, it was the fact that I wasn't racing that was hard and that would've been the case anywhere in the world.
"Accepting what had happened and that I wasn't racing was just a small interim, a feeling of 'oh I can't do this race', but I'm still in the sport and this is what I do."
Of all the characteristics that make up an elite athlete like Kat Matthews, Schofield shared that it was her drive to get back to a start line and back racing that was great to see, sharing that "she's one of a kind and she's a real inspiration to a lot of people."
For her first race back, Matthews has headed once again to the USA, where she is on the provisional start list for IRONMAN 70.3 Oceanside in California on April 1st, before she goes back to the Lone Star State for IRONMAN Texas at the end of the month.