Germany's Anne Haug underlined her undoubted class when running away with the victory at the PTO European Open in Ibiza against what was arguably the best-ever women's field for a middle-distance race.
The winner of the IRONMAN World Championship in 2019, she came into this race in prime form after emphatic early-season successes at Lanzarote and Gran Canaria.
The swim and bike were all about Lucy Charles-Barclay (GBR) who was out on her own in both but Haug was little more than two minutes behind heading into T2 and was always going to be a huge threat with her run prowess.
And that was how it proved as Haug cut through the field from the outset, rapidly moving up from her eighth position. She was up to LCB by halfway and with a pat on the back powered past and never looked back.
Ashleigh Gentle (AUS) went into the race as the PTO's #1 ranked athlete and she again was super-strong on the run to claim second, with Charles-Barclay rounding out a stellar podium in third.
Swim – Lucy a class apart again
It was no surprise at all to see another swimming masterclass from Charles-Barclay.
Her silver swim cap was to the fore straight away and within minutes herself, Lotte Wilms (NED) and Rebecca Clarke (NZL) had put clear water between themselves and the rest.
Conditions compared to the men's race – which started 90 minutes earlier – were much more choppy and at the Aussie exit at halfway LCB had an 11 seconds advantage on Wilms, with Clarke at +15s.
India Lee (GBR), Fenella Langridge (GBR), Sara Perez Sala (ESP) and Holly Lawrence (GBR) were all around 40 seconds adrift at that point, with a minute and more back to the rest of the stacked field.
And on the second 1km loop, Charles-Barclay continued to drill it and began to put significant gaps into many of her biggest rivals.
Coming out of the water she'd extended her lead to just under half a minute to Wilms and Clarke, with the next pack of four now a minute and a half back.
And some of the big-race favourites were as follows: Gentle +2:11, IRONMAN World Champion Chelsea Sodaro (USA) +2:34, five-time IMWC Daniela Ryf (SUI) +2:43, Haug +2:44 and in-form Tamara Jewett (CAN) +3:25.
Bike – Haug moves into contention
The RaceRanger draft detection technology was in operation at a PTO event for the first – but Charles-Barclay was in splendid isolation throughout the 80km of the bike.
In behind though, things were closing up as Wilms and Clarke were caught in the chase pack by Paula Findlay (CAN), Gentle, Langridge and Lee to make a group of six.
Findlay led them into T2 at +1:39 but the other five were all within 15 seconds.
And leaving transition, Haug may have been in eighth place but given her run prowess was very much in contention too at +2:07, though Ryf (+4:50), Emma Pallant-Browne (+4:51) and Jewett (+6:22) looked to have too much to do, while Sodaro had dropped out of the picture.
It was living up to the hype and the big question was could LCB hold on?
Run – Haug so dominant
It was set up perfectly at the start of the run but Haug put down a marker straight away with some stunning early splits to power through the field.
Charles-Barclay, coached like Haug by Dan Lorang, was doing little wrong up front but had no answer to the onrushing Haug and Gentle.
There was obvious mutual respect between LCB and Haug when the pass came around halfway through the 18km run and the German maintained her pace top quickly open up a lead of over a minute.
Gentle moved into second not long after but Charles-Barclay stayed strong – and she needed to because fellow Brit Pallant-Browne had by now jumped from 12th to fourth.
But last week's World Duathlon Championship winner, also in Ibiza, ran out of road.
Haug meanwhile stopped the clock in 1:02:55, exactly three minutes faster than Gentle. Only 12 men ran faster than that in their race earlier in the day which was won by Max Neumann.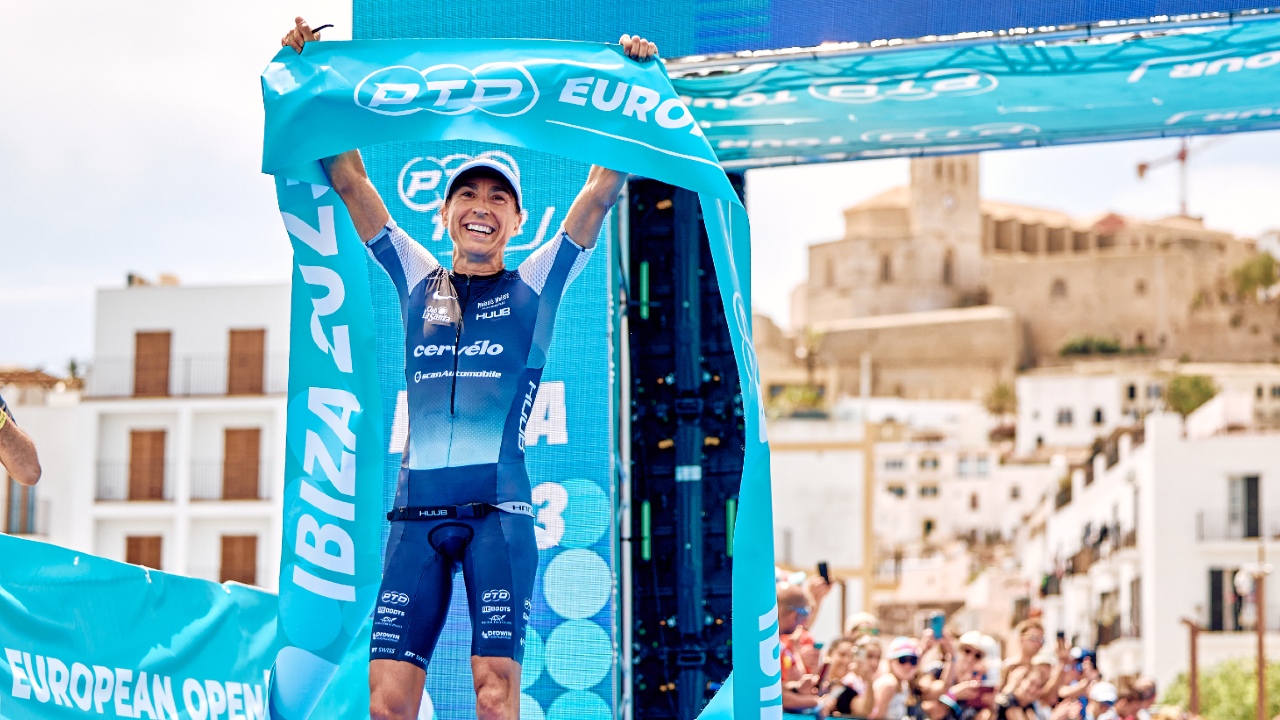 Findlay took fifth and Jewett produced the second fastest run of the day (1:04:21) to move through to sixth.
PTO European Open 2023 Results
Saturday 6 May 2023 – 2km / 80km / 18km
Ibiza, Spain
PRO WOMEN
1. Anne Haug (GER) – 3:38:01
2. Ashleigh Gentle (AUS) – 3:40:31
3. Lucy Charles-Barclay (GBR) – 3:40:57
4. Emma Pallant-Browne (GBR) – 3:42:20
5. Paula Findlay (CAN) – 3:43:35
6. Tamara Jewett (CAN) – 3:43:52
7. India Lee (GBR) – 3:45:24
8. Luisa Baptista (BRA) – 3:46:36
9. Lotte Wilms (NED) – 3:47:15
10. Holly Lawrence (GBR) – 3:47:48