Kristian Blummenfelt made light of his insane August travel schedule to claim a first ever PTO Tour victory at Sunday's Asian Open in Singapore.
The Norwegian superstar only arrived in South East Asia on Saturday after a 14-hour flight on the back of finishing in the top 10 against the world's best short-course athletes at the Olympic Test Event in Paris on Friday. All that on the back of a third-place finish at the US Open in Milwaukee.
He caught and passed long-time leader Pieter Heemeryck on the run and surged clear for a brilliant win to claim the $100k top prize. Fast-running American Jason West tore through the field to claim the final podium spot, but was unable to get close to the brilliant Blummenfelt.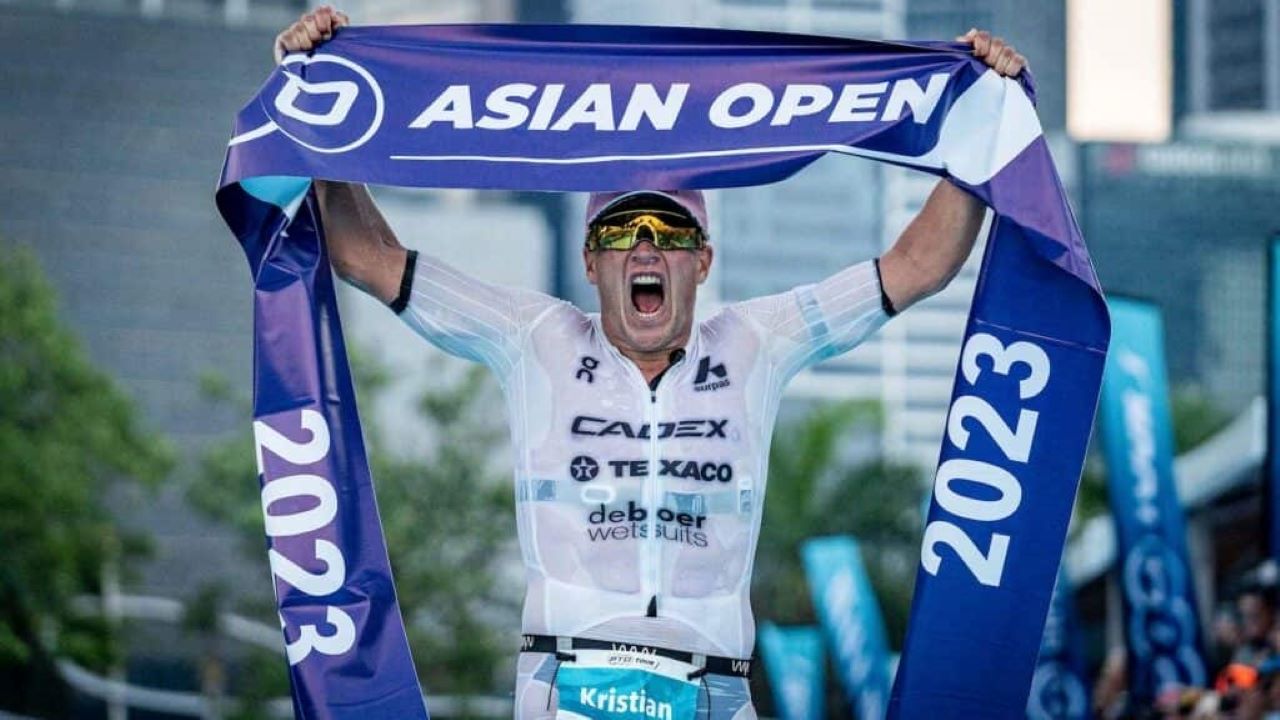 Swim – Aussies lead but it's tight at the front
We had an Aussie 1-2-3 exiting the water in Singapore with Aaron Royle leading Sam Appleton and Josh Amberger. The field were all pretty tightly bunched with only 31 seconds separating the first 17 athletes.
Behind the three Aussies came Daniel Baekkegard, Ben Kanute and Sam Laidlow – who had made the start line despite being hit by a viral infection in the countdown to race day.
Blummenfelt was 15 seconds off the pace, just a couple of seconds ahead of West, while his compatriot Gustav Iden was 31 seconds back in 17th.
Further back Sam Long was almost four minutes behind the leaders – not a great start to the day for 'The Big Unit'.
Bike – Heemeryck puts the hammer down
T1 brought a big change in the order and Blummenfelt was quickly to the front of the field as they set out on a challenging bike leg. He was followed by Kanute, the Aussie trio of Royle, Amberger and Appleton and then Laidlow and Baekkegard.
'Big Blu' didn't hold the lead for long on the bike as Germany's Mika Noodt – who had really targeted this race as a major season goal after 10 months out of action – surged to the front to take over. The front six were separated by only 10 seconds as they got down to serious business. Further back Iden was quickly 90 seconds off the pace and Laidlow – clearly struggling with that infection – was more than 2 minutes behind the leaders.
Starting Lap 2 of 8 on the bike and we had a lead pack of five athletes with just 11 seconds separating them. It was Noodt at the front from Belgium's Heemeryck, Blummenfelt, Royle and Kanute. Meanwhile Laidlow's day was ending very early with a DNF.
By the start of Lap 3 Kanute was starting to fall away from the front four, while the gap to Amberger in sixth was already 1:14. Heemeryck led from Noodt, Blummenfelt and Royle.
There was a heartbreaking sight towards the rear of the field as Iden – who had been losing significant time – was a DNF after coming off his bike. He sat by the side of the course receiving attention to his hand and his leg. Meanwhile at the start of Lap 4 Heemeryck had built a lead of 28 seconds to Blummenfelt with Noodt and Royle close behind.
Heemeryck was really putting the hammer down as he continued a fine season so far, extending his lead to 45 seconds over Noodt at the start of Lap 5. Blummenfelt was 50 seconds off the pace with Royle at 00:53. Further back in the field West – who had produced that run for the ages in Milwaukee recently – was 3:16 away.
The Belgian was showing no signs of weakening at the front – in fact quite the opposite as he continued to stretch away. He had an advantage of 1:14 over Blummenfelt as they headed onto Lap 6, with Noodt a couple of seconds further back. Royle meanwhile was next but lost time going through transition (c.30 seconds) due to a chain issue which caused him to stop.
Starting the penultimate bike lap Heemeryck's lead was now 1:30 over Blummenfelt and 1:37 over Noodt. Further back, West was around 4 minutes away. The day was ending early though for Britain's Tom Bishop – he was another DNF following a mechanical. Mike Phillips was also out after being lapped by Heemeryck after losing several minutes due to a mechanical.
Onto the final bike lap and Heemeryck – putting in extremely consistent times – had extended his advantage to 2:05 over Blummenfelt with Noodt right there in third. Baekkegard was next at 2:55 with West now 4:36 away.
Heemeryck was first into T2 with an advantage of 2:18. Then came Blummenfelt and Noodt. Baekkegard was 2:44 away with Kacper Stepniak at 2:48. The gap from Heemeryck to West meanwhile was 5:02.
It was now all to play for on the run in brutal conditions. Who would grab that $100k first prize?
Run – 'Big Blu' surges to victory
Blummenfelt made up around 20 seconds on Heemeryck in T2 and he continued to chop away at the gap as they went out onto the run. With 5.5km covered it was down to 1:07 with the Norwegian closing fast. Noodt was falling away rapidly on his return to race action but West was starting his charge – up to third and now 3:26 down.
As they reached the halfway stage on the run, Blummenfelt was closing in on Heemeryck to make the pass while the gap between him and West was holding steady at just over 2 minutes.
Blummenfelt duly made the pass on Heemeryck to take the lead as they went through 10km, and now the big question was could West get close to the Olympic champion in the remaining 8km? At this stage – even with West's run ability – it appeared a massive ask.
Any notion that Blummenfelt might fade and West might capitalise seemed to be being eradicated as the Norwegian started to actually build on his gap to the American – it was now 2:30. Heemeryck was still between then in second.
There was now only one question remaining at the front of the field – how far would Blummenfelt win by. As they entered the final 3km he was 90 seconds clear of Heemeryck with West almost 3 minutes away in third.
The Olympic champion was now the fastest man on course as he poured it on during the closing stages to win by just under 2 minutes from Heemeryck, with West plugging on for third.
Just to add a final exclamation point on a sensational victory, Blummenfelt had also recorded the day's fastest run split – a blistering 1:00:29 in brutal conditions.
PTO Tour Asian Open Results
Sunday August 20, 2023 – Singapore
Pro Men
1. Kristian Blummenfelt (NOR) – 3:20:48
2. Pieter Heemeryck (BEL) – 3:22:47
3. Jason West (USA) – 3:24:03
4. Denis Chevrot (FRA) – 3:29:00
5. Sam Long (USA) – 3:29:11