Another 70.3 podium for Fenella Langridge
In a weekend which saw three (yes, three!), pro IRONMAN 70.3 events after so long out of any racing action, it's time to round-up the results and news from IRONMAN 70.3 Les Sables d-Olonne in France.
(You can check out the separate report from Tallinn, Estonia (HERE) and Gdynia, Poland (HERE), where there were British podium results and impressive performances at both).
Pro Men
In my preview feature, I said of the Pro Men's race, "With no form guide to go on, picking out favourites is something of a lottery, but I would predict that Rodolphe Von Berg (USA), Pieter Heemeryck (BEL) and Bart Aernouts (BEL) won't be too far from the podium slots when the swm / bike / run is done."
Well while Bart finished uncharacteristically off the pace (17th, 3:59:24), first and third for Rodolphe and Pieter respectively, wasn't too bad. Congrats to Antony Costes, who will have pleased the home supporters by separating the pair and finishing second. Clearly, the form he showed through the Zwift racing 'season' showed that he didn't spend lockdown with his feet up.
The trio were part of a large swim group that exited the water within 30 seconds of each other, before separating themselves from the field over the 90km bike course, to start the run with a three minute advantage over a chase pack which included David McNamee.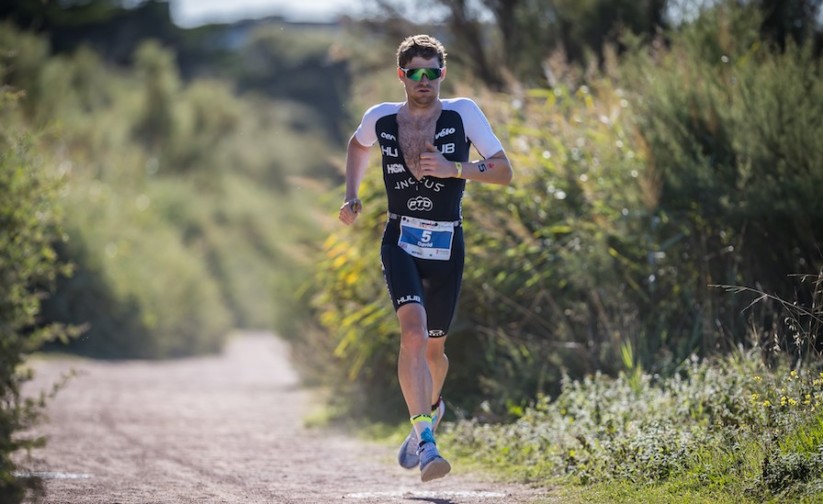 Not too much between them for most of the run either, but after initially being the one setting the pace, Heemeryck was the one who faded slightly (1:14:09), as Von Berg (1:11:33) and Costes (1:12:41) ensured that the top three positions wouldn't change over the 21km.
Pro Women
Winner last year, there would be no repeat victory for Frankie Sanjana this time around. Fenella Langridge was however doing what she could to keep the title in British hands.
First out of the water with just Sarissa De Vries (NED) for company, Langridge was soon solo at the front of the race and adding a fastest bike split (2:25:26), she would start the run 2:14 ahead of Justine Mathieux (FRA).
That gap held strong for the first 5km, but at around the 16km mark the deficit was closed. Further back, Alexandra Tondeur (BEL) – the ITU Long Distance Triathlon World Champion – was moving quicker than everyone.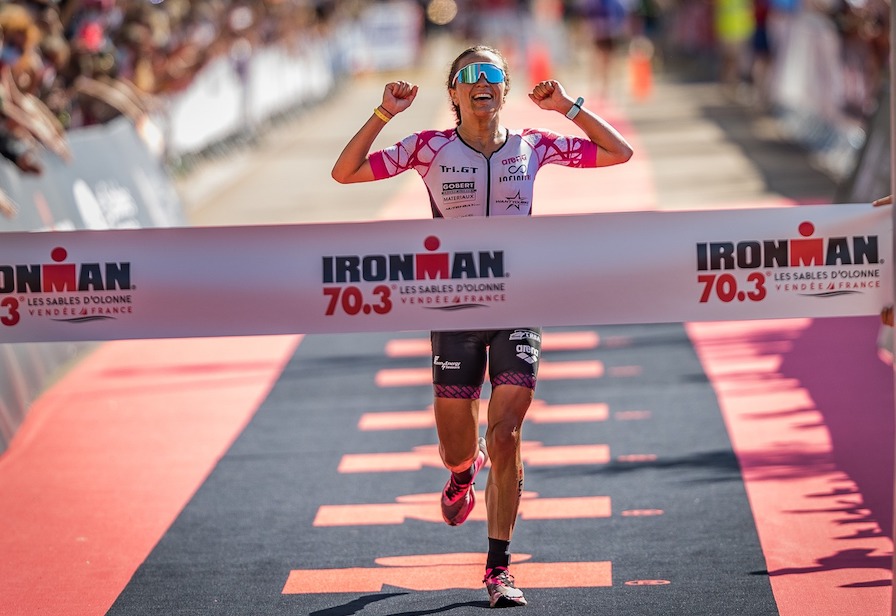 Mathieux held strong for a French victory, while Tondeur was able to brigde up to the Brit in the very late stages. They were separated by just seven seconds at the finish.
IRONMAN 70.3 Les Sables d'Olonne – Sunday 6th September 2020
1.9km / 90km / 21.1km
PRO MEN
1st – Rodolphe Von Berg (USA) – 3:44:12
2nd – Antony Costes (FRA) – 3:45:36
3rd – Peter Heemeryck (BEL) – 3:46:54
4th – Yvan Jarrige (FRA) – 3:49:09
5th – Arnoud Guilloux (FRA) – 3:49:27
6th – David McNamee (GBR) – 3:50:05
14th – Colin Norris (NOR) – 3:57:52
PRO WOMEN
1st – Justine Mathieux (FRA) – 4:17:55
2nd – Alexandra Tondeur (BEL) – 4:19:11
3rd – Fenella Langridge (BEL) – 4:19:21
4th – Sarissa De Vries (NED) – 4:19:54
5th – Manon Genet (FRA) – 4:22:46
10th – Frankie Sanjana (GBR) – 4:38:28
Enjoy David McNamee's post-race 'report'!