Sam Long has big honesty to go with his big personality, and he showed it again this week when he was brutally honest about his Collins Cup nightmare in Slovakia last month.
'The Big Unit' went into the marquee event in Samorin on the back of a terrific summer which included impressive victories at IRONMAN Coeur d'Alene and IRONMAN 70.3 Boulder. He had earlier duelled Lionel Sanders in epic fashion en route to claiming second at IRONMAN 70.3 St George.
Water torture for 'Big Unit'
But the 25-year-old came up against the mighty Jan Frodeno in the opening men's race of the day, as well as Australian star Sam Appleton. And ultimately he came unstuck as it exposed his biggest weakness – the swim. On this day 'Yo Yo Yo' was more 'No No No'.
Long was more than four-and-a-half minutes down on Frodeno and Appleton exiting the water, and though he did make up significant ground on the latter on dry land, he still finished last of the three men.
This week, as he prepares for Saturday's IRONMAN 70.3 World Championship in St George, Long was completely candid as he addressed the painful experience, and what he plans to do as a result of it.
Speaking in an Instagram video, he said: "The truth is, after Collins Cup, I didn't sleep at all that night. I slept about two hours. And I thought about the race for two days straight. And it left me with an uncomfortable feeling and I had to look myself in the mirror and say 'I need to be better, and I want to be better'.
"No, I didn't have my perfect day out there, I didn't have even a great day out there. But still, it brought out some huge weaknesses in me. I've talked about my swim, and it's motivated me beyond anything else to work on my swim."
Now Long will make it his mission to improve his swim, heading straight to Arizona from St George to spend the winter there working on that goal.
Long is (soon) on to Tucson
"You're gonna see me making big big sacrifices this year to improve my swim this winter," he explained.
"That's actually part of my move, I've got all my stuff – I'm not just going to St George, I'm moving to Tucson afterwards to work with a swim coach for the whole winter."
The end game for Long here is he wants to be on a (more) level playing field with his biggest rivals, without the need for external factors to make up for his own weaknesses.
"I want to be an athlete that doesn't have to have races play in my favour. So there was no way I was gonna beat Jan with five minutes, and it was a close one with Sam Appleton.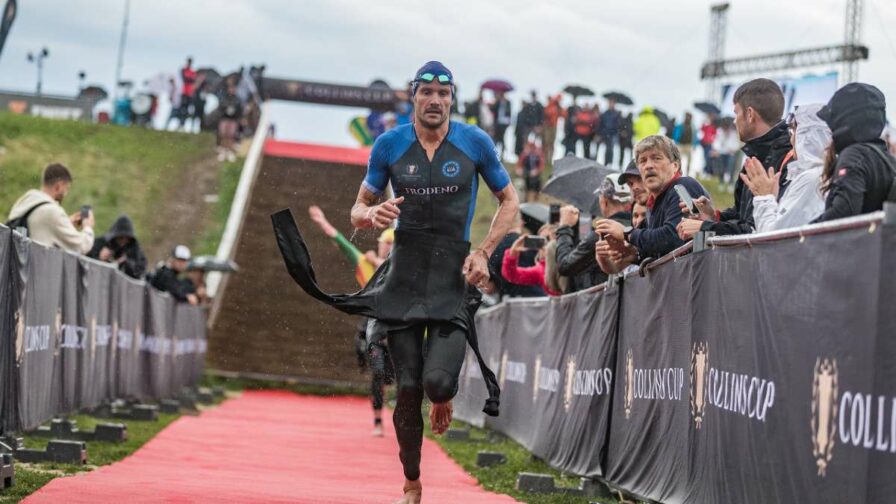 "I wanna be an athlete where I don't have to say 'Oh, in order to have a chance at Jan I need to have an ally in Lionel Sanders or Sebastian Kienle and if he gets Sam Appleton it puts me at a further disadvantage.
"I'm just trying to become that all-rounded well rounded athlete. The thankful thing is that I've learned perspective and it's put me where I am in my career."
Long does not turn 26 years old until two days before Christmas, and while he knows there is plenty of time to make the required improvements, he does not want to waste time either.
"I have to be patient, and I'm impatiently patient, I want to get there as fast as possible and I will. But Rome wasn't built in a day and time is on my side."