It is a problem as old as time for many sports – triathlon is not alone – and the Professional Triathletes Organisation (PTO) is on a mission to solve it.
The best racing the best in major events is the dream scenario for organisers and fans alike – creating must-see events and moments which go down in sporting history.
Boxing waited until 2015 for Floyd Mayweather Jr and Manny Pacquiao to finally face off in the same ring – arguably five years after they really should have. Their fight still generated the highest PPV revenues ever.
Those of us old and gnarled enough can remember the excitement building up to the 1980 Moscow Olympics for those eagerly-awaited clashes between Steve Ovett and Sebastian Coe. Excitement heightened by the fact they had avoided each other for so long.
Looking ahead to 2022, many triathlon fans will have May 7 in St George circled on their calendars – Jan Frodeno vs Kristian Blummenfelt vs Gustav Iden heading a stellar field at the rescheduled 2021 IRONMAN World Championship.
That St George showdown is mouthwatering for many reasons – not least because those three have never met before. It is also not inconceivable that they may never meet again afterwards, with Iden apparently unlikely to head for Kona in October.
That is just one example of the sort of race triathlon needs if it is to generate the excitement required to grow the sport and attract new fans.
PTO wants best vs best
Now the calendar has two more marquee events to look forward after the PTO announced the addition of the Canadian Open (in Edmonton in July) and the US Open (in Dallas in September) to the 2022 calendar. Further additions will come in 2023.
It is events like these, with major prize money on offer, that the organisation hopes will follow up on the success and interest generated by The Collins Cup in 2021.
When asked to reflect on the last 12 months, CEO Sam Renouf told us: "The high was finally delivering The Collins Cup. After so many false starts, both for the organisation and with COVID, and that has left us in a really great place to now accelerate our business plan.
"The PTO Tour will grow from that one event into three in 2022, and then five the year after.
"We view one of the problems with the market is the fragmented calendar in professional racing. People want to see the best athletes race head-to-head and that's fundamental to all sports and we want to go and create those moments.
"I think the Collins Cup showed – and Daytona in 2020 – that when the very best athletes come together, and are incentivised to do their best, sparks fly and that's the magic of sport – and we just don't get to see that enough in triathlon."
Feedback on that first ever Collins Cup was largely positive both from inside triathlon and further afield – you can look back at our take by reading our analysis penned just days after. Renouf now provides a detailed review of the ups and the downs.
"We were thrilled with the distribution and engagement of the broadcast itself. That's been reported – close to seven million people watching – in 100 markets around the world. If you'd asked me this time last year if we would have had anything like that, I would have thought you were dreaming.
Renouf on Collins Cup 2021
"The idea that a long distance triathlon would be on linear TV in over 100 markets around the world, in its first year… we are incredibly thankful to have had that kind of coverage.
"The other real success was that I think we really showed that the format worked. There was a fairly healthy dose of scepticism going into it – match race format / racing for regions / paying the athletes in advance – a lot of people thought it wouldn't be interesting.
"But whether it was Taylor Knibb, or Jan Frodeno sprinting to the finish line – not something he needs to do often – but he wanted to get his points, showed that the format really worked.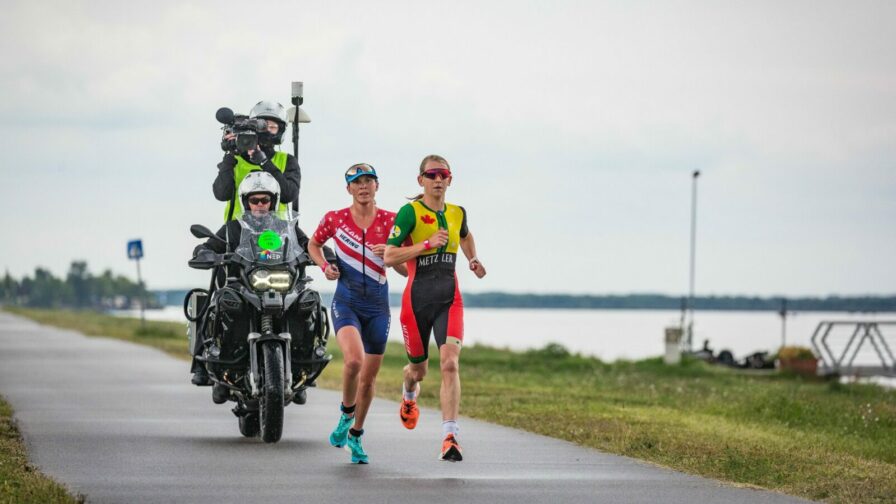 "Where we need to improve on things, which has been documented – by yourselves and others – is that we had a bunch of technical issues with the broadcast. I'm happy to say that they are tactical, relatively easy fixes, with experience.
"With the benefit of hindsight and preparation, not having as much COVID, maybe not having a lightening storm in the middle of it (!).
"Looking back – and if I'm remembering it right, you wrote this really well in your summary, if we were looking back and said 'what an amazing broadcast, but the racing kind of sucked', we'd not be in a good position – but i think it was the total opposite of that.
"We brought in a lot of very experienced people from outside of triathlon to help the PTO on its journey, and we often refer to these other sports. But they have 50, maybe even 100 years of experience in refining that format and how it is presented."
The most ambitious of goals
Renouf completely understands that the PTO and its broadcasts will be held to the highest standards – partly because that is what the organisation itself demands.
"It's not an excuse, it's just a reality. We should be held to that standard because that's where we want to be. I don't necessarily consider IRONMAN, Challenge, World Triathlon and Super League as competitors. Our competitors are anything that takes up some of your discretionary time.
"Whether that's NFL, UFC or going for a walk… if we are asking for the global fan base to engage with us, there's a very high bar for that, and we need to be able to rise to that.
"That's one of the reasons that triathlon hasn't been a great broadcast in the past. It's not because of anything the athletes do or don't do, it's because the right attention, investment and focus hasn't been applied to it."