Sara Peréz Sala headed into the Anfi Challenge Mogán-Gran Canaria thinking that victory was 'impossible'. 4:10:38 later, she was lifting the winner's banner above her head.
The Spaniard dominated the the final stages of the race to earn victory by five minutes 57 seconds over her nearest rival, Els Visser of the Netherlands, and a further 20 seconds ahead of long-time front runner, Lucy Buckingham.
Peréz Sala, who finished second behind Buckingham at The Championship in 2021 in Šamorín, scampered away from her rival at the start of the five-loop run course and never looked back.
It was all in stark contrast to her heartbreaking crash on the bike when she led by over a minute at CLASH Miami earlier this season.
And she told us afterwards: "I am really excited because it is incredible for me, I wanted to win but I was thinking that it was impossible.
"I felt good in the water, we worked together Lucy and I really hard on the bike and when we got to the run I tried to go as fast as possible."
"It was hard on the first laps, but when I got to the final lap I could enjoy it with the public and it was an amazing day."
'It's becoming a habit'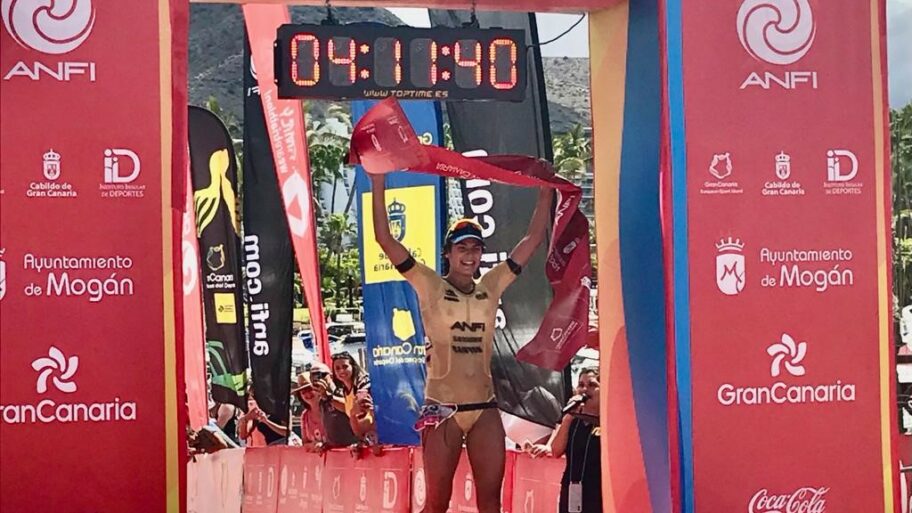 Behind the victory of Peréz Sala, Buckingham was trying to fight off the fast running Visser as the laps ticked down in the heat of the Gran Canaria sun.
Unfortunately for the Brit she was bypassed by the Dutchwomen mere minutes before crossing the line.
Buckingham explained: "Els finished second and she caught me literally with less than 800m to go, and that has happened multiple times now – Jackie Hering caught me in Daytona, and then Imogen Simmonds caught me at Challenge Peguera in the last bit, so I'm making a bit of a habit of it.
"But still, it's positive, I'm happy I've raced and yeah and I think it was good."
Meanwhile Visser wrote on her Instagram page: "Happy with a second place at Challenge Gran Canaria.
"It was a tough day on a hard course, but also special to race in an environment that almost feels like home. I did what I had to do, and showed my best across the swim, bike, run. Congrats @saraperezsala for the win, @lucy_tri for the tough battle until the last meters, and of course @nicolaspirigofficial for being a huge inspiration for me."