Sebastian Kienle loves nothing better than the amazing feeling of surprising himself, and he is dreaming of doing it one last time as he prepares for the 2022 season.
This year will be the much-loved German's final World Championship season, and he hopes that in St George or Kona 'The Last Dance' gives him the finale he craves.
Kienle knows he is not expected to win a second IRONMAN World Championship in either St George next month or Kona in October. But that does not mean he is going in as a no-hoper.
Talking to six-time Kona king Mark Allen on his regular 'Mondays With Mark Allen' series, Sebi said of his hopes for the year: "First of all to finish both of the World Championship races in St George and Kona – that would already be good.
"And then just to still be competitive. It's also for me very difficult because in the last few years nobody raced a lot. I dropped out in Roth, I just dropped out two times in my career – it was Hawaii in 2018 and then Roth last year. I had an ok race in South Africa, but the level of uncertainty is really big.
"I know obviously I'm in good shape and everything looks alright, but what does it mean in a competition? I don't know. It would be great to just be in the mix and have a chance. You know, these races are crazy like you said – and a lot of things can happen.
"Therefore I know I'm not going into the race as one of the favourites, but if I was able to surprise myself one last time in my career at one of those races, that would be awesome."
Sebi does Vegas (twice)
As he targets one last surprise as a professional triathlete, Kienle also looked back on the first time he did it, in winning his IRONMAN 70.3 World Championship in Las Vegas in 2012. It remains in his view the biggest victory of his career – bigger than Hawaii in 2014.
"People start to ask what was the biggest race. I hope the biggest one is still to come. That win in Vegas was probably bigger for myself than 2014 in Kona. Because It was the first time, and you never get a second chance to susrprise yourself. Everything that came afterwards wasn't a surprise any more. Not for me, not for the outside world.
"The first time when you win a big race, it's so incredible. I can still remember that feeling very well. Leading that race, having the helicopter over me, knowing I was putting three or four minutes into those guys after I made up three minutes after the swim. That just gave me this crazy feeling of being so strong and unbeatable.
"If an athlete has something like that, such an upward push, you can do things that you would probably normally never be able to do. And that was throughout my career. I've never been a guy that performed super well on any sort of diagnostic tests and stuff like that. But on race day I still beat most of the people that have better numbers than me and raced smarter.
"If you race with your heart and you use that to your advantage it can be great. But of course it can always work against you."
Kienle also remembers his 70.3 World Championship wins for another reason – that rivalry with fellow German great Jan Frodeno. There is huge respect from Sebi for Frodeno, though he did take great satisfaction from those victories for one particular reason.
"Jan for me is still the GOAT in triathlon – winning the Olympics and Kona and not just a normal Kona win, being unbeatable for 18 races.
"I can still remember one thing – the press conference prior to the race in 2013 – I think Jan called me a one-trick pony. The funny thing was the same trick worked again in 2013 so as long as the pony is winning the races with the same trick over and over.
"I think in 2014 (in Kona) the same trick worked again, so therefore it's probably better to be a one-trick pony and know very well what that one trick does to the other ponies."
Kienle retirement plan
Kienle announced earlier this year that he will be retiring at the end of 2023. This year will be his final attempt at World Championship events, before a gentler season where he takes in races on his bucket list. He explained why he planned it this way.
"It's a lot of things that go into it and you know how difficult it is. I absolutely love the sport and it had influenced my life in so many very, very positive ways. So it has been quite tough to make this decision.
"But I've always wanted to end it that way, to prepare myself for retirement. Because yeah, it has been my life for almost 25 years – that's a long time. You have to re-socialise a little bit and get friends with what to do afterwards so that's the first thing.
"The next thing is I wanted to retire when I'm able to perform at a very high level – I would not say be able to say World Championships – I don't know about that, we're gonna find out, there will be two chances.
"I don't want to keep going until my sponsors ask me 'Hey, don't you think it's time do to something else?'
"My body is just not on the same level any more. That's one of the main things – I've been struggling a lot with different kinds of injuries. I know everybody does, but at one point it's just getting very difficult also mentally if you are either in rehab or trying to go back, or then you are on top shape and something pops up again."
One thing Sebi was keen to avoid, was putting off retirement in a bid to finish on the perfect note. This way he says, there is no option to spin things out.
"I think it's a good way, everybody knows it now and I want to cut off my way back by announcing it. I've seen a lot of athletes who have a bad race and you think like 'I don't want to retire like that, I have to make up for this'. Then you do another one, then another one, and you just keep going but it doesn't get better again.
"For me it's the right thing to put a date on it and then say like okay, after this it's over."
A different World
As Kienle looks forward to lining up at St George next month, he is stunned (but in a good way) at the way long-distance racing has evolved since the last IRONMAN World Championship in Kona in October 2019.
"It's crazy, it's also very telling how the sport developed in the last 2-3 years. Look at that last podium at the 2019 IRONMAN World Championship. Jan won, T.O. got second and I got third. Leading into this year's St George I think nobody would bet on this podium again, for good reason.
"I mean I would probably be still betting on Jan at least being on the podium, (but) now he is not racing. But yeah the sport developed very quick and it's good, that's how it should be. I love my sport to see it develop but it's going to be a hell of a race in St George and hopefully then in Kona also with my German mates again.
"We have been the favourites in the last six or seven editions of long-course World Championships and I think this year, no more."
While the Norwegian pair of Gustav Iden and Kristian Blummenfelt will be strong favourites to win in St George in the absence of Frodeno, Kienle says this will be a totally different challenge to anything they have experienced so far. And not just on raceday.
"You can be in top shape and winning all those races but then it's World Championship time and it's just another beast. I think that's a reason why when you look at the last 10 editions of IRONMAN World Championship Hawaii, you will find a lot of the same names in the top 10 over and over and over again.
"I've been in the sport long enough to hear all those predictions – 'yeah now the short-course guys are coming and they will take over and so on'. And yes, there's no doubt that Gustav and Kristian Blummenfelt, they had amazing performances.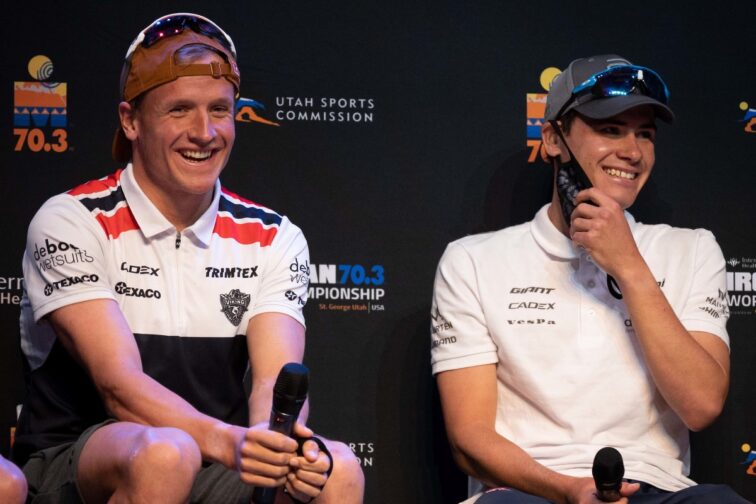 "But like you said, it was not races where everybody was on the line. I think it's not just the raceday, it's also what it does to the athletes leading up to the race because everybody is putting this little extra effort, this little bit more, and sometimes it's just too much.
"I've seen so many talented athletes who had a chance to make the podium or even win the race in Kona, and they've just buried themselves before the race started. That's my only advantage that I have, that I know this hype and this feeling and what it does to your body and motivation. It's so easy to cook yourself before this big race, that I probably would not do it."
A happy place is important
Kienle has always been one of the most popular triathletes around, and his upbeat personality and sense of fun come from being in a good place away from the course. Something he is keen to re-iterate.
"I mean consistency is not only key when it comes to training, but especially to your everyday life," he said.
"You can work like a beast, but if you're not in a happy place and if you're not surrounded with people that elevate you, that do you good, that get you in a good mood, it's gonna be very very difficult.
"That's where I'm just very happy to have this consistency, and now also with my little boy – you have a family it's even more important to be able to on the one hand not miss out on these amazing moments, but at the same time still be able to recover well, do all the training. That definitely helps. Everybody is different but I've always liked the way I did it."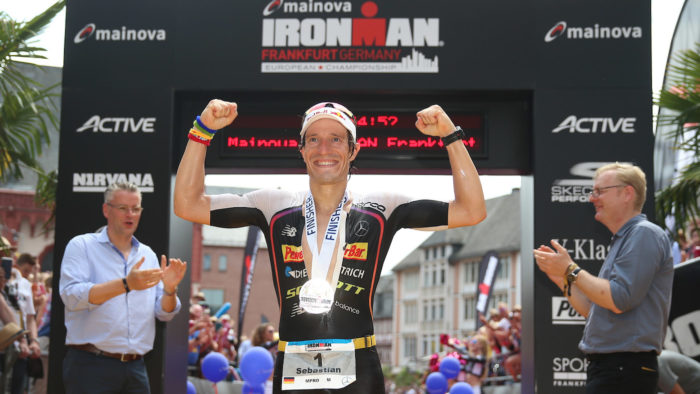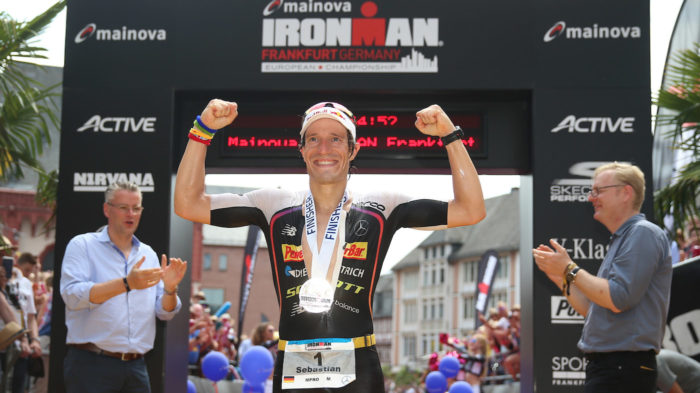 (Anti)social media
Kienle has been a professional for around 20 years now, and one major new challenge he has seen arrive on the scene is that presented by the power of social media.
He explained: "Now everybody puts all the training sessions on Strava and so on. When I grew up as a young athlete we didn't have that. But I can remember how much of an impact it has on you when you hear about your key competitors training sessions and what he does on the track and this and that, you can get quite confused.
"Nowadays it's constant, you get confronted with all the other training sessions and the chit chat and so on. So it definitely helps to be one of the ponies that's been around for a little bit longer and knows what it does to you, what it can do, and when you need to switch off."
Future plans
So what will Sebi do once that final 2023 season is completed and he is no longer a professional triathlete? He has a few plans – and unsurprisingly they sound both fun and laid-back.
"I think I will do one year of just travelling with the family and basically still doing some sports, no more triathlons. Maybe a couple of gravel races, something like that.
"Just before my son gets into school – it would be amazing to be able to show him parts of the world I've been travelling to in the last 20 years. That would be amazing, a great finish of this part of life."
After almost a quarter of a century where triathlon has been a major part of his life, and where Sebi himself has been the focus of the Kienle family, the German is also keen to change tack and support his wife Christine.
"She's supported me for such a long time now. When she wants to do something, I'd be happy to take one step back and support her in what her goals would be.
"Other than that I will still be around in the sport, either for commentary or for some of my sponsors that still love to work with me with products and stuff like that."