How to watch the SLT Arena Games Rotterdam
Super League is back with its real life meets virtual race format on Sunday
Three weeks on from some great racing in London, which I was very fortunate to be able to witness in person, the SLT Arena Games powered by Zwift returns to Rotterdam on Sunday, venue of the debut of this format in August last year.
While neither of last year's champions, Jessica Learmonth and Justus Nieschlag, will be on the start-line this weekend, both of the recent winners from London – Beth Potter and Marten Van Riel – will.
Potter of course will arrive further buoyed by her fantastic 14:41 performance at the recent Podium 5k event in Barrowford, Lancashire.
How to watch
The racing will take place (local time), between 2pm and 4pm on Sunday 18th April – for those of you who are UK-based, that means that the live broadcast will run between 1pm to 3pm. All you need to decide now, is do you have Sunday lunch early or late, so as not to disturb you triathlon viewing!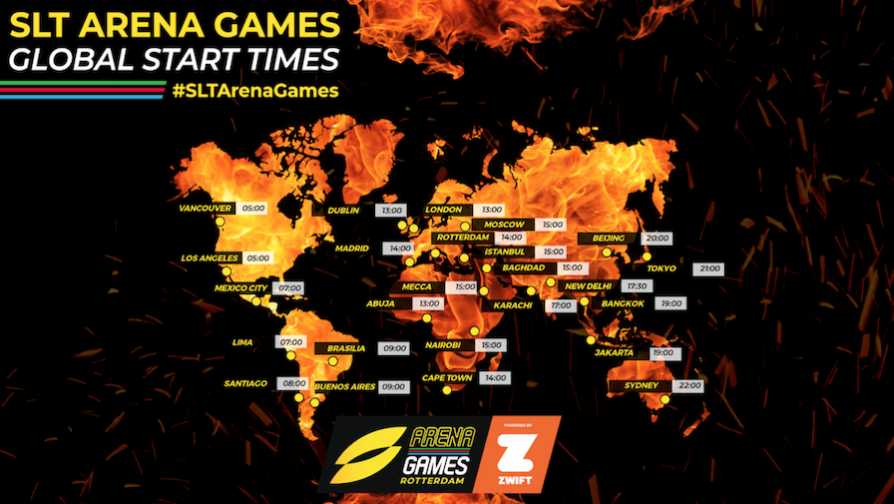 The Women will race first (2pm local time / 1pm UK time), followed by the Men (3pm local time / 2pm UK time).
As with the SLT Arena Games in London, there are several options to watch the races live.
Changes?
Same format as the Arena Games London? Not quite. While the racing will still feature three, back-to-back events all in different formats (and, ironically, never swim-bike-run…), there are a couple of tweaks.
First up, while the 200m swim and 1km run distances remain, the bike legs have been reduced from 4km to 3km.
The (Zwift) bike course/map is also different, as the finish will be a 200m cobbled, 4% grade to the finish (if you are new to Zwift, this impact will be reflected through the (Tacx Neo2T) smart trainers that the athletes rise – so it's not just a pretty picture on the screen).
Finally, for races 2 and 3 (which start with a run and bike, respectively), there will be a gun start, so no opportunity to get up to speed before the stage begins.
Race 1 – Swim-Run-Bike
Race 2 – Run-Bike-Swim
Race 3 – Bike-Swim-Run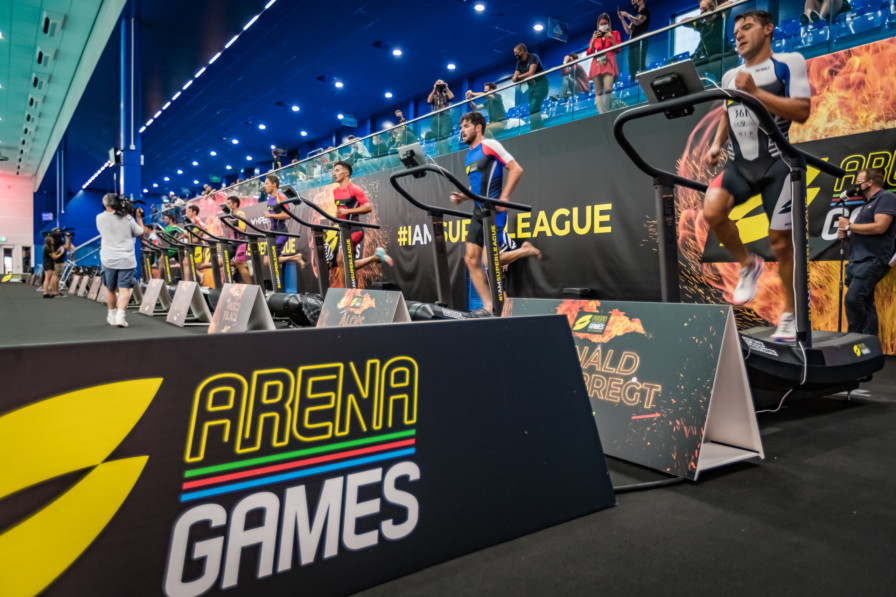 Will those tweaks make any significant changes? We'll get to see that on Sunday, but one thing I do admire Super League Triathlon for, is their willingness to adapt, try new things and seek improvements.
Not all of those necessarily add value (anyone remember the 'super chute' on the bike at Super League Malta 2018?), but then when ideas do work (the short chute), you can end up with compulsive racing that followed just a week later at Super League Mallorca 2018.
The SLT Arena Games is a great format – and having been at the London Aquatics Centre for the UK edition, I don't doubt for a second that they could sell every seat with paying spectators, were it not for COVID. Tune in on Sunday and enjoy the show.
Athletes racing
PRO WOMEN – 2pm local time / 1pm UK time
Rachel Klamer (NED)
Beth Potter (GBR)
Lisa Tertsch (GER)
Sophie Coldwell (GBR)
Alice Betto (ITA)
Maya Kingma (NED)
Ilaria Zane (ITA)
Kate Waugh (GBR)
Anna Godoy (ESP)
Rani Skrabanja (NED)
PRO MEN – 3pm local time / 2pm UK time
Marten Van Riel (BEL)
Alex Yee (GBR)
Alois Knabl (AUT)
Jonas Schomburg (GER)
Vasco Vilaca (POR)
Aurelien Raphael (FRA)
Anthony Pujades (FRA)
Daniel Baekkegard (DEN)
Marco van der Stel (NED)
Felix Duchampt (FRA)