Tri/Duathletes racing their way into 2020
The Christmas and New Year period may be a blank in terms of triathlon and duathlon racing, but that doesn't pin that pinning a number on has to stop entirely.
Here's a quick roundup of several notable performances, results and familiar names from the multisport world who have still been performing strongly in the running world over the holiday period. If I've missed any of note, than apologies (and feel free to message me via [email protected] and I'll get this updated).
Ribble Valley 10km – Sunday 29th December
After missing almost the entire 2018 season with injury, the 2014 Youth Olympic Games Gold medallist, Ben Dijkstra, returned to fitness and form in 2019, a year which included Gold at the Accenture World Triathlon Mixed Relay Series Nottingham and double Gold (individual an Mixed Relay), at the U23 ETU European Championships in September. If he wanted motivation for 2020, he ends 2019 in the best way possible.
Racing in his first 10km on the road (outside on triathlon), he finished second overall at the always speedy Ribble Valley 10km in a fantastic 28:53 (2:53/km or 4:39/mile).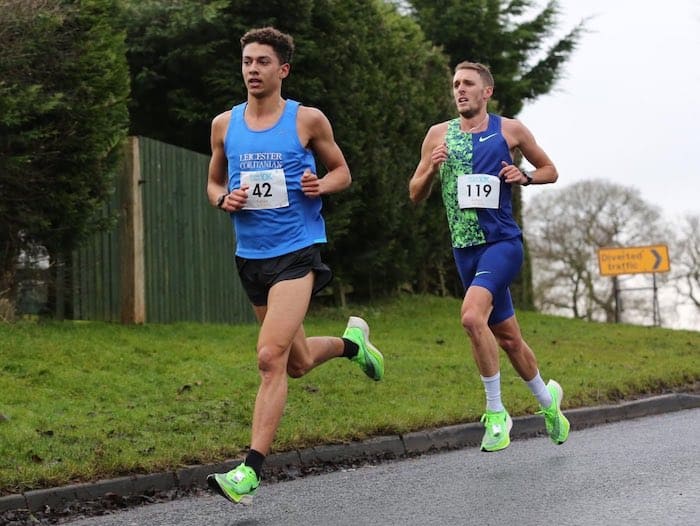 To give that some context, Alistair Brownlee ran 29:15 at this event back in 2011, while Jonathan Brownlee finished in 29:53 in 2017 – both of which were good enough for second place in both years. Tim Don clocked 28:56 for the distance on the road at the Manchester 10km in 2010 (a race won by Haile Gebrselassie in 28:02). On the track, Alex Yee ran 27:51.94 for 10,000m in 2018 when winning the British Championships, while Alistair's only track 10,000m to date saw him record 28:32.48 in 2013 at the Payton Jordan Cardinal Invitational in California.
I contacted Ben about his great run, and he said:
"I was hoping for something around the 29:45-30:15 region so I was massively surprised with the time. I felt pretty good at the start and just got stuck into the race as Marc, Charlie and Richard all kept it at a very honest pace but I'm definitely feeling a bit sore at the moment from it."
There were several other triathlete-related names I spotted too (apologies if I've missed any…!):
4th – Richard Allen – 29:31 (2017 European & World U23 Duathlon Champion)
8th – Carl Avery – 29:40 (3x Age-Group Duathlon World Champion)
17th – Kate Waugh – 36:02 (Silver, 2017 ITU Triathlon Junior World Championships)
Full results are HERE.
Mallory Park Winter Series – Sunday 29th December
Winner in 2019 at the Cagliari ITU Triathlon World Cup and a member of the Gold medal winning British squad at the Accenture World Triathlon Mixed Relay Series Nottingham, Sophie Coldwell ended 2019 with a big personal best time of 5km on the road. She clocked 16:20 (3:16/km or 5:15/mile) in Leicestershire. Best know for her swim-bike combo, the 2018 ETU Sprint Distance Triathlon European Champion continues to impress, as she makes incremental gains year-on-year, in a career which has seen her develop from one of the best athletes in the Tristar ranks, to one of GB's top Elite athletes over the last decade. Still only 24, she still has her peak years ahead of her.
I asked her about her run and, not surprisingly, she was very happy:
"I'm super happy with my time yesterday, it's a massive PB for me and hopefully I'll be able to continue to improve on my run going into 2020."
Jodie Stimpson, who impressed recently at IRONMAN 70.3 Bahrain, provisionally slipped under the 35 minute mark in the 10km race at the same Mallory Park event.
Cheeky 10k 34.59 @garminuk tells me so I'm taking that but couldn't of done it without @tomevansultra who had already paced @sophiecoldwell to a speedy 5k in 16.20 😱 , easy miles for him 😂 pic.twitter.com/MP6SKInLUU

— Jodie Stimpson (@jodiestimpson) December 29, 2019
Corrida de Houilles 10km, France, 29th December 2019
One multisport athlete very much in running form is ITU Duathlon World Champion, Benjamin Choquert. The Frenchman recently ran 2:11:12 at the Valencia Marathon and on Sunday he set a new 10km best of 28:36 in Houilles, a race won in a blistering 27:12 by Daniel Ebenyo (KEN).
https://www.instagram.com/p/B6sBoSMibWk/
Full results HERE.
Clevedon Boxing Day 4-miles, 26th December 2019
Never one to turn down the opportunity to race, former World Duathlon and Aquathlon champion, Emma Pallant, picked up another win last Thursday while burning off her Christmas dinner. She took the win (23:07) in the annual Boxing Day 4-mile event in Clevedon, North Somerset. She has won the event several times now, most recently in 2017 and 2015.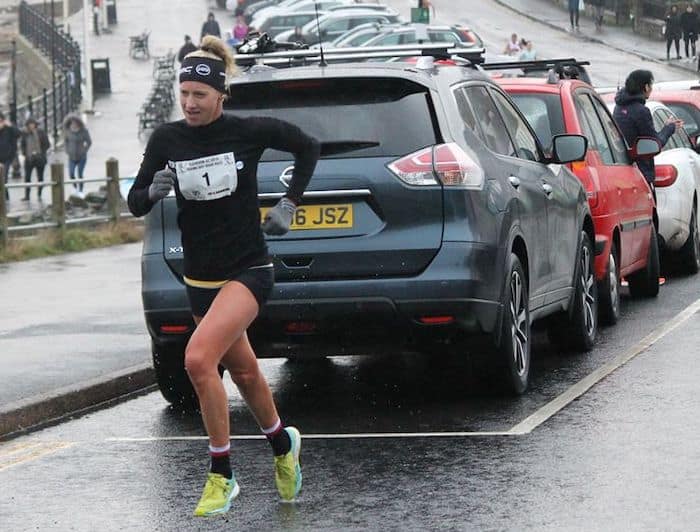 Full results HERE.