Sophie Coldwell heads into a special November hot on the heels of an outstanding display in Neom which saw her take second on the day and third in the overall Super League Triathlon Championship standings.
The Brit wasn't originally going to take part in the Series but once she was able to miss out one of the races (Malibu) it became a possibility.
And the decision was vindicated in style as Neom was her third podium from four races.
Playing it smart
And this latest display was arguably the best of the lot as she led until the final stages on the run when great friend Georgia Taylor-Brown powered past her to take the title for the second year running.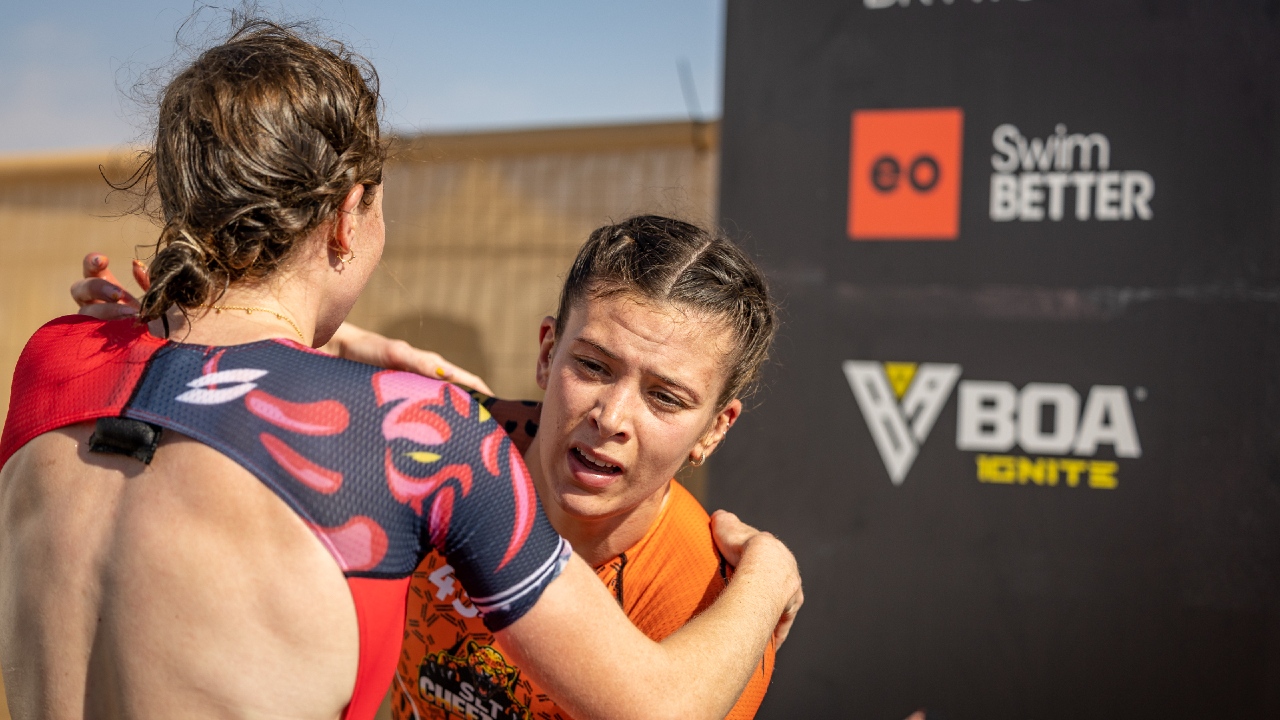 Remarkably, GTB had enough energy in the hot conditions to encourage Coldwell to keep going all the way to the line and the latter said afterwards: "I honestly cannot believe it. 
"My coach always says, a positive race is pushing forward and I just kept thinking about that throughout the day."
In his post-race analysis, Mark Buckingham had noticed that Coldwell had unclipped early on the bike coming into the final transition, living up to Super League's mantra of 'Every Second Counts'.
And she confirmed that was very much to the fore in her thinking process, explaining: "I was telling myself to be smart – like, don't ride the whole bike hard because that's not going to work.
"But when we were coming in on the last bike, I took my feet out quite early. I knew I had the short chute, which I haven't had all year.
"So that was probably like three seconds and I just thought if I can get another couple of seconds that would really, really help. I thought I'm not going to outrun Beth [Potter, who took third] and Georgia and those sorts of girls but I was like, right, just push forward and get as many seconds as you can. I tried to play the cards as I needed."
Special relationships
And that saw her come within a whisker of taking a first SLT win, although she admitted having to dig incredibly deep in the closing stages.
She said: "I went out hard and was soon thinking where is the turnaround! It was like a drag out so in my head I was saying run as hard as you can to that point and then coming back it's slightly downhill and you'll have a bit of a tailwind.
"But when G caught me she was like 'come on Soph, fast feet, fast feet' – that's because my coach is always saying 'cadence, cadence' to me.
"She was trying to keep me going and it really helped. We've done so much together this year – but we've been travelling and training pretty much since we were 15, 16 so we've grown up together and it was amazing to have this high.
"It's more than just racing for us, it's the relationships you build with people."
And November promises to be a special month as next up is a flight out to Bermuda on Wednesday for the latest WTCS event, followed by her wedding as she marries ultra runner Tom Evans.