Hayden Wilde is poised to close out his first Super League Triathlon Championship Series crown in Neom this weekend, going into the final race with a commanding advantage over his rivals following his win in Toulouse last time out.
And he's a shining example of the way that SLT can accelerate the progress of young athletes, as in common with many others it gave him the chance to showcase his talents – and build on them.
"I first got an opportunity in 2018," explains the Kiwi. "To get the chance to race against the best in the world has really accelerated my progress as an athlete.
"I just went out to have a good time racing the best and I think that's what so nice about Super League – to come here and not be focussing on ITU or Olympic points, you just come here to enjoy your sport."
Thinking on the spot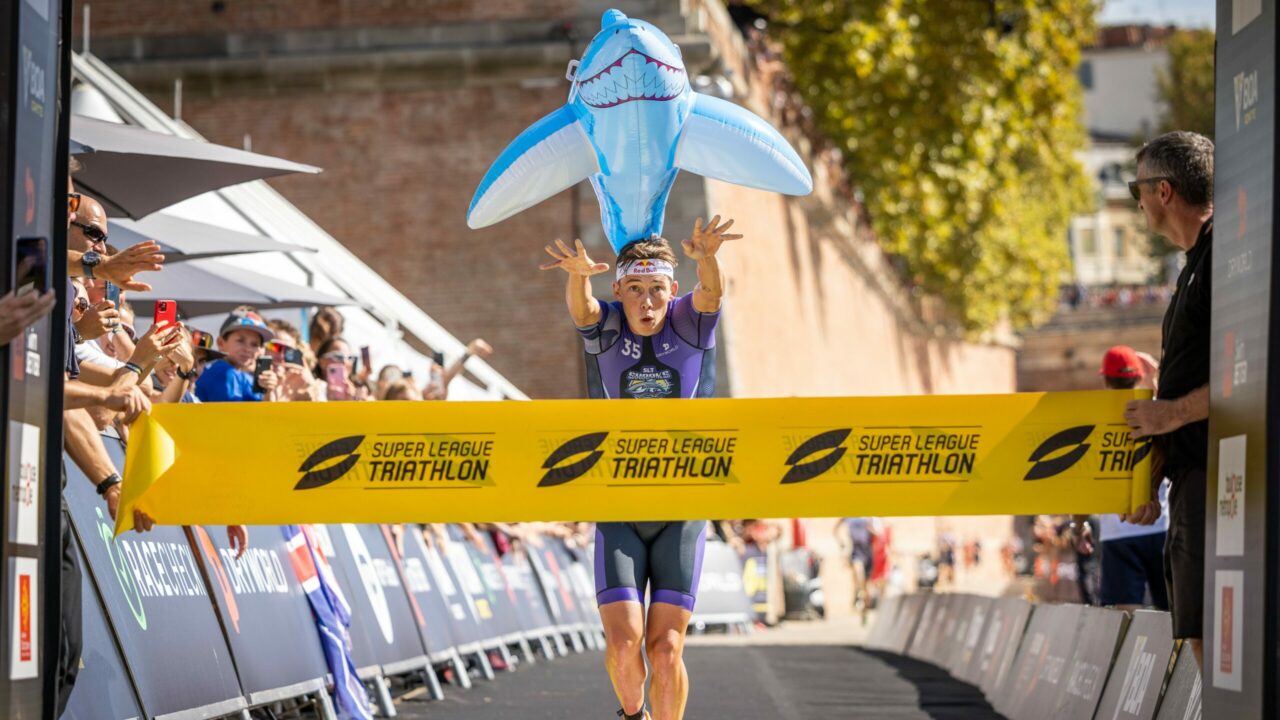 And the beauty of that experience is that it's helped him improve across the full range of disciplines, to the extent that he's now an Olympic and Commonwealth Games medallist and a multiple WTCS winner.
"With Super League every second really does count," explains Wilde. "So you can get so much of an advantage from this type of racing and take it into the WTCS – whether that's being faster out out of the blocks or smarter in transitions.
"Our technical skills on the bike have also become a lot better and we're basically a lot sharper – you're racing on the red line for 20 minutes and you've got to be thinking on the spot too in some pretty high-pressure situations, which I think is really good for other areas of the sport."
Grabbing his chance
The man who's pushed him most of all in the 2022 SLT Championship Series has been Aussie Matt Hauser who, but for a run of bad luck, would be much closer than the 17 points he's adrift in second place in the standings.
And again it's a similar story, Hauser telling us: "I was given a wildcard at Hamilton Island [Super League's debut event] back in 2018. Macca [co-founder Chris McCormack] reached out to me and gave me a chance to kind of prove myself against the older guys.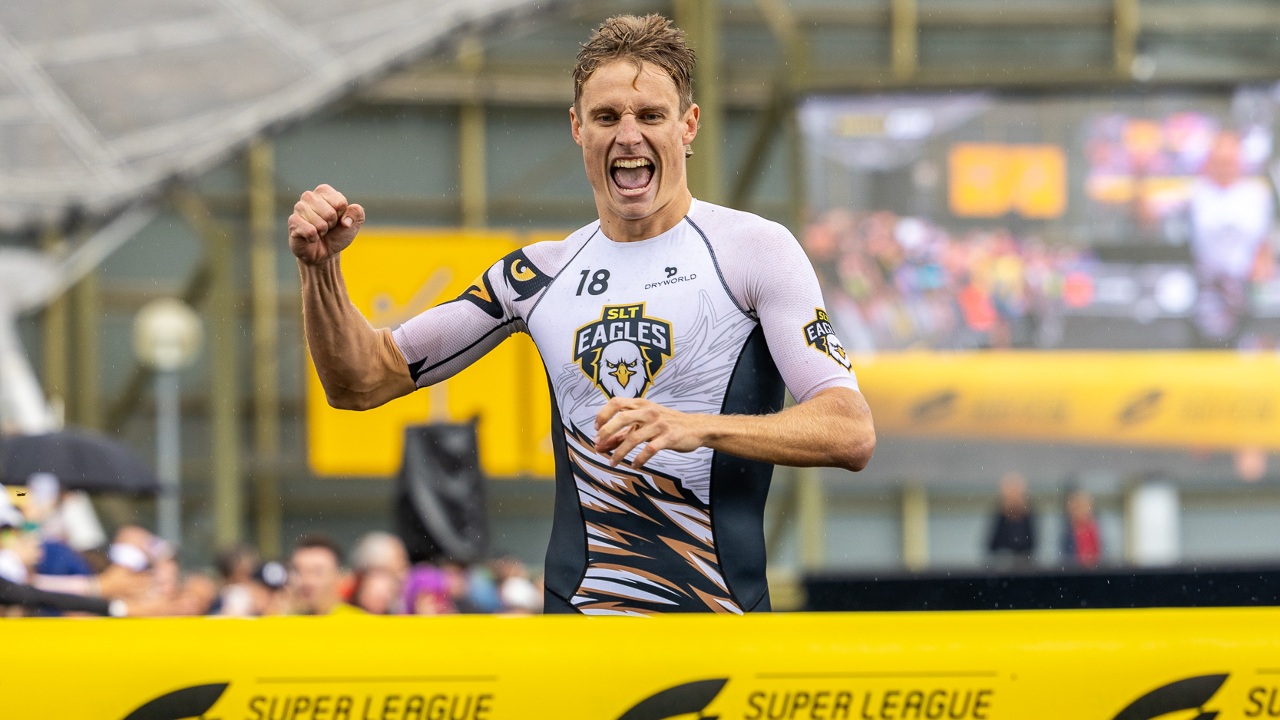 "And I've kind of stuck at it ever since and developed through the years and finally come to the stage where I can try and go for the crown.
"I really value this type of racing, it's such a fun, dynamic style. I think it's invaluable to experience."
'Like transitioning towards the Olympics'
As we have throughout the 2022 SLT campaign, we've been checking in with Jess Learmonth – winner of three of the four races last year – to get her informed perspective.
And she echoes just how important the series is for future stars, explaining: "I do think it's so good for progressing athletes. There's a little pressure but not too much. They don't have the pressure from their federations of chasing Olympic qualifying points, it's completely different. So they are going into races a bit more relaxed.
"But they are getting to race against the best in the sport. There are Olympic medallists in there in both the men's and women's.
"Even technically it really helps – look at how many times we do transitions – there are just little things that youngsters can see up close and learn from those guys.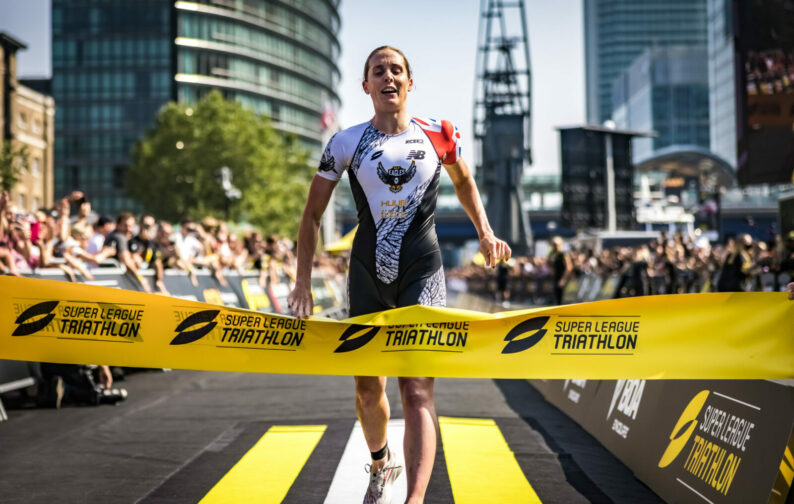 "I did myself – it really helped and was brilliant for things like the Mixed Relay which is obviously a potential Olympic medal nowadays. You are learning little tips and tricks. And if you don't do it right in those races then you're not going to do well. It really helps focus – it's almost like transitioning towards the Olympics."
Big money up for grabs
This weekend, Wilde has the chance to take home a total of $185,000 if things all go his way, with Georgia Taylor-Brown not too far behind on a potential $160,000.
And Learmonth underlines the importance of the prize money across the board, adding: "One thing you shouldn't forget is the money aspect. As a young athlete when you are just coming through, it's an expensive sport.
"This is a great opportunity for them to earn some money to really help them with their career because they're not earning loads on the World Series, so it's a big help.
"And when you look at the likes of Hayden and Hauser – they are also gaining confidence from doing well and winning at Super League. It can only help them in their other races. At the end of the day it's still structured triathlon racing and if you get a result in Super League it's a bloody good result."